Minn. Orchestra musicians reject latest proposal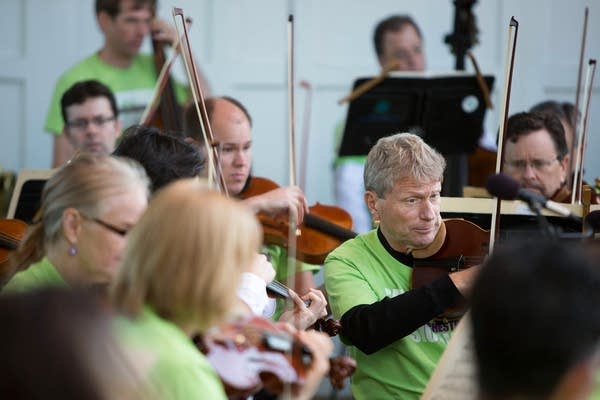 UPDATE 12:08 P.M.:
Locked out musicians of the Minnesota Orchestra today unanimously rejected a contract offer from orchestra management. They say the offer was artistically unsustainable and will do long-term damage to the orchestra.
Doug Wright, a member of the musician's negotiating committee, says the offer, which cuts salaries by almost 18 percent over three years, was based on a management business model which believes classical music is dead.
"This regressive model does not fit this community. Therefore we cannort support it and the community does not support it."
MPR News is Member Supported
What does that mean? The news, analysis and community conversation found here is funded by donations from individuals. Make a gift of any amount today to support this resource for everyone.
The musicians say they do not believe Monday is a hard deadline for a deal to prevent the departure of music director Osmo Vanska. They say they will present new proposals to mediator George Mitchell today in the hope of reaching a deal.
Management representatives were not immediately available for comment.
---
Locked out musicians of the Minnesota Orchestra say they will vote on management's latest contract proposal Saturday -- and offer some proposals of their own.
The movement comes as the two sides face a deadline to reach a deal by Monday or risk losing music director Osmo Vanska. However, the two sides enter the weekend of possible negotiations with very different ideas of the solution they will need by Monday.
Musicians representative Blois Olson made that clear at a press conference outside Orchestra Hall.
"Today the musicians through the mediator will make one or two offers to try to find a resolution to this," he said. "We will not offer details, we will keep them confidential."
A new three-year contract offer management released Thursday would cut musicians salaries' from an average of $136,000 a year under the old contract to $104,500.
Olson said the musicians will vote on that proposal, which cuts salaries by nearly 18 percent over three years but includes a $20,000 dollar signing bonus for each musician. That money comes from 15 local foundations and companies that raised the cash to help end the dispute.
The musicians believe that money could be used to fund the costs of a play-and-talk proposal that former U.S. Sen. George Mitchell, the mediator in the contract dispute, floated weeks ago. It would allow the musicians to go back to work for four months while negotiating a longer contract.
Management rejected the idea on the grounds that it would cost nearly $3 million dollars, with no guarantee of a deal at the end.
However, Olson said with the Monday deadline looming there's no time to negotiate a long-term contract.
"We would hope that if the other side meets over the weekend with the mediator that we could hammer out at least a short term solution that would begin the road to rebuild trust," he said. "It will take years to rebuild trust but we have to start by ending the lockout."
Orchestra President and CEO Michael Henson wants a longer deal.
"Our position remains that a short-term solution for a few months is not actually doing this community, the musicians or indeed the generosity those funds are given for any service," Henson said.
Henson said the musicians have never acknowledged the extent of the Orchestra's financial difficulties. The orchestra reported a $6 million shortfall last year.
Any new proposal, Hanson said, needs to fit within the financial limitations of the most recent management offer.
"If they want to reposition it, using the same amount of money across three years, we would be happy to discuss this," he said. "However we have a very real financial problem. We have a deadline on the 30th of September and the musicians are fully aware of the challenges that we face."
Henson said if musicians vote down management's offer they need to come up with a serious counter-proposal within the next three days.
Everyone knows time is tight. Even Gov. Mark Dayton, who asked Mitchell to mediate the dispute, is not sure of success.
"I am not optimistic that it's going to be resolved by next Monday and I hope I am wrong," Dayton said.
The musicians say they will announce the results of the vote tomorrow. Both sides say they are willing to meet with Mitchell, and even each other over the weekend.
Gallery
1 of 1