Putting names on unmarked state hospital graves
The dead here didn't get names, only numbers.
They were patients housed in the state mental hospital nearby. When no families came to claim the bodies, they were buried in this unmarked cemetery at the edge of town beneath numbered concrete markers.
Thousands of Minnesotans in the state's mental hospitals simply disappeared this way.
The asylums are long gone, but the unknown graves remain in Hastings and around Minnesota. Advocates for the mentally ill have pressed to find the cemeteries and name the dead. They've identified and supplied grave markers for about 7,000 of the perhaps 15,000 people buried anonymously in state hospital cemeteries.
Grow the Future of Public Media
MPR News is supported by Members. Gifts from individuals power everything you find here. Make a gift of any amount today to become a Member!
For many who pursue it, it's more than a historical quest.
• Photos: Remembering the buried and anonymous
"They put us in closets, they put us away ... and they didn't treat us people very nice," said Larry Lubbers, a disability rights activist who helped find the Hastings cemetery and the numbered markers that either vandals or former groundskeepers had tossed over the edge of the bluff.
Lubbers spent 15 years of his young adult life in the Faribault State Hospital where he says he was restrained to keep him from hurting himself.
"We want names," he said as he stood with other activists in the Hastings cemetery recently to commemorate the dead. "We don't want numbers."
State hospitals and other institutions were a sort of a catch-all for children, women and men, said Halle O'Falvey, an organizer for Remembering With Dignity, an effort by the group Advocating Change Together to find the unmarked graves.
"Women were institutionalized with menopause or postpartum depression or the husbands didn't like their wives," O'Falvey said.
State hospital conditions varied widely from compassionate to nightmarish. Historical accounts and then lawsuits and investigations found the hospitals were chronically underfunded and short staffed. Even so there were dedicated caregivers, often the patients themselves. The phase-out of the institutions and the move to community-based care picked up speed in the 1970s.
Even so, disability rights attorney Anne Henry says as recently as 1980 she visited a facility where she saw a 10-year-old boy strapped into a heavy wooden chair. "Four-point restraint, legs and arms and around his chest tied up," she recalled. "Just simply left there for long periods of time."
Early in her career she heard accounts of state hospital cemeteries and the unmarked graves. In 1979, early for an appointment at the Moose Lake state hospital, she and a colleague took a walk through a nearby field marked only with a cross.
"We're walking over bricks with numbers on them," Henry recounted. "I had a hard time reconciling this was a cemetery and not an old pile of bricks. This is where people are buried? I didn't know what to think."
The first state hospital was built in St. Peter in 1866. By the 1980s there were eight at St. Peter, Faribault, Hastings, Fergus Falls, Moose Lake, Anoka, Cambridge and Brainerd with thousands of patients.
Early on they were officially called insane asylums, homes for idiots and imbeciles, or the mentally retarded -- descriptions long since rejected and replaced.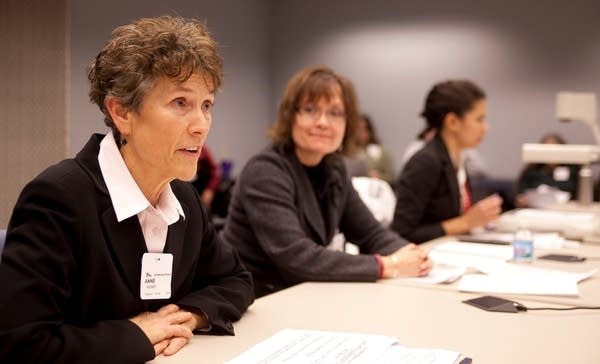 More than a dozen other state institutions or residential schools were opened for others with disabilities including loss of vision and hearing or with communicable diseases, especially tuberculosis.
The Legislature in recent years has spent more than $1 million to help identify those in unmarked graves. Supporters say they'll seek more money next session.
Siri Western's great-great uncle Hans Western, a native of Rothsay in northwestern Minnesota, was among the dead identified at the Hastings cemetery. Western wrote to Remembering With Dignity several years ago requesting help in locating Hans' grave.
She plowed through several volumes of hospital records on her own to learn the details of his commitment. "I know his diagnosis was psychosis," she said, "but that was a blanket diagnosis."
Western says she'll continue researching records of her great-great uncles' medical treatment. For the moment, she said, she'll choose to believe he was treated well.
The dead were probably buried anonymously to spare families the embarrassment and shame of having someone in a state institution, said Rick Cardenas, co-director of Advocating Change Together.
Cardenas wants the identification campaign to prompt a wider discussion about how we treat people.
"We've got to examine ourselves and try to figure out what is it we're doing right now that probably in 50 years they'll be saying, 'how could those people do that?'" he said. "Because that's what happened here. We're saying, 'how could they do that?'"
Gallery
1 of 1