Jay Cooke State Park's iconic bridge swings again
The iconic swinging bridge at Jay Cooke State Park reopens today, 16 months after it was destroyed by raging floodwaters on June 20, 2012, when ten inches of rain poured across northeast Minnesota in a 24-hour period.
Jay Cooke State Park straddles the St. Louis River near the town of Carlton, Minn., where the river cascades through black, jagged rocks toward Lake Superior. The original bridge crossing the river was constructed in 1924.  Ten years later the Civilian Conservation Corps built a new swinging bridge with wooden planks and two stone pillars at either end.
"The new bridge is really cool looking," said Jay Cooke State Park naturalist Kristine Hiller. She said it's been restored to what it looked like in 1934, before that bridge was repaired after flooding in 1950.
Visitors will now see peeled cedar log handrails along the entryway to the bridge. Concrete caps placed on the stone pillars in 1953  have been removed.
The bridge cost $1.1 million to rebuild, about $500,000 less than the original estimate.
The span connects the visitor center and main parking area to the majority of the park's trails.
"So many of our visitors that we talk to have just been staring across that river, longingly trying to get to the other side," said Hiller. "So it means a lot to a number of our visitors to be able to cross it again."
How bad was the damage during the flood? Loretta Cartner of Wrenshall, Minn., sent MPR News her photo of the swinging bridge before it met its demise.
Photographer Derek Montgomery shot this picture after the flood waters subsided.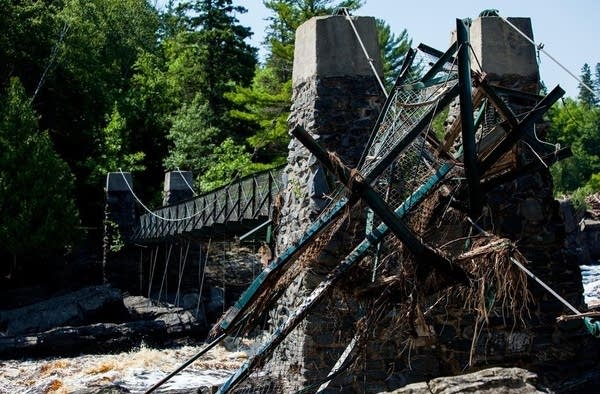 Gain a Better Understanding of Today
MPR News is not just a listener supported source of information, it's a resource where listeners are supported. We take you beyond the headlines to the world we share in Minnesota. Become a sustainer today to fuel MPR News all year long.