Climate Cast: 'Minnesota Meltdown' ahead for homeowners insurance?
There were audible gasps from a packed house at the Science Museum of Minnesota today.
A standing room only house of about 250 at the 1st Minnesota Conference on Climate Adaptation heard some jaw dropping predictions about what Minnesota will look like in the next 50 to 100 years. If today's best climate science pans out, our grandchildren may not be able to recognize much of Minnesota's landscape -- or weather as we see it today.
Here are a few of the astounding details presented at today's conference.
Grow the Future of Public Media
MPR News is supported by Members. Gifts from individuals power everything you find here. Make a gift of any amount today to become a Member!
Climate models predict Minnesota's average temperatures will be 5 to 10 degrees warmer by 2100. (Peter Snyder UM)

The Twin Cities may see as many as twenty 100 degree days each year on average by 2100. (Snyder)

The complete disappearance of Minnesota's prized pine and spruce forest up north. (Lee Frelich UM)

The prairie-forest border shifting 300 miles north to the BWCA. (Frelich)

Boundary Waters sweet corn as the 'corn biome' shifts into far northern Minnesota. (Frelich)

A 267 percent increase in homeowners insurance rates in Minnesota since 1997. (Bob Johnson-Insurance Federation of Minnesota)
Some in the crowd seemed shocked as climate modelers and forestry experts rattled off one astounding trend after another.
Follow the money
Evidence of perhaps the most immediate and tangible personal effects of our changing climate in Minnesota came from an unlikely source: an insurance expert who said we're already paying for climate changes with our checkbooks.
Insurance Federation of Minnesota President Bob Johnson described a potential 'Minnesota Meltdown' coming for homeowners insurance. It turns out our observed increase in extreme weather events has made Minnesota one of the leading states in the nation in catastrophic losses recently.
Minnesota: The new "Florida" of the Midwest?
That's the term Johnson uses to describe the dramatic increase in 'catastrophic losses' in Minnesota in recent years. Minnesota ranked third in the nation for catastrophic losses in 2008.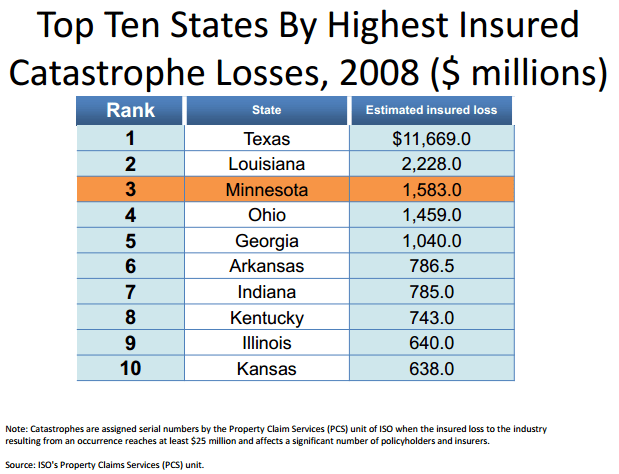 The year before we ranked 2nd, ahead of many of the so called "hurricane states' along the Gulf Coast.
The spike in catastrophic losses in the past decade has pushed Minnesota homeowner rates a wallet denting 267 percent higher between 1997 and 2010 according to Johnson. He described Minnesota's changing insurance landscape as 'growingly unstable' and Minnesota's catastrophic loss levels as 'unsustainable.'
Johnson cites a 15 percent increase in severe storms in the United States in the past decade.  The biggest culprit in Minnesota? An increase in severe hail storms.
Johnson is a 'stats guy.' He claims he came to the conclusion that climate change in Minnesota is having a tangible impact on the insurance industry after years of looking at the numbers. It's the 'risk math' of climate change that convinced him we could be on the precipice of a meltdown in insurance losses in Minnesota in the coming years.
Wide ranging topics
There was a lot more presented at today's conference from many remarkable speakers. I can't possibly do them justice in this one post, but here are a few quick highlights from my notes at the Science Museum today. You can listen to today's Climate Cast here.
Mark Seeley University of Minnesota
Climate changes around the globe are uneven. There is great latitude disparity, and disparity between continents and oceans.

So called 'climate change fingerprinting' is strong between increased atmospheric water vapor and extreme storms.
Peter Snyder-Climate Modeler University of Minnesota
Climate models show Minnesota warming +2F to +6F degrees by 2050, and +5F to +10F by 2100.

The same models show an increase in average annual precipitation of 1 to 2 inches by 2070.

Models also predict a drop in average annual snowfall of nearly 1 foot by 2100, with more precipitation falling as rain and ice instead of snow in winter.

The Twin Cities average hottest temp each year is now 97F. By 2100 it could be 108F.

At least 20 days of 100 degree temps could be common by 2100 in the Twin Cities.

Any short term model (weather) forecast beyond 5-7 days is "garbage."

Longer term (climate) model forecasts actually become  more reliable at 30 years and beyond.
Lee Frelich - Director, The University of Minnesota Center for Forest Ecology
Minnesota is currently experiencing an 'extreme phenological event' with green leaves still on trees in the Twin Cities metro area as of Nov. 7. Lee has never seen this before so late in the season.

Minnesota is the "edgiest" state in the nation for forest boundaries. Spruce and maple range edges reside in Minnesota, and are very subject to change.

If climate trends continue, the prairie-forest border now in southwest Minnesota could shift 300 miles north to the BWCA by 2100.

Minnesota's boreal (pine & spruce) forests are likely to disappear and retreat into Canada by 2100.

Northern Minnesota and the BWCA could become a savanna biome by 2100.

'Assisted migration' may be the only way some native southern Minnesota trees like honey locust can move to future favorable climates in northern Minnesota.

The corn biome could shift into far northern Minnesota.

A network of 108 'HOBO' sensors is taking hourly weather observations to study changing micro-climates on north and south slopes to see what areas will be best for future forests.
Larry Baker - UM Biosystems Engineer
Climate changes in cities means increased mortality from heat waves.

It only takes 1-2 days for deaths to mount from heat waves.

The number of hours with apparent temps above 100 degrees has doubled in Phoenix since 1950.

Upsides to warmer climate are lower heating costs in winter and longer growing seasons.

Changes in urban design (more trees, changing parking lots) have significant impacts in reducing urban heat islands.
Lucinda Johnson - Natural Resources Research Institute
Higher nighttime temps and less winter ice promote warmer lake temperatures in summer.

Extreme rainfall events increase 'nutrient loading' in lakes and rivers. This means more algae and less oxygen for cold-water fish species.
Greg Palmer - Greater Minnesota Gas Industry
Three main climate change factors effect the energy industry.

Rising air temps lower efficiency in transmission lines by about 5 percent.

Lower water levels and warmer (intake) water reduces generation efficiency in power plants.

Extreme weather increases require 'storm hardening' of power plants and transmission facilities.

Wind and solar energy provide increased flexibility and reliability in power grids.
Phillip Schaffner - MNDOT
The 2007  1,000-year flood in southeast Minnesota caused $14 million in road damages

The 2012 Duluth and northeast Minnesota flood caused $50 million in road damages.

Increased freeze-thaw cycles in winter degrade Minnesota's roads faster. That increases replacement costs over time.

It's actually harder to keep roads safe with more winter ice and rain, than all snow which is easier to treat and plow.

More summer heat causes more buckled roadways.
James Kelly - Minnesota Department of Health
Heat related deaths, respiratory illness and infectious disease on the rise as climate warms.
That's a partial summary of today's key highlights. More perspective from this astounding event when I can add it, and on future Climate Casts.