Workers 'lucky' to find Duluth bridge corrosion
The Minnesota Department of Transportation has closed a busy stretch of Interstate 35 in Duluth for the next three to four weeks, after inspectors found corrosion in pilings that help support a bridge.
Work crews discovered the damage last week along a long stretch of the highway south of downtown Duluth that is propped up by 38 piers. They're supported by 1,300 steel pilings workers drove 40 feet down through soft, mucky soil to bedrock.
As the crews were repairing some damage on a few of those pilings, they glanced under another pier and saw severe corrosion.
"It ate away most of the steel in those piling supports," said Duane Hill, the department's district Engineer in Duluth. "So a significant amount of the steel was gone."
Hill said it's a good thing that the workers spotted the damage, which is similar to a problem that caused a bridge in Green Bay, Wis., to sag by a couple feet in October.
"The space under that pier was like a mouse hole that you had to have your face right down in the mud to look at," he said. "So it was really a difficult thing to ever see... [A worker] just happened to look down there with a flashlight and say, 'hmmm, we should dig this out a little bit more and see what's going on.'"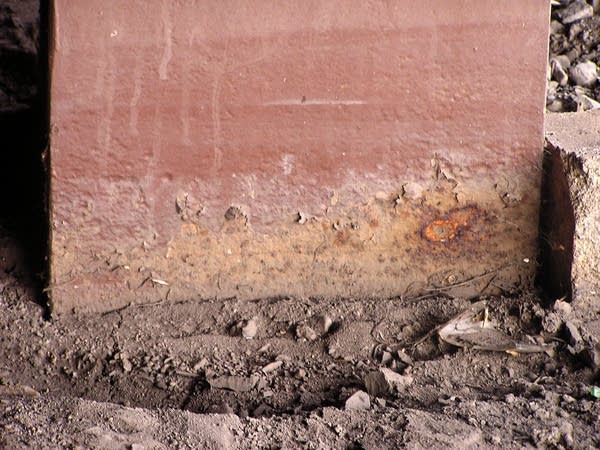 After finding corrosion in all 13 steel pilings that support the pier, transportation officials quickly decided to detour traffic off the bridge, which affects about 5,100 drivers a day. The department has hired a contractor to install concrete collars around the damaged pilings, work that will take nearly a month to complete.
Although the Department of Transportation inspects the bridge every year, Hill said workers can only inspect what is visible.
"We haven't really developed an inspection program to be able to look under the ground and inspect things we can't see, that's the dilemma with this bridge," he said.
Hill said department officials haven't decided yet whether to excavate around each of the 1,300 pilings supporting the bridge to look for corrosion. But he concedes that's something they'll eventually have to do.
However, that likely can't be done at every bridge. Nearly two months ago in Green Bay, workers found a similar problem on an Interstate 43 bridge over the Fox River.
Corrosion there in pilings eight feet underground caused the bridge to drop by more than two feet. Repairs there aren't scheduled to be completed until January.
The two instances are unusual, said Steve Olson, a bridge engineer with Olson & Nesvold Engineers in Minneapolis.
"Typically, you assume that if the ground's covering an element, there isn't a lot of active corrosion going on and that certainly doesn't receive a lot of scrutiny for elements underground," said Olson, also president of the Minnesota section of the American Society of Civil Engineers.
There might be something in the soil under these bridges that caused the corrosion. Green Bay's bridge was built on industrial fill and the soil underneath the Duluth bridge is high in chloride, likely caused by salt washing down in winter, Hill said.
Whatever the cause of the corrosion, both Hill and Olson agree the issues in Green Bay and Duluth will likely cause a discussion among bridge engineers nationwide about what, if anything, they can do to improve inspections.
Gallery
1 of 1
Your support matters.
You make MPR News possible. Individual donations are behind the clarity in coverage from our reporters across the state, stories that connect us, and conversations that provide perspectives. Help ensure MPR remains a resource that brings Minnesotans together.