Prominent same-sex marriage activist Richard Carlbom on an eventful 2013, and his plans for the future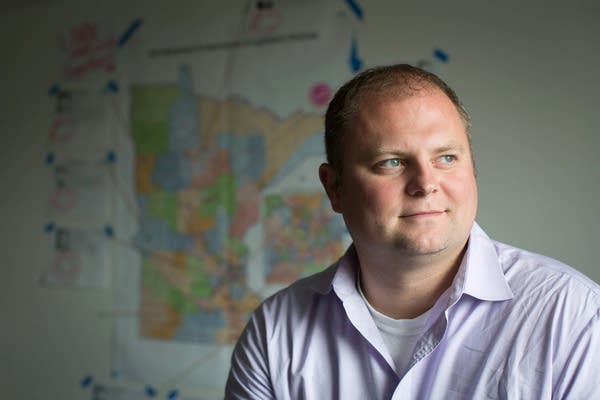 Richard Carlbom, the architect behind the political movement that supported the legalization of same-sex marriage in Minnesota, is now working in other states to do the same thing.
The 2011-2012 campaign he and others engineered is widely considered one of the most remarkable political and social campaigns in state history. In less than nine months, Minnesota went from the prospect of a constitutional ban on same-sex marriage to becoming the 12th state to legalize it outright.
Carlbom is now the director of state campaigns for "Freedom to Marry," a national organization advocating for the rights of same-sex couples.
He hopes New Mexico will legalize same-sex marriage by the end of the year. "Their state Supreme Court is going to make a decision that I believe will be favorable," Carlbom told MPR News' Tom Crann.
In 2014, Carlbom expects only one state -- Oregon -- might legalize same-sex marriage. Ten years ago, voters there rewrote the state constitution defining marriage as a union between one man and one woman. Carlbom's organization now is pushing for a ballot measure that would reverse that.
"We're definitely going to have these very heartfelt, deeply relational conversations," Carlbom said, echoing his strategy in Minnesota.
Carlbom is also planning to get married this month.
"I'm thinking about probably what every couple that is about to get married is thinking about," he said, including music, food and who to invite.
"Unfortunately, if we included everybody who made a difference [in the same-sex marriage campaign], it would be 1.5 million Minnesotans," he said.
Click play above to hear the full conversation, and read more about Carlbom in this May 2013 profile by MPR News' Sasha Aslanian.
Your support matters.
You make MPR News possible. Individual donations are behind the clarity in coverage from our reporters across the state, stories that connect us, and conversations that provide perspectives. Help ensure MPR remains a resource that brings Minnesotans together.