Republicans sharpen criticism of MNsure
State officials trying to fix lingering technical problems with Minnesota's new health insurance exchange will also have some political damage to repair.
DFL Gov. Mark Dayton and Democrats in the Minnesota House are big supporters of the federal health care law that allowed for the creation of MNsure. The Republicans who want to defeat them in 2014 are not, and they've been ramping up their criticism of the exchange.
Many Minnesotans have faced frustrating website problems and long waits for a call-in helpline trying to sign up for coverage through MNsure. Dayton has been frustrated too, and after last week's resignation of MNsure director April Todd-Malmlov, he offered a public apology.
"I don't think I caused the problems of MNsure, and I did everything I could to try to both prevent them and be aware of ones that were developing so that we could respond to those more quickly than we did," he said. "But ultimately the buck stops here."
Dayton used to boast about MNsure when it appeared to be working much better than the federal website. He's not bragging anymore, but he's also not ready to speculate on what impact MNsure's woes might have on his re-election campaign.
"First of all, we'll see how it comes out in the next few weeks," he said. "Next November, Minnesotans will assess pluses and the minuses as they perceive them in my performance. It's premature for me to say what the judgment will be. We'll see."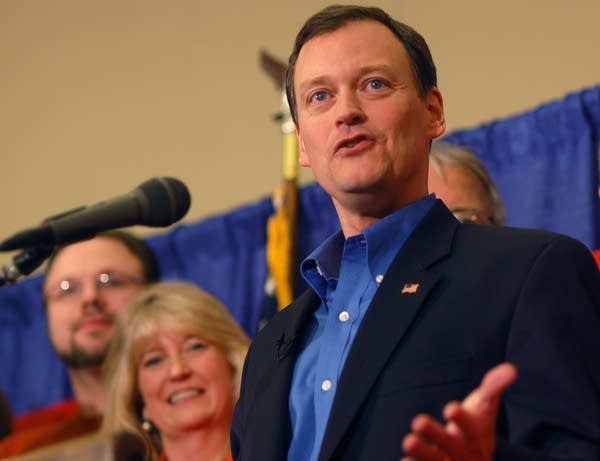 Currently, six Republicans are hoping to challenge Dayton next fall. And most are speaking out about MNsure.
Hennepin County Commissioner Jeff Johnson said he thinks fundamental questions about MNsure will continue long after the technical problems are resolved.
"Should government be trying to make decisions for consumers, or at least limiting the options that consumers have because we feel we know better what sort of insurance they should have?" he asked. "I think that's a very legitimate, basic issue that could be quite important in the election next year."
All 134 seats in the Minnesota House of Representatives are also on the ballot next year. Democrats currently have a 74 to 61 majority. But Republican House Minority Leader Kurt Daudt of Crown said MNsure is an issue that could help his party to win the majority.
"Obviously this policy is unpopular, and it's not just the fact that the implementation has been flawed and severely flawed," Daudt said. "But the product that the Minnesotans are getting on the health insurance exchange is not what they want and not what they asked for, and they're getting it at a much higher price than they paid for in the past."
Daudt said he would love to repeal MNsure, and thinks Republicans could come up with a better alternative.
But DFL House Speaker Paul Thissen of Minneapolis said Republicans are wrong to want to get rid of a system that has already enrolled tens of thousands of Minnesotans. Thissen said House Democrats and DFL candidates will campaign on the need to fix MNsure, not scrap it.
"I don't think Minnesotans are in the mood for people just saying let's throw it out without any additional plan. So, I think we're in a position of going to the people of Minnesota and saying we're trying to make progress for this state, and this is one example. While there are certainly things we have to do better on it, 100,000 people getting health care coverage is a big deal."
Some state lawmakers get a chance next month to formally discuss the recent exchange troubles. Members of the MNsure Legislative Oversight Committee are scheduled to meet Jan. 9.
Your support matters.
You make MPR News possible. Individual donations are behind the clarity in coverage from our reporters across the state, stories that connect us, and conversations that provide perspectives. Help ensure MPR remains a resource that brings Minnesotans together.