When the teenage cast members of "Griffelkin" at the Lab Theater lined up for rehearsal this week, they were bursting with antsy teenage energy.
But as the music started and they began to sing, a very grownup sound emerged.
"Believe it or not, it's a little intimidating," said Daniel Ellis, the resident stage director for the Minnesota Opera. His job this week was to corral the 73 cast members in "Griffelkin," — all under 18 — who will present the opera this weekend.
It's a job he clearly relishes.
"These are so extraordinarily talented kids," Ellis said. "We are doing what is essentially a 20th century adult opera."
NBC television commissioned Lukas Foss to write "Griffelkin," in 1952 after scoring a success with "Amahl and the Night Visitors," the first opera ever written for American TV, Ellis said.
"Griffelkin" is the story of a young devil who is sent to Earth to wreak havoc for one day. He hurls himself into the task and finds life on Earth confusing and attractive.
When he befriends two human children he enrages his masters in Hades, leading to unforeseen results.
The Project Opera production of "Griffelkin" is double cast. The two singers who share the title role, Claire Walsh and Tori Adams, have been coming to Project Opera for several years. They'll switch off during this weekend's four performances.
Walsh, a sophomore at Saint Paul Academy, originally auditioned just because she wanted to learn how to sing.
"But then I learned about opera, and appreciate it and have gotten really into it. It wasn't intentional," she said.
When asked about their very adult-sounding voices both Walsh and Adams admit it took a lot of practice.
Adams, a junior at Edina High School, said they built on small improvements to make a big change.
"Suddenly you can sing a phrase you couldn't sing before," she said. "You know, you don't have to breathe in the middle, just little things like that. Just, you know, daily practice, which I will admit I don't do enough, and hearing, listening to other singers."
Ellis can't say enough about the talents of his two main singers.
"For being as young as they are, and to be able to do a full two-hour opera, and as with most operas, the last high notes are at the very end of the show, and some of the hardest music is at the end of the show, they have really learned to pace themselves, to sustain themselves," he said.
Ellis isn't afraid to hold his performers to high professional expectations. Both Adams and Walsh plan to study voice in college, and want opera to remain in their lives in some way, maybe even as a career.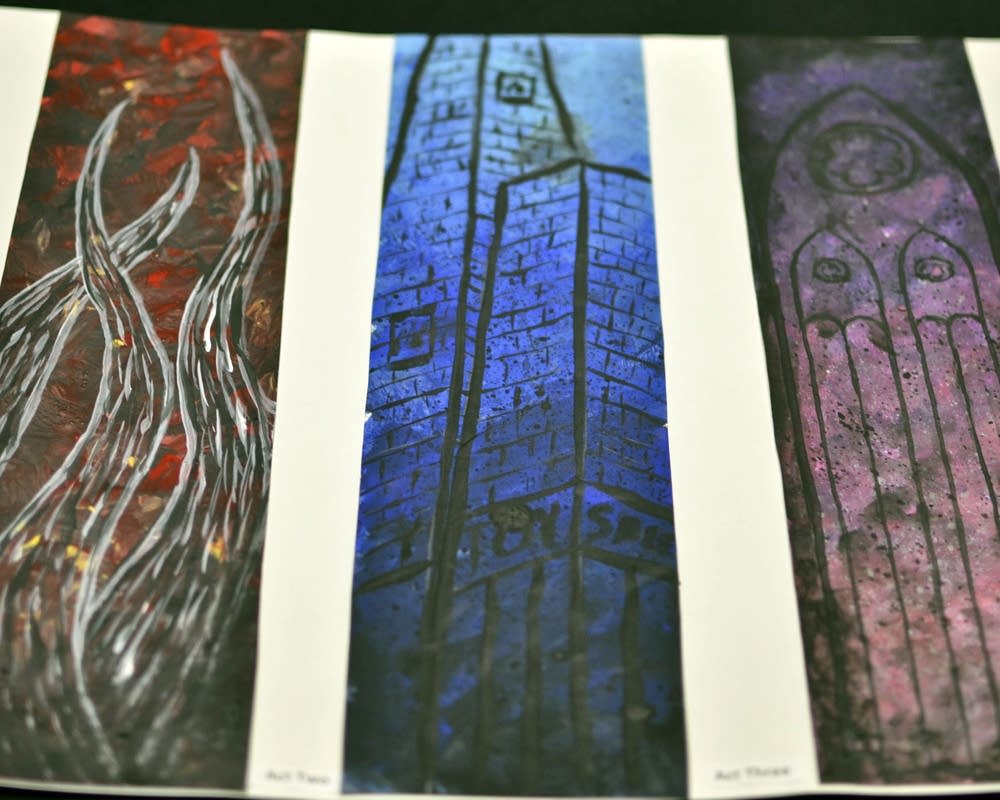 Producing the opera singers of tomorrow is part of Project Opera's mission, said Jamie Andrews, the Minnesota Opera's community education director. It also welcomes young people who want to participate in a quality classical musical experience. Participants come weekly from St. Peter, Eau Claire and Duluth.
Andrews also believes the program is having an effect on the Minnesota Opera. He said having young audiences hear their peers' huge voices will help develop the opera audiences of tomorrow.
"We are seeing the benefit from these kids now performing in our chorus, performing with other opera companies," Andrews said. "And they are so connected and passionate about the art form because they have actually touched it."