DiCamillo wants to share 'absolute joy' of reading as young people's literature ambassador
The Library of Congress will inaugurate Minnesota author Kate DiCamillo as the National Ambassador for Young People's Literature Friday. For the next two years, DiCamillo will spend a lot of time trying to get children, teens and parents to appreciate the joys of reading.
DiCamillo is the author of several books, including "The Tale of Despereaux," which won the highest honor for children's literature: the Newbery Medal.
MPR News' Cathy Wurzer spoke with DiCamillo on Thursday. Below is a transcript of their conversation, edited for clarity and length.
WURZER: What is your agenda as an ambassador for young people's literature?
DICAMILLO: Agenda? Agenda. Agenda makes me nervous. You used the very word that I want to focus on as I do this, which is joy. I just want to remind people about the absolute joy that can be had from reading books, and from mostly reading books together is what I would like to focus on. So, grandparent reading to grandchild, teacher reading to classroom, child reading to parent, that's what I would really like to hone in on, and just remind people about that joy.
Wurzer: Is that the connection that you and I have talked about, how people can connect through stories?
DICAMILLO: You are singin' my song. Yeah. So, when I do this, I'm supposed to have a platform, which does sound kind of like an agenda, right? But it's not. And my platform is that stories connect us. And I believe in that so much, that it's an easy thing for me to go around and talk about.
WURZER: But what does the connection mean to you?
DICAMILLO: It means that my mother read to me, it means that my teachers read to me, and it means that those stories, and sharing those stories with somebody else, changed the course of my life, and I think it can do that for other people, too.
"My platform is that stories connect us. And I believe in that so much."
WURZER: So if we're talking about getting people to connect through stories and reading more, say you're talking to a teenager, and you know that that's kind of a tough audience, what's your best argument to them for picking up a book, instead of, say, a video game, or surfing around with their smartphone.
DICAMILLO: I don't want to say, "Hey, don't surf around on your smartphone." I surf around on my smartphone. But I just want to save equal time. You know, pick up the phone, but also pick up the book. And that the book can help you. This whole thing with connection, through stories you can connect to other people, but it also helps you find yourself when you read a story. So, if there's anybody that needs to connect with themselves, I think it's a teenager, and you can do that through story. I believe that.
WURZER: I know you usually travel with at least one book. So, what did you pack for your trip to D.C.?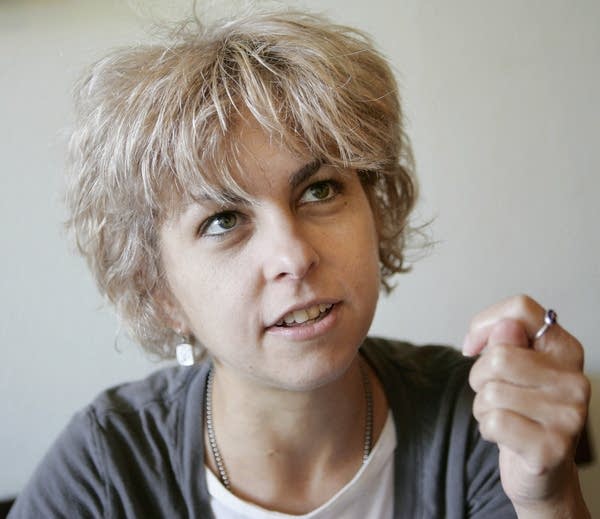 DICAMILLO: I have it right here beside me. I picked it up in the airport, which is one of the pleasures, is going in there and looking in the book store, and getting a book before I get on the plane. It's by Helene Wecker, and it's called, "The Golem and the Jinni". She actually went to Carleton College, I see on the back of this, and she looks very young. It's great. I love it.
WURZER: Say, is this going to distract you from your own writing, to travel around the country for a couple years?
DICAMILLO: To me, it sounds like the ideal balance. I'll be home quite a bit, I can work on the novel that I'm working on. And then I will also get to go out and meet people. So, long periods at home, short trips out, long periods at home, beating my head against the desk trying to write a book. And then out on a plane.
WURZER: Do you have any idea what to do at the Library of Congress event tomorrow?
DICAMILLO: I only know a few things. One: I have to give a speech. Two: I have to wear a dress. And three: I get a medal.
WURZER: I wonder what's harder, getting the medal or wearing a dress? I've never seen you in a dress before!
DICAMILLO: Exactly! You haven't. You have not. The dress is very intimidating for me. The speech will be intimidating as well. And then, there's a child-like part of me that's very excited about the medal.
WURZER: Kate DiCamillo, congratulations. This is going to be fun trip, I think.
DICAMILLO: Thank you. Thank you for taking the time to do this.
Transcription by MPR News reporter Liala Helal.
Your support matters.
You make MPR News possible. Individual donations are behind the clarity in coverage from our reporters across the state, stories that connect us, and conversations that provide perspectives. Help ensure MPR remains a resource that brings Minnesotans together.