Milder temps ahead, 'February Thaw' to bring 40s and rain next week?
Tundra Tracker
If this keeps up much longer we may have to station guards at the Iowa border.
As the sub-zero tally mounts we are making a run at a Top 10 winter for sub-zero days in Minnesota.Temps as high as 47 next week? Who knows? But it looks like winter may return after temps run a good +10 to +15 degrees vs. average next week for a change.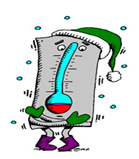 43 days at or below zero in the Twin Cities this winter. (Tuesday will be day #44)

32 years - last time we logged more days at or below zero

46 days at or below zero in 1981-82

68 days most days at or below zero ever recorded (1874-75)

23 days - average number of days at or below zero in winter at Minneapolis St. Paul-International Airport
Here's the zero/sub-zero chart through Saturday from the State Climatology Office.
MPR News is Reader Funded
Before you keep reading, take a moment to donate to MPR News. Your financial support ensures that factual and trusted news and context remain accessible to all.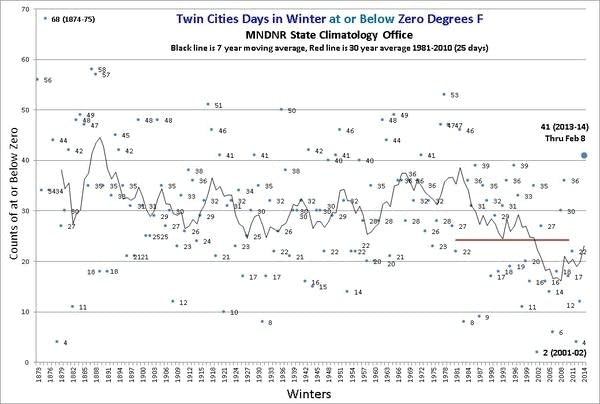 The memorable winter of 2013-14 continues with the mercury dipping to zero or below 41 times this winter so far, the most since the winter of 1981-82.

How does the winter of 2013-14 stack up for counts of minimum temperatures at or below zero in the Twin Cities? As of February 8, there have been 41 minimum temperatures of zero or colder: 13 in December, 20 in January and 8 so far in February. This is the most number of minimums at or below zero in a winter since the winter of 1981-82 when the total was 46.

The highest number of at or below zero temperatures in an entire winter is 68 for the winter of 1874-75. The last time there were over 50 minimums of zero or colder was the winter of 1977-78 with 53.
When you count only sub-zero days, the Twin Cities National Weather Service has the tally of 41 days at MSP so far this winter. Just four more to go to reach the top 10?
I'm good with 42 sub-zero days this winter thank you.
We get one more tomorrow morning, then we may have to wait a while to add to the this winter's Tundra Tracker total.
'February thaw' on the way
If this winter feels like the biggest Arctic invasion since the British Invasion 50 years ago, you're not alone.
The biggest question I'm hearing these days? "Is it ever, ever going to warm up again Paul?"
If milder temps are your thing, I have some good news. I've been tracking a potential warm up for about two weeks now. I think I can finally stop using words like "potential." It's going to warm up this week, and it looks like our February thaw may kick into high gear next week.
We endure one more sub-zero start Tuesday morning, then temps start to budge into the 20s on stiff southerly winds Wednesday. But Thursday you may be doing a double-take as your local bank thermometer flashes 32 degrees or higher. Have you stocked up on washer fluid?
Thursday's thaw may be just the appetizer for a much bigger warm up next week. The National Oceanic and Atmospheric Administration's Global Forecast System and the European Centre for Medium-Range Weather Forecasts models are insisting at a major pattern change that brings sustained southerly winds, and much warmer temps.
Both models at this point crank out a string of days in the 30s, and even 40s by the middle of next week.
R....Rain?
Yes, that was hard to type. I had to think about it for a minute. Remember rain?
The GFS is winding up a storm system toward the middle of next week. Here's the surface map for next Wednesday with a strong low pressure center in North Dakota, and a warm southerly push into Minnesota and Wisconsin.
[image]
If this map verifies, temps could surge well into the 40s with rain, and maybe even a clap of thunder in parts of southern Minnesota and Wisconsin. That would be truly weird in this winter. But, hey, why not?
Here's a look at the longer range 16-day GFS output. Temps as high as 47 next week? Who knows? But it looks like winter may return after temps run a good +10 to +15 degrees vs. average next week for a change.
Note the absence of any sub-zero temps.
Here's a map you haven't seen in a long time. NOAA's Climate Prediction Center actually predicting above average temps for the Upper Midwest next week. A sign of things to come as we head toward late winter and March?
Here's the bigger 'hemispheric' picture. NOAA's GFS showing a surge of warm air north through the Mississippi Valley, and all the way north through Hudson Bay by next week courtesy of Climate Reanalyzer. Bye-bye polar vortex.
[image]
Stay tuned, and stay warm Minnesota!