Casselton oil train crash cleanup to last until summer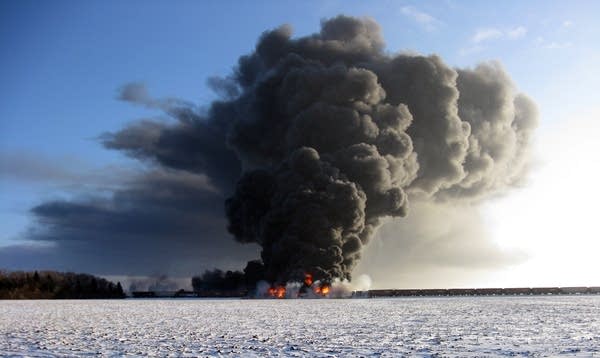 A state health official says cleanup will continue until summer of an oil train the derailment and fire that occurred on the outskirts of Casselton.
The crash happened in December when a train carrying soybeans derailed and caused the train carrying crude oil to jump the tracks. There were no injuries, but residents were asked to evacuate because of smoke that drifted over Casselton when several rail cars burned.
State Environmental Health Chief Dave Glatt says about 9,000 cubic yards of dirt and other material has been removed from the crash site. That's enough to fill 1,000 large dump trucks.
Glatt says BNSF Railway has removed the top two feet of topsoil and replaced it.
Glatt says most of the fouled material has been sent to out-of-state landfills.
MPR News is Reader Funded
Before you keep reading, take a moment to donate to MPR News. Your financial support ensures that factual and trusted news and context remain accessible to all.