Archdiocese financial data show $3.9M operating loss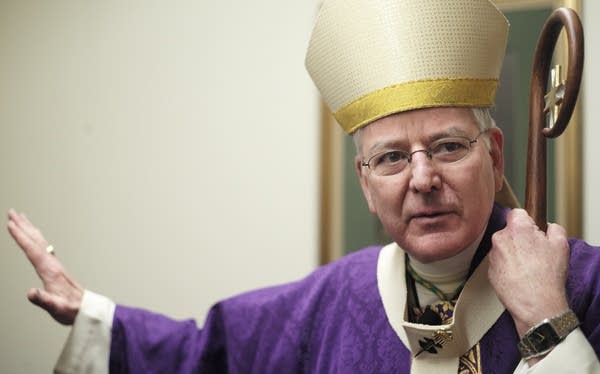 The Archdiocese of St. Paul and Minneapolis released a trove of financial documents Thursday, detailing publicly for the first time church spending on everything from Catholic schools to clergy sexual abuse claims.
The archdiocese showed a $3.87 million operating loss in fiscal year 2013 compared to a $1.5 million operating surplus the year before. Officials attributed that loss to an increase in reserves the archdiocese might need to cover unknown future costs related to clergy abuse claims.
For years, archdiocese officials declined to release detailed financial statements, making it difficult to assess its finances. By releasing the documents, the archdiocese joins about two dozen other dioceses across the nation who have done so.
"This is frankly a good step," said Chuck Zech, director of Villanova University's Center for Church Management and Business Ethics. "It's long overdue, but a good step overall."
But although the statements did not show immediate financial problems for the archdiocese, Zech warned that church leaders face significant hurdles in coming years. Among them are costs related to lawsuits by people who alleged that priests sexually abused them.
"It's going to result in the selling of property and other belt tightening that's going to have to occur," Zech said. "They have already frozen the lay pension. There's not much more they can do in that respect."
MPR News is Member Supported
What does that mean? The news, analysis and community conversation found here is funded by donations from individuals. Make a gift of any amount during the Winter Member Drive to support this resource for everyone.
Archdiocese officials say the financial condition of the archdiocese is "solid" even with that uncertainty.
Still, the newly released documents reveal ongoing concerns about archdiocese finances. Among those concerns:
• Archdiocese officials acknowledge that they may have little or no insurance coverage for claims related to decades-old abuse. "Unknown claims can go back many years where insurance may not have been available or coverage limits were minimal. Also punitive damages and other claims may not be covered by insurance at all," the report notes.
• "Losses from unknown claims could also be substantial," it adds, without speculating on what those costs might be.
• The archdiocese has been adding money to a reserve fund dedicated to litigation claims. The reserve grew eight-fold, from $650,000 in June of 2012 to $5.3 million a year later.
Larry Kallio, an accounting professor at the University of Minnesota's Carlson School of Management, said it is standard accounting practice to start setting that money aside. But he said it also signals that the archdiocese expects to pay at least that much in litigation costs.
"What they're saying potentially is that there are more losses coming but they can't reasonably estimate them at this point," Kallio said. "They're fairly comfortable that at least this much is going to get lost but there could be more. We simply don't know at this point."
The archdiocese also provided details on internal accounts that have been used to pay costs related to priest misconduct.
Those internal accounts show the archdiocese paid out a total of $8.8 million over the past 10 years for expenses connected to clergy sex abuse and other priest misconduct. Those include legal expenses, payments to victims and living expenses paid to accused priests.
Costs paid from those accounts, numbered 1-515 and 1-516, dropped significantly in 2012 and 2013, according to a breakout provided by the archdiocese.
The archdiocese recorded no charges for victim settlements in either year, after paying out a total of $2.3 million for settlements related to sexual abuse of minors between 2004 and 2011, and another $176,500 for other misconduct.
Similarly, expenses for victim support and legal services dropped from an average of $359,045 a year between 2004 and 2011 to $69,325 in 2012 and $130,271 in 2013.
The financial data release comes after months of criticism that the church had secretly paid millions of dollars in legal expenses and to support priests who had been removed from ministry because of abuse.
In previous years, the archdiocese had released summary financial information. But in December church leaders said they would release more detailed reports starting this year.
• Betrayed by Silence | An MPR News Investigation
MPR News reported previously that internal financial reports showed the archdiocese used stealth accounts to pay nearly $11 million from 2002 to 2011 — about 3 percent of overall archdiocese revenues in those years — for costs tied to clergy misconduct under former Archbishop Harry Flynn and his successor, Archbishop John Nienstedt.
On Thursday, the archdiocese said its financial condition was good, "even with the contingent liability related to litigation stemming from the unprecedented third "open window" in the civil statute of limitations for alleged sexual abuse," a reference to a 2013 state law that gives older victims of child sexual abuse three years to sue their abusers and any institutions that failed to protect them and removes all time limits for new victims to file lawsuits.
THE FINANCIAL REPORT
An abbreviated version of the document, as it appears in this week's Catholic Spirit newspaper:
Full document:
Editor's note: An earlier version of this story incorrectly referred to $176,500 spent between 2004 and 2011 as being related to "non-sexual misconduct." The current version is correct.