Nice cool weekend, St. Pat's snow potential? 50s again late next week?
Ides of March
If you don't like the weather in Minnesota just wait 15 minutes. - Anonymous
It's quite possible that famous Minnesota weather quote originated in March.
March is notorious for rapid weather changes in the Upper Midwest. A speedy undulating jet stream snakes overhead this month on it's eventual journey northward into Canada. Sharp temperature contrasts fuel rapid weather changes, as the last of winter's sub-zero air fights to hold on in Canada, and spring-like 70s take hold in the Plains.
The Bull's Eye in the battle zone between spring and winter this time of year? Minnesota.
Look for more rapid swings in our weather patterns the next few weeks as a series of cold and warm front sweep in. This weekend we ride the cooler, wintery side of March in Minnesota.
We mix cloudy and sunny intervals this weekend, with more sunny hours likely Sunday. Weekend temps feel more winter than spring with 20s and 30s statewide -- far short of the balmy 40s and 50s we enjoyed Thursday and Friday.
Watching potential snow Monday into Tuesday
I've been keeping an eye on the potential for snow in Minnesota by Monday night and Tuesday. The models have been like a buffet, providing a range of solutions on the potential track, timing and temperature profile with the system. The eventual solution could mean the difference between a little slush, and several inches of heavy wet March snow by Tuesday.
The Global Forecast System has been in the middle range of storm tracks and temps, and suggests the potential for heavy wet snow in central Minnesota, with the Twin Cities on the edge of the (540 decameter) "rain-snow" line Tuesday.
If this solution ends up close to verifying, that would mean a potential rain/snow mix across southern Minnesota, with the best chance for several inches north of the metro...but it's still too early to pinpoint the heavier snow zone. (and probably will be until Monday)
The National Weather Service forecast discussions have been interesting, and highlight the uncertainty and potential range of eventual solutions with the incoming system.
MEANWHILE...THE MAIN SYSTEM TO KEEP AN EYE ON WILL CRASH ASHORE THE PACIFIC NORTHWEST ALSO SUNDAY NIGHT. MODEL VARIABILITY HAS BEEN REDUCED QUITE A BIT FROM WEDNESDAY NIGHT IN TERMS OF WHETHER THERE WOULD EVEN BE A SYSTEM...BUT MODEL TO MODEL CONSISTENCY IS STILL RATHER POOR WITH TIMING AND TRACK.

THERE ARE 3 DIFFERENT SOLUTIONS CURRENTLY ON THE TABLE. WITH THE MID LEVEL ENERGY BUT IS FURTHEST NORTH AND BRINGS A SWATH OF HEAVY SNOW TO MUCH OF THE CWA. ANOTHER SOLUTION IS THE CANADIAN WHICH DIGS THE ENERGY MUCH FURTHER SOUTH THAN THE ECMWF AND HAS MORE OF AN OPEN WAVE THAN A CLOSED UPPER LOW RESULTING IN A SOUTHERN OUTLIER STORM TRACK. THIS DOES NOT SEEM LIKELY GIVEN THE PROGRESSION OF THE ENERGY ACROSS THE ROCKIES. THE THIRD SOLUTION IS THE GFS AND UKMET WHICH ARE FAIRLY CLOSE TO ONE ANOTHER AND THE GFS ENSEMBLES. THEY KEEP A COMPACT UPPER LOW...DIGGING IT INTO

THE CENTRAL ROCKIES BY TUESDAY MORNING AND LIFTING IT UP INTO THE LOWER GREAT LAKES WEDNESDAY.

TIMING AND TRACK ARE RATHER CLOSE AND LIE BETWEEN THE GEM AND EC SOLUTIONS...ALBEIT PERHAPS A TAD SLOWER. INTERESTINGLY...DESPITE THE LARGE DIFFERENCES ALOFT...THE EC AND GFS ARE RATHER CLOSE WITH QPF PLACEMENT AND INTENSITY AND PRESENT THE SAME SENSIBLE IMPACTS FOR THE AREA.

THE GFS/UKMET CAMP SEEMS THE MOST APPROPRIATE TO GO WITH AT THIS JUNCTURE...WHICH WOULD MEAN A DECENT CHANCE FOR A HEAVY SNOW EVENT WITH SIGNIFICANT ACCUMULATIONS IF ENOUGH MOISTURE CAN GET INGESTED INTO THE CYCLONE. STILL A WAYS OUT AND THINGS CAN CHANG BETWEEN NOW AND THEN BUT IT IS WORTH KEEPING AN EYE ON DURING THE NEXT SEVERAL DAYS.
Translation? There are still a lot of track, timing, moisture and temperature profile uncertainty with the incoming system. Expect a few forecast undulations...and the potential for winter storm watches to be flying for parts of Minnesota by late Sunday for later Monday into Tuesday.
You can get your inner weather geek on as the system evolves and read the latest forecast musings in the NWS Twin Cities forecast discussion.
Spring returns again late next week?
Our numerical forecast models are notorious for being in a constant state of flux in the transitional season of spring. Sharp differences in air masses, and a faster jet stream can make for bigger errors with time. The GFS suggests another warm up late next week...and another run into the 40s and 50s Thursday and Friday.
Snowy disappearing act
Roughly a foot of snow has disappeared in the metro since March 1st. Take a look at how far the back edge of the snow cover...also known as springtime, moved into southern Minnesota in the past week.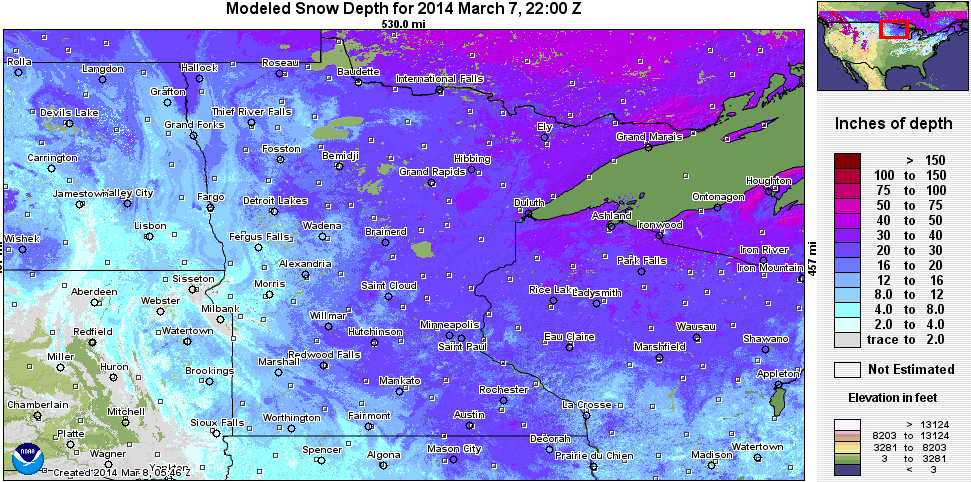 Progress!
A Tale of Two Winters in the USA
Think it was brutally cold and snowy this winter? It was, if you lived near or east of the Mississippi. In the West, they basked in warm sun and prayed for rain. Alaska set an all time record for the warmest temp ever recorded in January with 61 degrees above zero.
Here are the winter highlights from NOAA.
Too early for tornadoes?
Yes it;s still mid-March. You'll probably have to shovel your front walk again before you'll hear tornado sirens and head to the basement. But it's never too early to start thinking ahead to severe weather season. Here's a reminder from the National Oceanic and Atmospheric Administration about how to stay ready for the upcoming severe season.
Where's my weather radio been hibernating all winter long anyway?
Your support matters.
You make MPR News possible. Individual donations are behind the clarity in coverage from our reporters across the state, stories that connect us, and conversations that provide perspectives. Help ensure MPR remains a resource that brings Minnesotans together.