Winter storm north, chilly weekend but near 60 by next weekend?
Spring weather arrived right on schedule as Thursday's mild weather was good tonic for the Minnesota soul.
Temperatures soared into the 40s in most of Minnesota, and thermometers read 52 degrees in Wheaton and Marshall in western Minnesota.
44 degrees -- high at Minneapolis-St. Paul International Airport Thursday

6 inches -- snow cover on the ground at MSP Airport
Winter storm north through Friday
Hopefully we enjoyed the brief spring teaser Thursday. The next low pressure wave tracks across northern Minnesota Friday. Click the map below to animate.
This system dumps another round of snow up north, and brings winter storm warnings to the Red River Valley and winter weather advisories to northern Minnesota.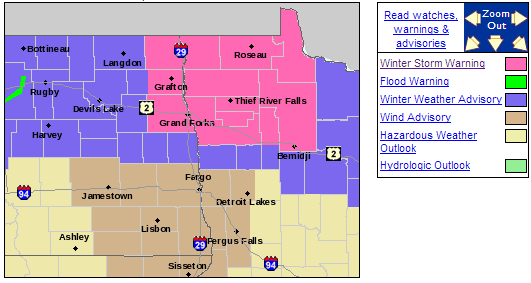 Here's the view on snowfall from the Duluth office of the National Weather Service.
[image]
Metro: Friday morning mix
The Twin Cities catches the southern end of this system as it rides by early Friday. I don't expect much accumulation, but a winter mix of ice and snow may be just enough to gum up the morning rush hour Friday.
[image]
Weekend chill
No doubt about it, this weekend will feel more winter than spring as another Canadian shot follows Friday's weather maker.
Season's warmest air ahead next weekend?
The good news in the long range forecast?
Temperatures should warm again late next week. In fact, the European Centre for Medium-Range Weather Forecasts and the National Oceanic and Atmospheric Administration's Global Forecast System models are bringing the notion of a major warm air gush on gusty southwest winds next weekend.
That could bring the season's warmest air so far into the Upper Midwest.
The forecast models have shown more consistency on this trends the past two to three days, and with multiple models locking in on this trend, I am growing more confident a major warm air push may be heading in the weekend of March 29-30.
Temperatures in the 50s are looking more likely by next weekend -- and 60s are a distinct possibility if the current map trends pan out.
Could "true spring" be only nine days away?
Hang in there!
NOAA spring outlook: cool bias?
The trend is your friend.
That sage piece of weather advice seems to be what NOAA is leaning on for the just released Spring 2014 outlook.
While temperature will warm the next few weeks, NOAA's Climate Prediction Center favors a cool spring overall across the northern United States, with continued warmth in the southern states.
Spring temperature outlook from NOAA
Below-normal temperatures this spring are favored for an area from Montana eastward across the northern Plains to the Great Lakes region, while warmer-than-normal temperatures are most likely for western sections of Washington and Oregon, California, the desert Southwest, the southern Plains, the Southeast and all of Alaska.
"Persistence" also is the trend for a severe drought in California, where some of the nation's most productive agricultural land is starving for water.
Spring precipitation outlook from NOAA
Significant and widespread drought conditions continue in California which experienced its warmest and third driest winter on record. Drought is expected to persist or intensify in California, Nevada, most of interior Oregon and Utah, Arizona, New Mexico, southeast Colorado, western Oklahoma, and most of west Texas because of below-average rain or snow this winter and the onset of the dry season in April.  If the drought persists as predicted in the West and Southwest, it will likely result in an active wildfire season, continued stress on crops and livestock due to low water levels, and an expansion of water conservation measures.  Drought removal expected for the Big Island of Hawaii.

Drought improvement is likely in Washington, southeast Idaho, extreme northern and coastal Oregon, western and central sections of Nebraska and Kansas, central Oklahoma, and the Midwest. Drought is not expected east of the Mississippi River during the next three months.
NOAA's flood forecast highlights an elevated risk of ice jams, and a moderate flood potential  for the Red River Valley this spring.
[image]
There is a risk of moderate flooding along the Red River of the North between eastern North Dakota and northwest Minnesota, and along the Souris River below Minot, N.D. River ice, snowpack and significant frozen ground are factors in the flood risk for this area. Additionally, there is a risk of moderate flooding for western South Dakota because of current saturated soils.
Here's a good look at the thinking behind NOAA's Spring Outlook.
Happy Spring 2014!
Your support matters.
You make MPR News possible. Individual donations are behind the clarity in coverage from our reporters across the state, stories that connect us, and conversations that provide perspectives. Help ensure MPR remains a resource that brings Minnesotans together.