Enbridge oil pipeline expansion plan spurs heated debate
A decision by Minnesota regulators on a plan by Enbridge Energy to move more Canadian crude oil through a Minnesota pipeline is months away, but the public debate over the company's plans already is growing heated.
That was clear on Thursday, when several hundred activists, some of whom traveled hundreds of miles, gathered to speak out on why they favor or oppose the oil pipeline expansion project.
"Is there such thing as a spill-free pipeline?" asked Prudence Johnson outside a hearing before an administrative law judge. "No, no, no!"
At a park in downtown St. Paul, Johnson led a few hundred environmental activists in song to protest Enbridge's plans.
Beyond the risk of spills, opponents of the project - some from other states - want people to hear a larger message: increasing the pipeline's capacity takes the United States in the wrong direction when it comes to tackling climate change.
Enbridge aims to increase capacity on the Alberta Clipper pipeline to 800,000 barrels per day. 
Much of the oil on the pipeline comes from the oil sands of Alberta, where extracting and refining oil is an energy intensive process that creates carbon emissions linked to climate change.
At the hearing, many speakers urged action on climate change.
"My hope is that someday I will be able to look at that future grandchild of mine in the eye and say, see, we Americans can accomplish anything we put our hearts and minds to," said Carolyn Ham. "There is no need for this expansion, and I urge you to deny it."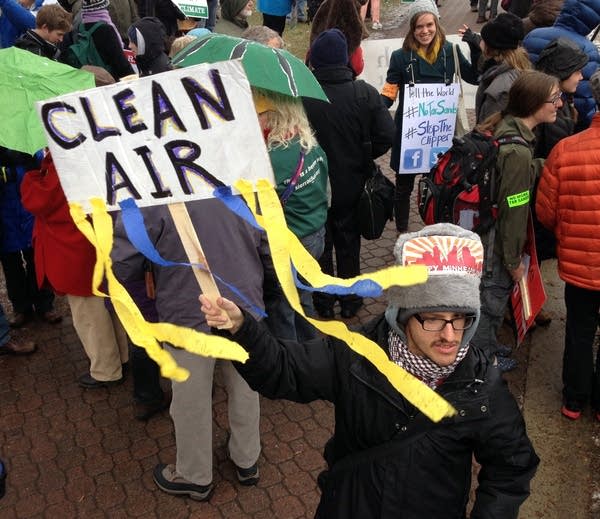 Enbridge officials argue that the pipeline project, which includes new pumping stations, is needed. Spokeswoman Lorraine Little said the Alberta Clipper currently carries about 450,000 barrels per day across Minnesota.
"But it was built and designed to ultimately carry 800,000 barrels per day should the need or the demand from our customers arise," Little said. "And now it's arisen, and it's arisen because refineries in North America want to have access to secure and reliable sources of North American crude oil."
Many pipeline supporters at the hearing argued that the oil would continue flowing from Alberta's oil sands even if Minnesotans don't want it.
"The country runs on oil," said Steven Shew, a plumber and pipefitter from Wisconsin. "Good, bad or indifferent that's the way it is and that's the way it's going to be for awhile."
Shew, one of among dozens of union members to attend the hearing, said the project will create good paying jobs and help the country avoid another oil crisis like the one in the 1970s.
"I don't want to see my kids have to go through that uncertainty of what it does economically, the recessions it created because somebody over across the pond decides to turn our oil off," he said.
The arguments for and against the pipeline project echo some of those being made in the debate over the proposed Keystone XL pipeline, which would transport crude oil from Canada's oil sands to refineries in Texas. That pipeline has received national attention, and President Obama is expected to make a decision on the project soon.
But the awareness surrounding the Enbridge project is clearly growing.
Administrative Law Judge Eric Lipman will consider all the public comments and issue recommendations to the Minnesota Public Utilities Commission. It could make a decision on the Alberta Clipper project this summer.
Like the Keystone project, it would need federal approval because it crosses international borders.
At the protest in the park, Al Smith, a member of the Michigan Coalition Against Tar Sands, said pipelines in the Upper Midwest have been a bigger concern for him than Keystone.
"I believe that Keystone was always the sacrificial lamb," Smith said. "Let's focus the attention, because Enbridge's pipelines are every bit as big, TransCanada's lines are every bit as big. They've already put all this in place.
"Even if we stop Keystone it's not going to stop the flow of tar sands," he said. "Not that Keystone shouldn't be fought and stopped but neither should we neglect all the other options we put in place while everybody was looking at Keystone."