Hoffner to return to MSU football coaching job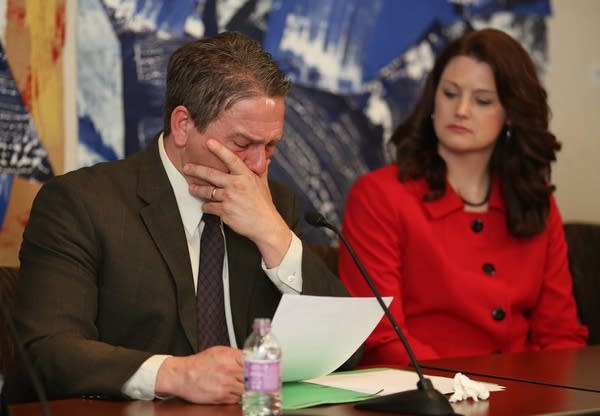 Former Minnesota State University, Mankato football coach Todd Hoffner is returning to his old job Wednesday. In 2012, a Blue Earth County judge dismissed child pornography charges against him, but university officials reassigned him anyway, then suspended him, and eventually fired him. In January he took a new job in North Dakota.
But after an independent arbitrator ruled that the university must reinstate him with back pay, and flanked by his wife and lawyers at a Minneapolis news conference Tuesday, an often emotional Hoffner said he's glad to have his old job back.
"While the past two years have been a nightmare for my family and me, it's not changed the fact that I've always wanted to coach college football at Minnesota State University, Mankato," he said.
Hoffner's nightmare began in August of 2012, when a University employee found video on his university-issued cellphone of the coach's kids dancing around naked after a bath. With the sex abuse verdict against former Penn State assistant football coach Jerry Sandusky in the news that summer, MSU and Blue Earth County prosecutors took no chances. Hoffner soon found himself in handcuffs, charged with using minors in a sexual performance and possessing child pornography.
Grow the Future of Public Media
MPR News is supported by Members. Gifts from individuals power everything you find here. Make a gift of any amount today to become a Member!
Three months later, a judge dismissed the charges, saying the video was just an innocent family moment. There was never a trial, but Hoffner's problems with the university bureaucracy were only beginning. The school reassigned him to an administrative job, suspended him for 20 days, then eventually fired him last May, never publicly saying why.
In January, Hoffner took a new job at Minot State University in North Dakota. He also filed a grievance against MSU, and last week, an arbitrator ruled MSU had no grounds to fire Hoffner and ordered the school to reinstate him.
After the nearly two-year ordeal, Hoffner thanked Minot State for hiring him, but said he wants to pick up where he left off and resume coaching football in Mankato.
"Minnesota State University is a beautiful place, and there's a lot of great people there, and it's going to be very refreshing for me to go back to a place that I was removed from," Hoffner said.
"I do not think I will ever understand why certain individuals did what they did or made the decisions that were made, but that is for others to sort out and to deal with. I'm not interested in revenge, and I'm not a spiteful person," Hoffner said.
Hoffner's attorney, Chris Madel, was not quite so conciliatory.
"Todd said he's not spiteful," Madel said. "I am."
Madel wants the university to be held accountable for what happened to Hoffner and his family.
"He was taken off a field, charged, and then as a result of that, fired, shipped across the university to a crappy little office, and suddenly when all of this is put back in their faces, now we just want to look and say, 'never mind,' like Gilda Radner on Saturday Night Live," he said. "No."
Madel hasn't ruled out suing the university, saying MSU is guilty of more than just violating Hoffner's contract. He also said he'll be watching closely for any hint of retaliation against the coach and demanded an apology from the university.
For its part, Minnesota State University did not make anyone available for comment, but did apologize to Hoffner.
"This has been a difficult journey for all involved," the school said in a statement.
"We extend our apologies to Mr. Hoffner and deeply regret the difficulties he and his family have experienced this past year and a half," the university added. "It is our sincere hope that all concerned can now find ways to move forward for the sake of the Hoffner family, student athletes, the university, and the community."
Also demanding answers from the university is Nancy Black. She's president of the Inter Faculty Organization, the union that helped Hoffner through the grievance process.
"I'm wondering who Todd Hoffner offended that they pursued it with such vigor in the face of such overwhelming evidence he should not have been disciplined or terminated," she said.
She's not seeking the ouster of university officials, but she does want them to explain their decisions. While attorneys and union leaders try to figure out what happened, Todd Hoffner says he's eager to get back to the gridiron.
When asked what he hoped would come from his ordeal, Hoffner said only, "A hat and a whistle that has a Maverick logo on it."
After he was fired, Hoffner took another coaching job at Minot State University. He thanked the North Dakota school for the opportunity to work there but says his roots are in Mankato and coming home is the best decision for his family. Hoffner says any nervousness he might feel when he returns to work today pales in comparison to what he went through over the last two years.