Investigation into student drowning finds rough play, expired lifeguard certification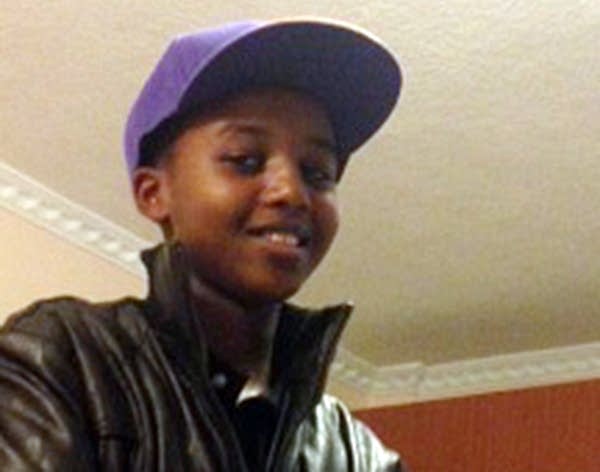 Before he sunk to the bottom of his school's swimming pool in late February, 12-year-old Abdullahi Charif joined several other boys in a game of "king of the hill" - in which they pushed one another off an inflatable raft.
At times, the shoving got rough, several classmates said. As one boy told police, Abdullahi was in the deep end when someone pushed him in the back, causing Abdullahi to belly flop onto the water and likely hurt himself.
Abdullahi was known to be a poor swimmer, and the long flotation device he had been using drifted away, according to the classmate.
St. Louis Park police say the boy's account provided the most detail out of more than a dozen student interviews conducted as part of a criminal investigation into Abdullahi's death.
MPR News is Member Supported
What does that mean? The news, analysis and community conversation found here is funded by donations from individuals. Make a gift of any amount today to support this resource for everyone.
• Related: Prosecutors will not press charges in school drowning
"It is entirely plausible that Charif drowned in the manner in which [the boy] described," wrote a St. Louis Park police officer in the investigative file obtained by MPR News.
Abdullahi, a seventh-grader at St. Louis Park Middle School, was removed from life support on March 1, two days after his gym teacher, James Bigot, pulled him from the bottom of the 9-foot-deep end of the pool.
St. Louis Park police released the investigative file to the public this week after the Hennepin County Attorney's office declined to press charges against Bigot because of a lack of sufficient evidence. Until now, little was known about Abdullahi's final moments of consciousness.
The investigative documents raise questions about whether the class was properly supervised. Police determined the school district did not have any policies in place related to swimming pool safety, and that Bigot's certifications for lifeguarding and water safety instruction had expired.
Eric Hageman,a lawyer representing Abdullahi's family, said the police files confirm the parents' belief that the teacher failed to adequately watch over the class.
"The children who were involved in this rough play — this playing 'king of the hill' — a number of them were non-swimmers or poor swimmers, and they were on this raft which was occasionally in the deep end," he said. "And it simply should have never been allowed to happen."
St. Louis Park Public Schools officials have repeatedly declined to comment about the death while the district continues its own investigation. Contacted by a reporter today, spokeswoman Sara Thompson said Superintendent Rob Metz isn't available for interviews. Thompson said the pool remains closed and Bigot is still on paid administrative leave.
In a memo explaining why she would not pursue second-degree manslaughter charges against Bigot, Assistant County Attorney Amy Sweasy noted that while the students' accounts varied significantly, no one reported that anyone meant any harm to Abdullahi in the pool.
"This is a very tragic accident that resulted in the death of a twelve-year-old boy in a place everyone assumed he was safe: at school," Sweasy wrote. "An accident, by definition, lacks the core element of intentional wrongdoing as criminal prosecution requires."
Unclaimed shoes
No one knew anything was wrong on the morning of Feb. 27 until all of the other students had exited the pool and Bigot, a longtime gym teacher, scooped up a pair of shoes near the boys' locker room.
When a student in the locker room told Bigot that the shoes belonged to Abdullahi, Bigot yelled Abdullahi's name a few times but couldn't find him, according to the teacher's statement to police.
As he returned to the pool area, Bigot spotted Abdullahi's body at the bottom of the deep end. Bigot radioed for help, pulled the boy from the pool, and began performing CPR.
The investigative file notes all 28 students in the class were present on the day Abdullahi drowned. Bigot let students play water basketball or "king of the hill" because it was an unstructured free day concluding the swim unit.
The raft that the boys were playing on belonged to Bigot, and it had a hump that likely blocked the teacher's view of Abdullahi, investigators determined. And all the splashing obscured the bottom of the pool, making it possible for Abdullahi's submerged, 5-foot-11 frame to escape notice.
Bigot also told police he was working on his iPad for a total of five minutes to take attendance and conduct swim tests on two female students, but it didn't interfere with his ability to monitor the pool.
His attorney, Sarah MacGillis, said the school requires him to use the iPad to perform his duties.
"The fact that he was at any point making observations or writing things down, that is what is required by his job," MacGillis said.
She added that Bigot, 47, is distraught over losing a student in his class. The school should have provided additional supervision, she said.
"It's incomprehensible to me that you have more than 20 students — some who can swim well, and some who can't — with only one person who has split responsibilities," MacGillis said. "He has the responsibility to obviously supervise, but he also has the responsibility to record grades, to make observations about the student's abilities, and to administer discipline when appropriate. And how do you do that if there's only one of you?"
Bigot told investigators there is nothing he could have done to prevent Abdullahi's drowning. He did not return a phone call today seeking comment for this story.
The teacher had never been disciplined or investigated by the district before the drowning in his 24 years working for the district, according to a memo from the county attorney's office.
Another attorney representing Abdullahi Charif's family, Fred Pritzker, has said he expects to file a lawsuit on the family's behalf. Pritzker said last week that what was troubling from discussions with the county attorney's office is that no one could account for the last 10 minutes of Abdullahi's life.
Problematic statements
Bigot's statements to police were "problematic," wrote Officer Kurt Bahr. Bigot told investigators he never saw Abdullahi in the deep end, but a number of students reported he was playing there. Many said the boy was laughing and appeared to be enjoying himself in the water.
Bigot's certifications for lifeguarding and water-safety instruction had lapsed. State law does not require a lifeguard be present at pools, as long as the pool operator posts a "no lifeguard" sign. But at the middle school, no sign was posted, and Bigot's lapsed certification didn't meet the legal requirements, according to the police reports. The school district, however, did not appear to require that Bigot maintain his certification.
Hennepin County inspectors had also cited other violations after visiting the school's pool area, including low lighting.
At the start of the swim unit, Bigot tested the students for their swimming ability and noted that Abdullahi was a "non-swimmer." The boy was willing to get into the water but was "really struggling."
In recent years, other students across the nation have similarly drowned, including a Fargo High School student who died three weeks after nearly drowning in his gym class.
Tom Griffiths,a national expert on aquatic safety, said school pools should have a dedicated lifeguard in addition to the teacher instructing the class, but most schools in the United States do not.
"Unfortunately, the way we conduct swimming lessons in school pools is just a recipe for disaster," he said.