After the rains, a grueling cleanup on the farm
Dennis Tweet spent much of Thursday trudging through messy fields on his farm to fix a fence damaged by flooding that followed this week's heavy rainfalls.
• Thursday's weather: Dayton declares emergency in 35 counties; officials warn of flooding's health risks
• Photo gallery: It just keeps raining. And raining.
He spent a lot of time splashing and occasionally stumbling through a ditch. In some places, the water was knee deep.
"Oh, golly, I hit a deep hole there," Tweet said after one misstep.
Rain and hail have made a mess of thousands of acres of Minnesota farmland, so much so that U.S. Agriculture Department officials are out assessing the toll. They don't have a state-wide damage estimate yet, but farmers don't need an official assessment to know that the storms have created a lot of extra work.
Since the series of storms began Saturday, some farmers in southwest Minnesota have measured nearly a foot of rainfall.
The rain caused a creek running through Tweet's farm to overflow. As he slogged through his fields on the way to the broken fence, flood water bashed his fence with all sorts of debris before he spotted a six-foot branch tangled in the barb wire.
"I can just as well get these trees out of here so that they won't have to do this to me again," Tweet said.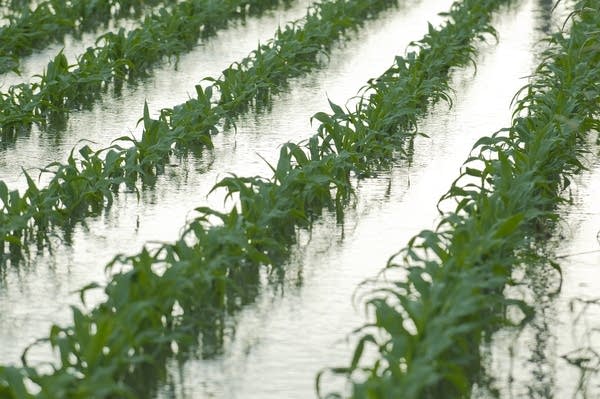 After he wrestled the branch free, he tossed it over the fence into the ditch.
Tweet has plenty of company in southwest Minnesota, where debris in floodwaters damaged countless fences. Barbed wire caught all kinds of stuff — from corn stalks and grass to tree branches — turning the fences into barriers. The fast-flowing water then pushed against the barriers, causing fence sections to collapse and tip over.
"It was hard on fences," Tweet said. "Took a lot them out."
But Tweet was lucky. While the floods damaged his fences, all of his cattle survived the rising water. He wasn't there to see it, but he believes some had to swim to safety.
On Thursday, the herd grazed about 100 yards from where Tweet worked before giving him a new headache. The cows started moving toward a collapsed section of fence he hadn't yet fixed.
"Oh, golly, I see they are getting out," Tweet said. "I probably better get on my four-wheeler and head them back, we don't care to have them on the road. We have enough trouble with them in the pasture."
As Tweet splashed back through the water to herd the cattle, he was surrounded by signs of other problems left by the storms.
A nearby road was washed out and in some fields the storms left long streaks of silt and gullies where flood water eroded the soil. In others, hail left shredded corn stalks and sheared off soybean stems.
Insurance adjusters and government agencies are out in fields assessing the damage. Besides crops, roads and some structures have been damaged, said Jeff Bloomquist, an emergency manager for the U.S. Agriculture Department's Minnesota Farm Service Agency office.
"It's a pretty big situation right now," Bloomquist said. "We're just trying to get our hands around how big and how this is going to impact the growing season for the rest of the year."
Bloomquist said USDA workers are adding up how many acres of crops were hurt by the storms. In southwest Minnesota's Rock County, officials estimate 100,000 acres of corn and soybeans were damaged. That's about 40 percent of the tillable land.
If the damage is severe enough, Bloomquist said, it could pave the way for federal financial assistance to help storm victims.
"If there's a 30 percent crop loss for any significant commodity crop in a county, then what can happen is we can review that data, and we can issue what's called a secretarial disaster declaration," he said.
One bit of good news for farmers is that all the rain ended the drought the southwest corner of the state has seen for most of the last two years. For the first time since 2011, the weekly U.S. Drought Monitor shows no areas of drought in the state.
For the crops that survived the storms, the extra moisture could produce a big fall harvest. But in many fields, the growing season may be over.
Tweet, who plans to handle most of the storm cleanup on his farm, said he won't need any financial help. After moving his cattle back to the pasture, he paused before heading back to fence repair and took a look around.
"It's unreal, yes it is," Tweet said of the flood. "But it happened."
Your support matters.
You make MPR News possible. Individual donations are behind the clarity in coverage from our reporters across the state, stories that connect us, and conversations that provide perspectives. Help ensure MPR remains a resource that brings Minnesotans together.