In the Twin Cities, asthma hospitalization rate highest along I-94: Here's why
In some ZIP codes in Minneapolis the risk of experiencing a life-threatening asthma attack is nearly six times higher than it is in most other areas of the state.
Denika Jackson and her son Keontae Gaskin, who are both African-American, live at ground zero for the worst asthma problem in the Twin Cities, just a few steps away from Interstate 94 in North Minneapolis. The 55411 ZIP code has the highest asthma hospitalization rate in the seven-county metro area.
Related coverage:
• For LGBT minorities, discrimination can lead to poor health
• At highest risk for cancer, American Indians struggle with lifestyles
• Schools play major role in well-being of kids with asthma
"If you come off my front porch and walk 10, 15 feet, you're at the corner and across the wall is the freeway," Jackson said. "The only thing that's blocking my house from the freeway is the wall. And the wind is blowing it all back up here."
Grow the Future of Public Media
MPR News is supported by Members. Gifts from individuals power everything you find here. Make a gift of any amount today to become a Member!
Editor's note: This story is part of a series that explores health disparities among certain groups of Minnesotans and the growing importance of data to understand the causes. The report was done in collaboration with the Healthy States project, American Public Media's focus on information, insight and experiences in health.
Over the past few decades asthma has surged around the globe. It is the most common chronic disease of childhood in the United States.
In Minnesota, an estimated 90,000 children have asthma, and a disproportionate number of them are African-American and American Indian. Counting adults, the number of asthma cases in the state jumps to more than 400,000.
For some people asthma is a minor nuisance. For others, it's life-threatening.
Figuring out what to do about it has been an enormous public health challenge because as common as asthma is, its causes, or triggers, are many.
Since Jackson moved into the house she rents nearly one year ago, her son has been hospitalized five times for asthma attacks so severe he could have died as he struggled to breathe. The experience has been so traumatic she said her son now lives in fear that he won't survive another severe attack.
"What can you say," Jackson said, "to a 13-year-old who got that stuck in his head that every time he has an asthma attack he thinks he's gonna die."
"What can you say to a 13-year-old who got that stuck in his head that every time he has an asthma attack he thinks he's gonna die."
Jackson has done everything she can to make her house free of the allergens and other things that could trigger her son's asthma. But there's nothing the 41-year-old, single mom can do about the dust from the traffic and pollution on I-94.
A map created by the Minnesota Department of Health shows that asthma hospitalization rates are highest along a corridor that starts in downtown Minneapolis and tracks north and west, roughly along the I-94 freeway through the metro area.
There are many theories, but no one really knows what causes asthma. The disease affects all cultures, all incomes, all races and all education levels. However, African-Americans and American Indians have the highest asthma rates in the state and face some of the biggest challenges in managing the disease.
"There's a tremendous disparity there," said Wendy Brunner an epidemiologist for the Minnesota Department of Health Asthma Program.
The program tracks a number of asthma measures, among them emergency department visits, smoking rates, second-hand smoke exposure by people with asthma, rates of flu and pneumonia vaccinations for asthma sufferers and asthma deaths.
Age adjusted hospitalization rates for asthma in Twin Cities region by ZIP code
source: Minnesota Department of Health Asthma Program
Brunner said where people live can explain much of the racial disparity in asthma rates. Like Jackson and her son, many low-income people turn to rentals where they may have less control over their living conditions.
"We know in Minnesota that African Americans have the lowest home ownership rate in the state and that has implications for somebody with asthma," Brunner said.
Rental housing can have old, dirty carpets -- a big asthma trigger. Tobacco smoke from nearby apartments may seep into the units where people with asthma live. In many cases, there's nothing a renter can do about these problems. Landlords may prevent them from ripping out the carpet and it may be too expense to move somewhere else, or too difficult to find better housing that's close to public transportation.
In 2010, there were 19,974 Emergency Department visits for asthma across all age groups in Minnesota.
"Asthma is complicated, but really interesting in how it's connected to some of these bigger factors like housing and transportation and air quality and occupation and whether you own your own home or not," Brunner said.
The Minnesota Department of Health has tried to address some of the environmental asthma triggers. It has paid nurses and home health workers to look for possible mold, dust, and pest issues in the homes of people with especially severe asthma. That program has fixed problems in 64 homes. The agency also is trying to recruit landlords to voluntarily make their rental properties smoke-free.
A separate program run by the Minnesota Pollution Control Agency retrofitted the school bus fleet across the state, so the vehicles no longer spew diesel exhaust on their young passengers.
"We know in Minnesota that African Americans have the lowest home ownership rate in the state and that has implications for somebody with asthma."
But while these programs likely have had some positive effects on asthma cases, they won't be enough to eliminate the racial disparities in asthma rates. To a large degree, living well with asthma is also about having consistent access to primary care, uninterrupted insurance coverage and a reasonable understanding of asthma medications, which can be expensive and confusing.
Dr. Gail Brottman, a pediatric pulmonary specialist at Hennepin County Medical Center, has found that good asthma education is often a more important tool for her patients than trying to eliminate all of their environmental asthma triggers.
"Even if you put them in better housing, if they don't have the right asthma controller medication, if their parents don't understand what medication to give them, when, it's just not going to work," she said.
For example, Brottman said she frequently treats children who aren't doing as well as they should be because their parents have been giving them the wrong asthma medication. Medicine used to keep asthma under control works differently than the "rescue" medication used to stop an attack. Brottman said many parents are confused about the difference, and it doesn't help matters that the inhaler devices that deliver the drugs look similar.
When she can, Brottman refers her young patients who have poor asthma control to asthma camps. She said they are fun getaways where children can learn how to use their medications in challenging conditions, while they're surrounded by pollen and participating in sports.
Davion Davis, an African-American in his second year at Camp Superkids, a five-day residential asthma camp near Loretto sponsored by the American Lung Association of Minnesota.
So far, the slightly shy, Minneapolis 9-year-old has enjoyed almost everything about his experience.
"The mosquitoes, they was bad," he said. "They was flyin' around a lot."
Davion has had asthma since he was a baby. Severe attacks have put him in the hospital nearly a dozen times. Now old enough to take on a bit more responsibility for his asthma care routine, he already has embraced one of the camp's key themes: making sure he keeps his asthma under control.
"You want to be an expert at taking your medicine," Davion said.
A week at Camp Superkids helps children with asthma reduce their emergency department and hospital use in subsequent years, according to the Lung Association's data. The kids also miss fewer school days due to asthma than before.
But even with all that Davion is learning at camp, his knowledge will be undermined by the harmful smoke exposure he faces when he returns home.
His mother, Crystal Harris, admits that she smokes in her apartment.
"I usually try to keep it to my room, but lately when it's been nicer outside, I go outside," she said.
Harris, 30, knows she shouldn't smoke and plans to quit. She also has severe asthma -- so severe that she has stopped breathing twice in her life. During one episode she spent an entire month hooked up to a ventilator.
In 2010, there were more than 3,500 asthma hospitalizations among Minnesota residents.
But her choice to smoke is not as unusual as it might seem.
Adults with asthma are just as likely as adults without asthma to smoke cigarettes, according to Minnesota data from a study conducted by the U.S. Centers for Disease Control and Prevention.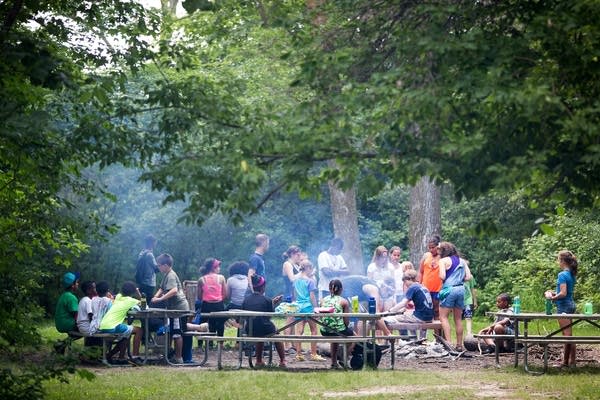 Harris, a single mom who works the night shift as a security guard, said she started smoking to ease her stress.
"Sometimes that (stress) becomes more of a problem than the breathing problem itself," she said. "That's what did it for me."
As long as people smoke, there is sub-standard housing, vehicle pollution, and uneven insurance coverage, asthma will threaten the lives of some Minnesotans more than others, said Brunner, of the health department.
But it is possible to stay on top of the disease.
"When asthma is well-managed you should be able to live healthy, active lives just like everybody else," she said.