Flood of applications jams admissions at some sought-after colleges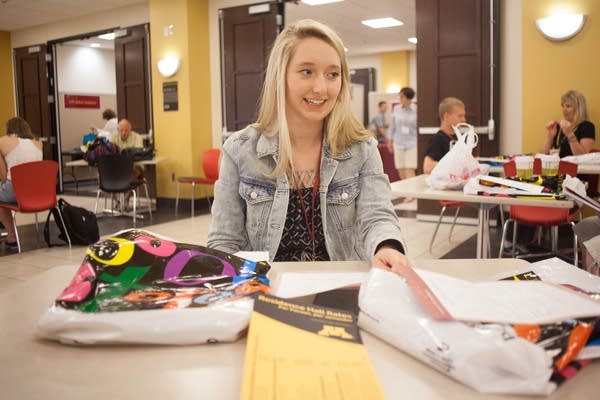 Admissions offices at many Minnesota colleges are awash in applications these days, and for some students it's creating tougher competition for a spot at their first-choice school.
Most campuses are seeing two or three times the number of applications they saw 30 years ago — a few see four or five times more — as technology's made it easier than ever for students to apply to many schools.
Most students will get an offer from their first-choice school, national surveys show. Still, the application flood has pushed down acceptance rates at some of the most competitive institutions here and across the country, making it harder to snag a seat among some of the most sought-after schools.
"We've seen kids who I think would have gotten accepted in the past not get accepted," said Frank Sachs, director of college counseling at The Blake School, where he has worked since 1982.
MPR News is Member Supported
What does that mean? The news, analysis and community conversation found here is funded by donations from individuals. Make a gift of any amount today to support this resource for everyone.
Today's high school graduates are certainly competing with more people for a spot in a public or private college in the state, undergraduate admissions data shows.
Macalester College is a prime example. In 1983, the St. Paul school attracted a little over 1,100 applications a year. By 2012 that had jumped more than 430 percent to just over 6,000. The University of Minnesota-Twin Cities has seen close to a 300 percent increase — from 9,700 applications to more than 38,000 during the same period.
That explosion is due in large part to the digital age. Students can fill out an online common application accepted by many colleges, sparing them the grind of individual applications and multiple essays.
About one in 10 students applied to seven or more colleges in 1990. By 2010 that had jumped to one in four, according to the National Association for College Admission Counseling.
"It's easier to apply than ever before," said Jon McGee, vice president of planning and public affairs at the College of Saint Benedict/Saint John's University. "For many, many places it's also now free, so why not send to as many [colleges] as possible? And students are doing just that."
Websites, social media and email have also greatly expanded colleges' ability to reach students over the past 10 to15 years, McGee added. That's caused acceptance rates to plunge at many of the most competitive schools.
Macalester, which accepted 83 percent of applicants in 1983, accepted 37 percent in 2012. The U's Twin Cities campus now accepts a smaller percentage of applications — 50 percent — than Carleton College did 30 years ago.
Such low rates are on the minds of many high school seniors.
"We're all a lot more nervous now," said Emma Mellgren of Lakeville, an 18-year- old Blake School graduate who will study business at University of Minnesota this fall.
She applied to 11 schools, she said, because "I wanted to hedge my bets." She said she knows of at least three students who applied to more than 20. Higher numbers of applications doesn't mean it's harder to get into a good college in this state.
Taking into account growth in the number of college seats over the years, a look at enrollment data and high-school graduation numbers suggests that picture hasn't gotten worse for students over the past 30 years.
At Minnesota's seven regional four-year universities, admission is pretty much guaranteed to any first-year student who graduates in the top half of her high school class or scores 21 or higher on her ACT.
Nationally, a UCLA survey found 76 percent of students entering college last fall reporting they received an offer from their first-choice four-year campus, down slightly from the 80 percent reported in 2009.
What the application surge may have done, however, is make it harder now for a student to get his first-choice at an elite college now compared to 30 years ago.
At Gustavus Adolphus College, 65 percent of freshmen scored at or above a 24 on the composite ACT college assessment test back in 1995. In 2012, 88 percent scored above 24. The school's acceptance rate is now 63 percent, considerably lower than the 81 percent it reported back in 1983.
"There's no question that we're a bit more selective than we were in 1980," said Dean of Admission Thomas Crady. "Some students are squeezed out because of our higher academic profile."
The U has changed even more. In 1983, about half its freshmen scored at or above 24. These days it's around 90 percent.
"There are a whole set of students who would have been admitted in the mid-1980s who would unlikely be admitted now," said Vice Provost Robert McMaster, who said the U made a conscious attempt to become more competitive about 15-20 years ago.
"It's just not a safety school anymore," he said. Although the flood of applications and higher academic bar helped make it harder to get into the U and Gustavus, strong students still have many options, said Minnetonka High School college counselor Phil Trout.
Many high schools also offer more college-prep courses and extracurricular activities than they did 30 years ago, meaning many students today are better prepared for college than their parents.
It's important that parents and students not let tales of high school overachievers and insanely competitive Ivy League schools cloud their assessment of how competitive they are, college enrollment consultant Carol Stack said.
Such students "are the outliers," she said. "I think we just have the tendency to let the anecdotal overwhelm us."