Police officer shot, killed in West St. Paul; suspect captured after shootout
Updated 11:45 p.m.
Mendota Heights police Officer Scott Patrick was shot and killed Wednesday in West St. Paul during what police are calling a routine traffic stop. By nightfall, authorities had captured a suspect they sought in the killing.
Police confirmed 39-year-old Brian George Fitch Sr. was in custody following a confrontation and shootout in St. Paul's North End.
• Map: Where Officer Patrick was shot
• Video: An eyewitness describes the shooting
• Link: List of Minn. officers killed in the line of duty
Grow the Future of Public Media
MPR News is supported by Members. Gifts from individuals power everything you find here. Make a gift of any amount today to become a Member!
Fitch was found driving down a street, tried to flee and then fired on police who returned fire.
A police spokesman said Fitch was wounded but his condition is unknown. A woman in the car was struck by a bullet and has non-life threatening injuries. Both were taken to Regions Hospital.
The manhunt took police from St. Paul's West Side across town to the North End, off Rice Street.
Police don't know why Fitch was in the Rice Street area, near Sycamore Street. Authorities said no other suspects are being sought at this time but that the situation remains fluid.
Fitch has a lengthy criminal history, according to state records.
He has felony convictions for second-degree assault with a dangerous weapon in 2000, escape from custody in 2002 and first-degree burglary in 2010. He has misdemeanor convictions for making terroristic threats in 2013 and for first-degree assault in 2013.
He was sentenced twice to the state prison in St. Cloud, once for assault and once for burglary, and also served numerous stints in county jails.
In June, authorities declared him a fugitive.
West St. Paul Police said Patrick was shot about 12:20 p.m. at Dodd Road and Smith Avenue in West St. Paul.
"It was a routine traffic stop as far as we know," West St. Paul Police Lt. Brian Sturgeon told reporters.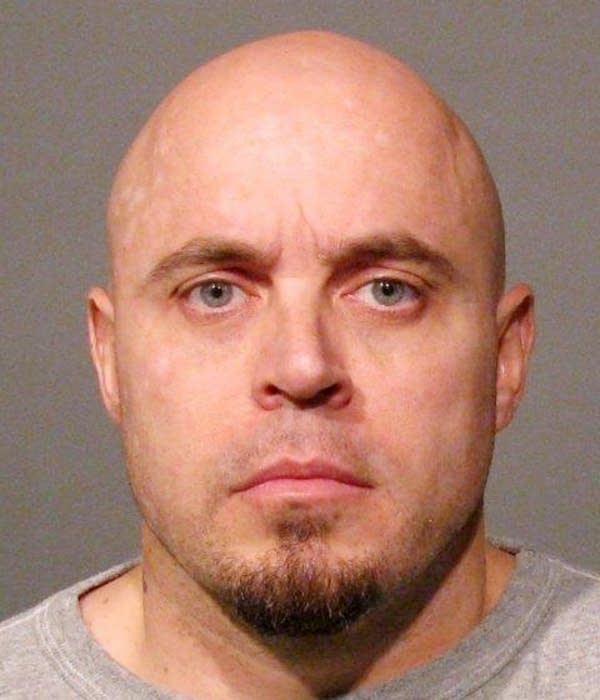 Mike Youness lives near where the shooting took place. He said he heard three loud bangs in rapid succession and recognized them as gunshots.
Looking out his door, "I could see a prone figure lying in front of the squad car," he said, adding that he ran over and saw the officer down in front of his own squad car.
"By the time I got there a woman who appeared to be a nurse ... was there too, down on one knee, attempted to do some CPR, but the nature of the wound was such that it was futile," Youness said, adding there were no signs of life.
"It's a sad tragedy, but it's not indicative of this neighborhood. This is a real good solid working class neighborhood," he said, adding he was "real sorry for this man's family."
Police swarmed several locations during the afternoon in a search for the shooter. At around 3:30 p.m. news helicopter cameras recorded officers forcing a car off the road just off Interstate 494 near Woodbury following a chase.
More than a dozen officers swarmed the car and pulled a man out of the car.
Sturgeon, though, said the incident was not connected to the officer shooting.
Patrick, 47, had been on the Mendota Heights force since 1995 and was its most senior officer. He leaves behind a wife and two teenage children, Mendota Heights Police Chief Mike Aschenbrener said.
"He was very dedicated police officer and a family man who absolutely adored his children," said Aschenbrener, who added that the family has requested privacy. "He cared deeply about the city of Mendota Heights."
Gov. Mark Dayton offered condolences to Patrick's friends and family on behalf of all Minnesotans. "We pray that they be given strength and solace during this terrible time," Dayton said in a statement.
Wednesday night, at about the same time police were closing in on Fitch off Rice Street, hundreds of people gathered for a vigil at dusk near the West St. Paul intersection where Patrick was killed.
They held candles. Some wept. Most just stood silently.
Map of the intersection where Officer Scott Patrick was shot
An eyewitness describes the scene of the shooting
MPR News reporter Jon Collins contributed to this report.