OK to touch? Glensheen, home museums rethink rules to lure visitors
A visit to Glensheen estate was once a staple of the summer family road trip to northeast Minnesota. But the mansion's Lake Superior views and built-in murder mystery don't draw the big crowds anymore.
Attendance has fallen nearly two-thirds since the 1980s, to a point now where the mansion might close to the public if the decline continues. Glensheen's leaders this year have added more live programming, including history lectures, a discussion series and music to get more people through the door.
A few weeks ago, they did the unthinkable, taking down the velvet ropes that used to keep visitors away from valuable artifacts. Photos are now allowed inside the mansion.
The moves have helped boost visits 19 percent this year. They've also put the grand old house into the national debate over the public's access to historic treasures: How much access is too much? Is preservation taking a back seat to entertainment?
Glensheen Interim Director Dan Hartman understands the debate but says the old ways weren't working. "We have to find new, creative ways to start bringing people back," he said.
Historic house museums, places like Glensheen, the James J. Hill House in St. Paul, or Charles Lindbergh's boyhood home in Little Falls, Minnesota, are the most common kind of museum in the country. But attendance has been spiraling downward for decades. Only 24 percent of Americans visited historic sites in 2012, down from 37 percent in 1982, according to the National Endowment for the Arts.
That's led many homes to loosen the rules a bit to lure a new generation of visitors.
Glensheen followed the lead of the Alexander Ramsey House in St. Paul. Five years ago, the home of Minnesota's first territorial governor was on the verge of closing. The Minnesota Historical Society, which operates the house, surveyed its audience and found people didn't a stuffy museum tour. They wanted to experience the house as a house.
So Ramsey House dropped tours, threw out the velvet ropes, and developed a bunch of new events like History Happy Hour, where visitors sip drinks and listen to informal history talks.
The changes made a big difference. Earned revenue jumped to 66 percent of the Ramsey House budget in 2013, up from 27 percent in 2009.
"House museums are hearing that they need to move away from the 'velvet rope tour', where you're sort of guided through, and you can't go in anywhere, and you can't touch anything," said Rachel Abbott, program associate with the Minnesota Historical Society.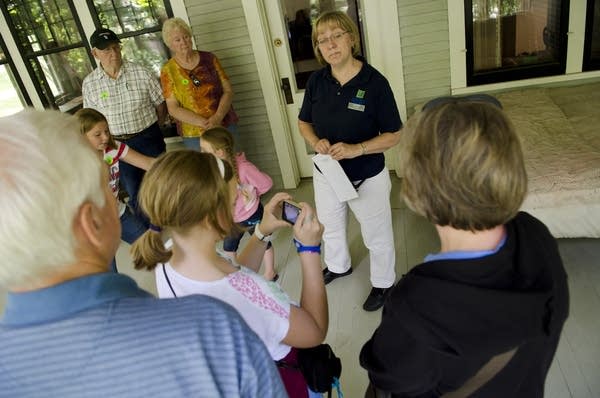 "The public wants something that goes beyond that," she said. "If you have a kitchen, how can you make food in it, how can you let people smell food in it? If you have a playroom, is there a way to let kids play with toys in there? If you have a parlor, can you have social programs where it feels like the space is being used the way it was originally intended?"
Letting drinks "inside a historic house full of artifacts is a little different," Abbott acknowledged. "That's where Ramsey House felt like a risky move, but to the public it doesn't look that risky at all."
The American Swedish Institute in Minneapolis made a similar transition. Two years ago the historic mansion opened a new cultural center and restaurant, transformed the third floor into a space for kids, and began offering what Marketing Director Laura Cederberg calls "thinky-drinky" events mixing arts, culture and history with cocktails.
"You're seeing 80-year-olds next to 21-year-olds, having a great time, for music, performance, DIY craft, and really introducing new audiences into the historic mansion as a gathering place," she said.
"If we take these velvet ropes down, is it going to be as terrible as we think it is?"
At Glensheen, the goal is to encourage Duluthians to view the mansion as more than just a pit stop for summer tourists.
"There are many folks who have lived in the city for a long period of time who have never been here. And frankly we haven't given them a lot of excuses to do that." Hartman said. Glensheen has also launched several personalized tours including an evening flashlight tour of the mansion, and a behind-the-scenes "nooks and crannies.
"If we take these velvet ropes down, is it going to be as terrible as we think it is?" Hartman said recalling the internal discussion. "What we've learned nationally is it's not. It's definitely helped the visitor experience."
There's no doubt Glensheen needed to do something to survive. In 1981, more than 140,000 people toured the 39-bedroom Duluth mansion on Lake Superior, built by iron mining magnate Chester Congdon. By 2012, that number had dropped to just 50,000.
Similar declines have occurred nationwide, leading some historic sites to be sold to private owners, including Confederate Gen. Robert E. Lee's boyhood home.
At the Ramsey House, the eased rules have helped boost operations without damaging the history.
Nothing's been broken yet, said Abbott, adding she's not worried about competition from other museums pursuing similar strategies. History is still popular, she said, it just needs to be made more relevant, accessible and personal.
The access debate, though, isn't over, she conceded.
"How much are we willing to put those artifacts at risk in the interest of engaging people and giving them access to these places and letting them really experience the houses?" she said. "Certainly we don't want people to sleep in the historic beds, but that line is getting blurrier."
Your support matters.
You make MPR News possible. Individual donations are behind the clarity in coverage from our reporters across the state, stories that connect us, and conversations that provide perspectives. Help ensure MPR remains a resource that brings Minnesotans together.