Buried in corn? Record US crop could kill profits for Minnesota grain farmers
The nation's farmers will haul in their biggest corn and soybean crops ever this fall — but that's not good news for Minnesota.
Farmers here expect a down year because of June's damaging weather. The bumper crop elsewhere means corn prices won't go high enough to make a profit.
Minnesota's projected to harvest 168 bushels an acre while Illinois and Iowa could average 20 bushels an acre more, according to data released Tuesday by the U.S. Agriculture Department.
"We're going to be buried in crop for right now," said Peter Georgantones, a commodity specialist with Abbott Futures.
A bumper crop can help a farmer offset low prices because each unexpected bushel is unplanned, but welcome, extra revenue that provides a buffer against losses. But with lower yields than elsewhere, Minnesota farmers will have fewer bushels to sell, and the state's harvest may bring in a lot less than last year's $6 billion crop.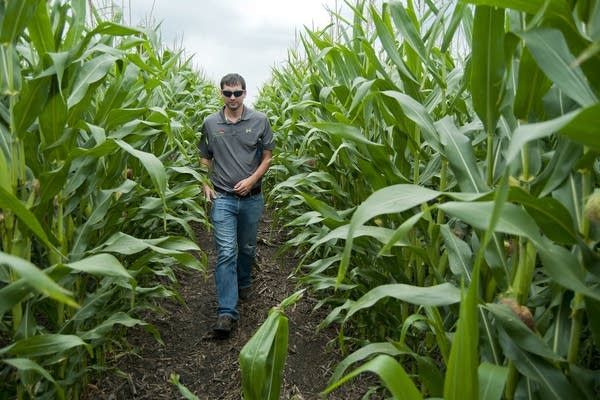 On the Jason Tibodeau farm in southwest Minnesota, the corn crop appears to be in good shape. The dark green stalks are 8 feet tall or more, and Tibodeau says the ears on those stalks are developing quickly.
"Things are looking really, really well for us locally," said Tibodeau, who thinks there's enough remaining moisture stored in the soil to get the crop through and hit a normal yield.
June, though, hurt. Up to a foot of rain fell in parts of the state, drowning out parts of the crop. Add in some hail damage, and the weather hurt Minnesota corn just enough to turn a potential record harvest into an average or a little above average crop.
"Did it hurt us some? Yes, I feel it did," said Tibodeau, who estimated about 5 percent of his crop was lost or stunted by the heavy rains.
• More: After the rains, a grueling cleanup on the farm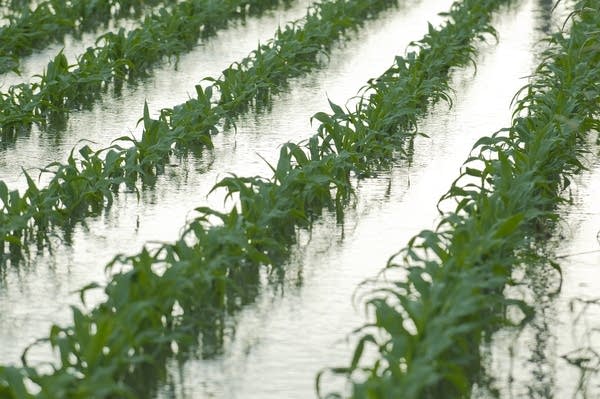 If corn prices stay in the current range of $3 to $4, most farmers will lose money on this year's crop, said University of Minnesota grain marketing specialist Ed Usset.
"I figure it costs the average Minnesota farmer, $4.50 to $5 a bushel to produce one bushel of corn," said Usset. "The math is not very pretty on corn. It's going to be a tough year."
Soybean prices will help offset the corn loss. Although they're also sinking, soybeans are still at profitable levels.
The cheap corn also is good news for cattle, hog and dairy farmers who use the grain for feed. Most should make nice profits this year.
Tibodeau has a bit of an economic cushion this year. He raises cattle and expects them to produce a profit. New technology, including a drone, could help him squeeze out some extra cash by making his crop production more efficient.
"When we hit these low (corn) prices, we're going to have to learn to tighten belts up, and learn to weather that storm," said Tibodeau. "It's just the way it is."
Your support matters.
You make MPR News possible. Individual donations are behind the clarity in coverage from our reporters across the state, stories that connect us, and conversations that provide perspectives. Help ensure MPR remains a resource that brings Minnesotans together.