Minneapolis leaders welcome downtown building boom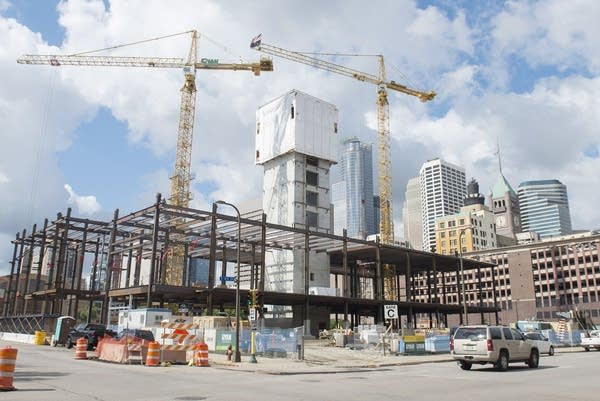 Cranes puncture the Minneapolis skyline and construction projects pock its North Loop, Mill District, and Downtown East neighborhoods.
But city officials and real estate experts are thrilled with the earth-moving surge, a sign that downtown Minneapolis is generating the housing that will make it a magnet for new residents. The city's nationally low vacancy rate also is expected to lead to more development in coming years, local housing market experts say.
Minneapolis officials hope that by 2040, the city will be home to 500,000 residents, with at least 70,000 people living downtown by 2025. For that to occur, the downtown area will need to provide homes to accommodate those future residents, said David Frank, the city's director of transit development.
As of July, there are plans or building permits for at least 17 multifamily residential projects — each with estimated construction costs of more than $1 million.
Map: Major residential projects in downtown Minneapolis
Projects shown — involving new construction (red), conversions (yellow), additions (green) and remodeling (blue) — either have active City of Minneapolis building permits or have submitted complete planning applications. | Data: City of Minneapolis
Frank said city officials aim to help further lure new residents by working on projects that include the Nicollet Mall redesign and new stadiums, bike trails, parks and art facilities.
"The infrastructure exists to have people downtown — both who have a lot of money and those who don't," Frank said. "So we want more people here to use it."
According to the City of Minneapolis, the city's core is home to three of the most expensive construction projects in 2014, including the Minnesota Vikings stadium. That's where two of the city's priciest residential developments are underway — the nearly $219 million Downtown East apartments and office towers project and the nearly $54 million Latitude 45 apartments.
Last week, Downtown East lurched forward with a revised plan and City Council's approval for Ryan Companies to develop a crucial parcel of land for the project, despite the Vikings' last-minute $4.6 million offer for the same site.
In August, Minneapolis surpassed the $1 billion mark for construction projects and cited a "high potential" of reaching a $2 billion milestone by the end of 2014.
Earlier this week, Opus Development Co. expanded its downtown presence with plans for two residential towers of 30 floors or more on Nicollet Mall, the Star Tribune reported.
Tyler Allen, a research analyst at Cassidy Turley, a real estate consulting firm, said the strip of Nicollet Mall is ripe for the kind of project Opus is proposing there.
"It's an underutilized part of downtown," he said, pointing to the area's many surface parking lots.
Future housing at the site, he said, could feed a longstanding pent-up demand for multi-family residential buildings in the heart of Minneapolis.
Allen said there has been a push to build luxury, "resort-style" apartments brimming with amenities like pools, gyms, tanning salons and pet washing stations.
The idea, he said, is to offer millennials both a place to live and a hub for all their activities — working, shopping and playing — downtown.
"You can really have your home base be your apartment," he said. "That's a trend that's happening all across the country, but it's definitely happening in Minneapolis."
John Adams, emeritus professor of geography at the University of Minnesota, said a variety of factors have led to the construction surge. They include Chamber of Commerce and city-led initiatives — and efforts by transit advocates to put employees and customers in homes near shopping centers and where they can be best served by public transportation.
"At [the trend's] root is disposable income," Adams said. "If you can get people to work and live downtown, then the business will follow."
While the city's construction boom is in full swing, Allen doesn't believe it is yet approaching a saturation point. Instead, he expects more earth-moving over the coming years.
"It's not 'if,' but 'where,'" he said.
According to a national housing report released last week by Cassidy Turley, Minneapolis has the fourth-lowest vacancy rate in the country at 2.8 percent — a spot that is shared by Orange County, California, New York City and Sacramento, California.
As long as those vacancy rates remain in the lower single digits, Allen said, developers will charge ahead.
"On the national map, Minneapolis and St. Paul look pretty good," Adams said.
Frank, the transit official, said city officials also are not concerned about the prospect of overbuilding. He said they are confident that the private development market — with its many lenders, investors and appraisal companies — will self-regulate.
"People have a lot at stake with these projects and they're careful and they make sure they will work," he said.