Winter Outlook: Roller coaster winter ahead?
Welcome to the Winter of 2014-15.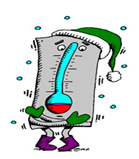 This winter it will get cold, then snow in Minnesota. That's about the only 100 percent certain statement credible meteorologists and seasonal forecasters can make this winter. It's humbling to say that as a meteorologist, but it's as close to the truth as I can get in a winter without a clear El Nino or other strong indicators.
Seasonal forecasts have shown some increase in skill in the past few decades. But seasonal weather forecasting is a lot like a trip to Vegas. It's exciting, but the long odds against you coming home rich. The house usually wins.
The good weather news?
As climate experts gain greater understanding through study of ocean and atmospheric teleconnections, seasonal forecasting (3-6 months in advance) may be one of the more promising success stories in the next 25 years.
Winter's weather crystal ball is once again murky for Minnesota and the US. As we enter November, the  mixed signals look similar to last year at this time.
MPR News is Member Supported
What does that mean? The news, analysis and community conversation found here is funded by donations from individuals. Make a gift of any amount during the Winter Member Drive to support this resource for everyone.
Last winter: A brutal look back
Last winter Minnesotans endured, no survived the coldest winter in 35 years. It was the ninth coldest winter on record according to the Minnesota Climatology Working Group.
Last winter Duluth set a record with 65 days at or below zero. The Twin Cities shivered through 50 days of zero degree weather.
Jet stream pattern still stuck?
2014 looks likely to go down as the warmest year on record globally.
Minnesota? Not so much.
In fact, Minnesota has been at the epicenter of the coolest region on earth (relative to average) this year.
The same basic jet stream pattern that's kept Minnesota relatively cool actually goes all the way back to 2103;  2013 was the fourth warmest year on record globally. Again these are anomalies, or temperatures relative to average.
The two year run of relatively cool weather for Minnesota bucks global trends.
The jet stream the past two years has predominately favored a northwest flow over Minnesota. That produces a cool in the east, warm in the west pattern over North America like the one we are seeing develop in November so far as we head into the cold season.
A major (milder) jet stream correction is overdue for Minnesota and the eastern US. The big question is when?
The variables this winter
Seasonal forecast experts look at several variables for an upcoming seasonal forecast product. This winter, the two most likely variables to affect U.S. weather patterns in the upcoming winter season are a tardy but still potential El Nino, and aggressive early Siberian snow cover.
Let's break down the short term variables and longer term trends.
El Nino or 'El Nono'?
This has been another odd year for the tropical Pacific. A potential El Nino gained steam earlier this year with rapid warming of tropical sea surface temps (SST), only to see waters cool as summer wore on. That head fake left El Niño–Southern Oscillation watchers scratching their heads.
An El Nino Watch remains in effect this winter.
In recent weeks, another significant tropical sea surface temperature warming trend seems to be taking hold. An expanding zone of anomalously warm water is taking shape along the equator in the pacific n the past 4 weeks.
Here's the latest read on the growing warm waters from the weekly ENSO Discussion from the National Oceanic and Atmospheric Administration's Climate Prediction Center.
The trend has caused the Australian Bureau of Meteorology to call the current state of the tropical Pacific "near El Nino" in their latest update this week.
Overall, the El Niño–Southern Oscillation (ENSO) remains neutral. Sea surface

temperatures in the tropical Pacific Ocean have warmed over the past two months, and the

Southern Oscillation Index has remained negative, but indicators generally remain in the

neutral range. The existence of warmer-than-average water in the tropical Pacific

sub-surface supports a continuation of the current near-El Niño conditions.

International climate models surveyed by the Bureau suggest that warmer-than-average

tropical Pacific sea surface temperatures are likely to persist. Three of eight models reach

El Niño thresholds in January 2015, and two remain just shy of thresholds.
The threshold for El Nino events is tropical Pacific SST departures of +0.5C or higher.
Definitions
Weak El Niño: Episode when the peak Oceanic Niño Index (ONI) is greater than or equal to 0.5°C and less than or equal to 0.9°C.

Moderate El Niño: Episode when the peak Oceanic Niño Index (ONI) is greater than or equal to 1.0°C and less than or equal to 1.4°C.

Strong El Niño: Episode when the peak Oceanic Niño Index (ONI) is greater than or equal to 1.5°C.
Both NOAA and the Aussie Bureau favor a weak to moderate El Nino event to develop this winter.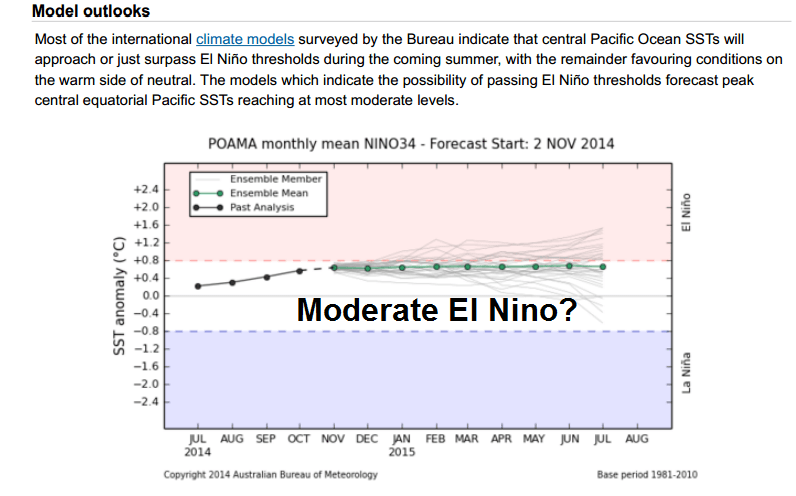 El Nino Effects
If El Nino develops as expected this winter, it may have an impact on U.S. weather.
Seasonal El Nino impacts are strongest in winter and during strong El Nino events. The bottom line is moderate to strong El Nino events tend to produce milder than average winters in the northern U.S. An enhanced sub-tropical jet stream favors wetter conditions in California, the Southwest and Gulf Coast.
Bottom Line on El Nino?
Odds still favor a weak or moderate El Nino developing this winter. If El Nino develops as forecast over the next two months, it may favor a moderating influence on Minnesota's overall winter temperatures.
That's a long explanation of how El Nino may affect our winter. Chris Farley did a much funnier version on SNL a while back. Man, I miss that guy.
Siberian snow cover: Fastest start on record
October Siberian snow cover is the newest and sexiest emerging area of research as a potential predictor of winter weather in the northern hemisphere. The simplified theory goes something like this.
Extensive fall snow cover in Siberia produces higher pressure patterns near the surface.

This higher pressure, in turn, assists in generating a "surface-to-stratosphere wave activity flux event."

The connections with the stratosphere can drive the Arctic Oscillation into a negative phase.

Negative AO phases tend to produce more frequent Arctic outbreaks into the central and eastern U.S.
This October, Siberian snow cover pushed record levels. MIT's Judah Cohen is one of the lead proponents of using Siberian snow cover as a US winter forecast tool. Mashable's Andrew Freedman writes about the extensive Siberian snow and Cohen's latest interpretation.
The winter as a whole may be a cold and snowy one in the East and in parts of Europe, that is, if a rapid buildup of snow cover across Siberia is any indication. Judah Cohen, who is the director of seasonal forecasting at the private weather company AER, the extent and rate of expansion in Siberian snow cover during the month of October is a reliable indicator of winter weather thousands of miles downstream, in parts of North America and Europe.
and…
This year, Cohen says, Siberian snow cover got off to its fastest start since he started tracking the index in 2000. "I think that's something that's notable," Cohen said.

On the other hand, the National Oceanic and Atmospheric Administration (NOAA), relying on predictions of a weak El Nino event to develop during the winter, issued a winter outlook that calls for warmer-than-average conditions in parts of the eastern U.S.

Cohen called NOAA's reliance on the El Nino prediction to make its winter outlook "questionable," since the event is expected to be weak and may not have much influence on U.S. winter weather.

There is a split between Cohen's forecasting methods, along with the seasonal forecasts coming from other private companies, including The Weather Channel and AccuWeather, and the government's outlook.
Snow cover in Alaska and northern Canada is off to a strong start this year also. Early snow up north feeds the build up of arctic air masses.
In the short term the AO forecast is headed negative (next week's cold wave), followed by some recovery.
Bottom line on Siberian snow cover:
Siberian snow cover got off to the fastest start on record this fall. That can favor more frequent negative AO phases. If the AO trends negative again this winter, more extended bitterly cold polar vortex outbreaks could be in the cards for Minnesota and the eastern U.S.
Early season snow: The trend is your friend?
Snow cover now blankets Siberia, Alaska and most of Canada all the way to the northern border with Minnesota.
Cold season jet streams have a funny way of setting up along the southern snow cover boundary. That pattern appears be favored as we move into early winter. Next week's cold and potential snow seem to favor an early start to winter. If snow cover gets locked in early, it may be tough to budge with increasing November clouds and low sun angle.
At this point the smart money is on a colder than average November, and possibly an early start to winter for Minnesota and the eastern U.S.
MPR Weather Lab Winter Forecast: Wild ride ahead?
In all honesty, this looks like one of the toughest winter forecast in decades. There are few clear signals to hang your hat on. I am operating on hunches as much as any clear science this winter.
Two key words as you read on into the outlook for this winter: low confidence.
Warning: For entertainment purposes only. Please sign the attached weather waiver and read on. My winter forecast and $4 will buy you a super deluxe latte at your local Caribou.
What the heck, lets have some fun.
Temps: Wildly average?
Overall I see a changeable jet stream pattern this winter. My read is that Minnesota may be in a transition zone between eastern cold and western warmth once again. I do think the jet will be more malleable this winter, capable of rapid shifts.
My feeling is we'll see our share of arctic outbreaks, and that the dreaded Polar Vortex will visit us again this winter. I just don't think it will be as persistent as last winter.
I do feel the overdue El Nino will develop in the next two months. The big question is how strong will it get? A weak El Nino may be overcome by other, more powerful atmospheric factors.
My gut tells me the second half of winter may be milder than the first half when compared to average. My gut also tells me we won't have a repeat of the coldest winter in 35 years. My gut also tells me that if there is a surprise, this winter may end up milder than many have forecast.
Outlook for Minnesota temps this winter: wildly average?
Overall winter (Dec-Feb) average -1F to +1F (near average)

Highly variable winter temps from week to week and month to month

Arctic outbreaks and intermittent thaws-not as much extended cold as last winter

15 to 25 days at or below zero at Minneapolis-St. Paul International Airport (seasonal average is 39 days, 50 last winter)

Coldest temperature of winter at MSP? -19 degrees
Snowfall: Betting on average
Forecasting a winter's worth of snow in Minnesota is like throwing darts on the State Fair Midway. You're going to get a prize, you just dont know how big.
The 30-year average snowfall at MSP  is 54.4 inches. Sounds pretty good to me. Let's call it 49 to 59 inches as a range.
Other outlooks: All over the map
This winter I've heard everything from the worst winter ever to favoring a mild bias. Here's a look at some additional forecasts.
NOAA: Slight mild bias for Minnesota?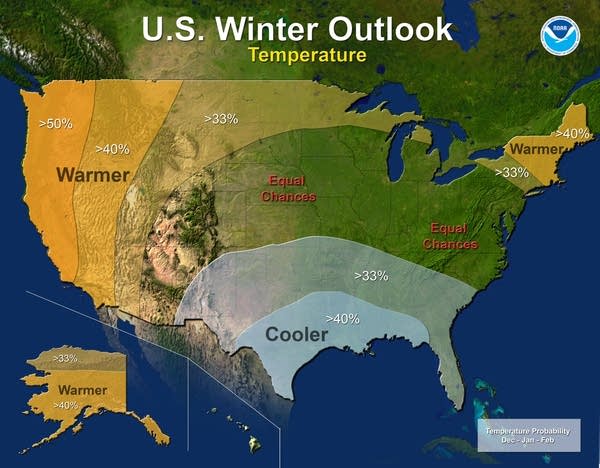 Weather Channel/WSI: Leaning colder?
Enjoy, and stay warm Minnesota!