Storm delivers heavy snow north, messy metro mix
Well this is fun!
The season's first winter storm dumped heavy snow as expected from the northern Twin Cities metro to St, Cloud and along Interstate-35 toward Hinckley. It also threw the central and southern metro a curve with less snow than forecast, but made up for that in impact with a mix of sleet and freezing rain that iced up roads, sidewalks and parking lots.
The heavy snow persisted as expected in the north and northwest metro, but forecast snowfall totals under-performed in the central and southern Twin Cities. A little self critique and forecast candor on my Sunday forecast here. I bought into the more southerly storm track on the bulk of Sunday's forecast model runs and my forecast totals for the north metro and points north were spot on...but were too high for central & south metro snowfall totals.
Check out the abundance of reports of 10 inches of snow or more in the heavy snow bands that grazed the north and west metro.
Indeed some of the snowfall totals are prolific with 16.5" reported at Cambridge and St. Augusta.
Cambridge [Isanti Co, MN] TRAINED SPOTTER reports SNOW of 16.50 INCH at 5:30 PM CST --
Snowfall reports in the north metro include 10" in Anoka and 12" in St. Francis.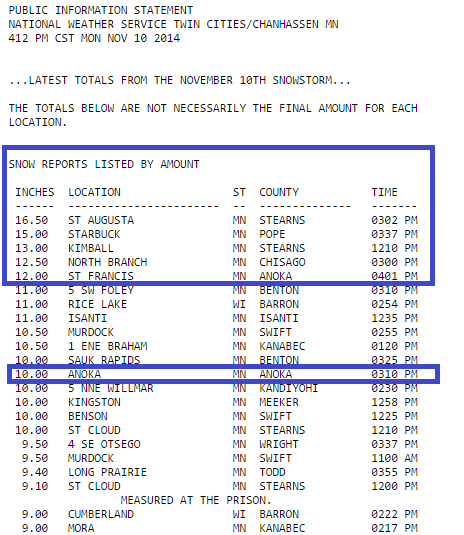 Every Minnesota winter storm is different and has it's own personality. A few notes about the storm.
Keep in mind that snowfall total model forecasts were spot on north of metro and delivered the storm's expected snowfall totals of 10 to 16+ inches  in  those areas. The storm intensity performed as expected, it just jogged about 40 miles north from most of Sunday's model solutions.  That happens in Minnesota winter storms. The metro was within that 40-mile change zone.

While we all focus on snowfall totals, remember the combined impacts of snow, sleet and freezing rain in the Twin Cities metro area and Minnesota on travel. Sadly the Minnesota State Patrol reports one dead and 37 injured today in crashes.
That's a high impact winter storm event for Minnesota. If any other news story caused 1 death and 37 injuries it would rightfully be the lead news story for days. Many forecasts including the Twin Cities office of the National Weather Service may have been low on final metro snowfall totals, but not on impact.  A bust? Not really on impact of this storm event. The winter storm warnings were warranted.
The storm is not over yet. A second wave of snow is forming in eastern South Dakota ahead of an upper air disturbance and will spread into Minnesota again tonight into Tuesday morning. Expect slick roads and travel impacts overnight and through AM rush Tuesday.

Here's a list of  storm snowfall totals from the National Weather Service that is updated periodically.
Stay safe out there Minnesota.
Your support matters.
You make MPR News possible. Individual donations are behind the clarity in coverage from our reporters across the state, stories that connect us, and conversations that provide perspectives. Help ensure MPR remains a resource that brings Minnesotans together.