Appetites: How to make (and braid) Christmas bread like a pro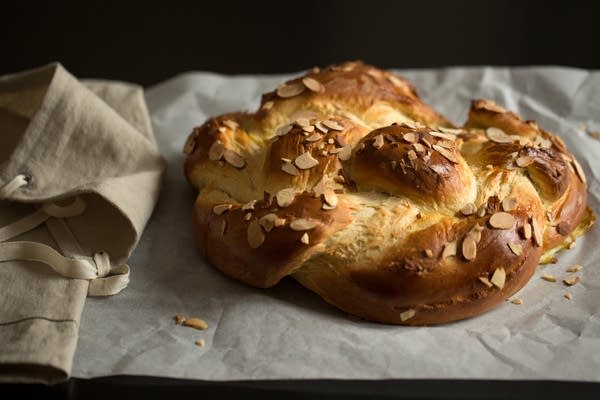 Holiday bread is often defined by a unique shape, distinct filling and the always important seasonings.
Consider the Swedish Julbrod, Austrian Vanocka, Norwesgian Julekage, Czech Houska and German Stollen, says Beth Dooley, author of "Minnesota's Bounty: The Farmers' Market Cookbook".
All five breads have rich dough. Yet, each one features a particular flavor or combination of spices. The Julbrod is a cardamom-scented braided loaf. The Austrian Vanocka and German Stollen are spiced with grated nutmeg. The Julekage includes toasted slivered almonds and raisins. Lastly, the Czech Housa uses orange rind and raisins along with cardamom and nutmeg.
Sometimes a bread's shape serves more than one purpose, says Dooley. The St. Lucia Buns (Lussekatter) or Lucia's Cats are served on Santa Lucia — the Swedish celebration of the returning of the light or winter solstice. It was believed that Lucia's light helped send off the evil spirits who, disguised as cats, lurked in dark corners on bleak winter nights. The stylized shape of these open cross buns is thought to ward off the devil. The dough is also shaped into a braid made to hold candles and used as a table centerpiece.
Video: Learn how to braid bread
Before you keep reading ...
MPR News is made by Members. Gifts from individuals fuel the programs that you and your neighbors rely on. Donate today to power news, analysis, and community conversations for all.
Recipe: Christmas Bread
Makes 1 large braided loaf
• 2 tablespoons (2 packages) active dry yeast
• ½ cup warm water
• ¾ cup warm milk
• ½ cup sugar
• 1 teaspoon salt
• ½ cup unsalted butter, melted
• 3 eggs, lightly beaten
• 2 teaspoons ground cardamom
• 2 teaspoons vanilla extract
• 6 to 7 cups unbleached all-purpose flour
• Vegetable oil for greasing the bowl and baking sheet
In a large bowl, dissolve the yeast in the warm water. Add the milk and sugar and let stand about 5 minutes, or until the surface becomes foamy.
Stir in the salt, butter, eggs, cardamom, extract and 3 cups of the flour and beat until very smooth. Add enough of the remaining flour to form a soft dough.
Turn the dough out onto a lightly-floured board and knead for about 5 to 8 minutes. Place the dough in a lightly-greased bowl and turn it to coat the entire surface. Cover the bowl with a towel and allow the dough to rise until double in volume, about 1 hour.
Turn the dough out onto a lightly-floured board and divide it into thirds. Using the palms of your hand, roll each of these thirds out into ropes about 20 inches long.
Braid the ropes together and lift the braid onto a lightly greased baking sheet to form a wreath, pinching the ends together to seal them. Roll the trimmings into strands, then make curls to decorate the top of the braid. Let rise in a warm place about 45 minutes to 1 hour.
Bake the braid in a preheated 350 degree oven for about 40 minutes to 1 hour, or until it sounds hollow when tapped. Place the loaf on a wire rack to cool. Ice the loaf if desired.
Recipe: Icing
Optional
• 1 cup confectioners sugar
• 3 tablespoons milk
• 1 teaspoon vanilla extract
• ¼ cup sliced almonds
In a small bowl, whisk together the sugar, milk and extract. Drizzle over the cooled loaf then garnish with the almonds.