Sources: Sen. Hayden in the loop on Community Action's woes
Jeff Hayden served on the Community Action of Minneapolis board in 2008 as a proxy for his aunt. After his election to the Legislature in 2009, he appointed his wife, Terri, as his proxy.
But as the nonprofit came tumbling down in the fall after a state audit concluded CEO Bill Davis misspent hundreds of thousands of dollars of public money on travel, golf, spas and other perks, Hayden quit the board and said he knew nothing of any problems inside Community Action.
"When I was serving with the organization, and I think my wife would say the same, things were going well, people were being served appropriately and these allegations were new information to us," Hayden, a Minneapolis DFL state senator, told the Senate ethics committee in October. "Everything I knew at the time was that things were going well with the organization."
Hayden, however, was well positioned to know about problems within Community Action months before the questionable spending became public, according to documents and interviews with people who were struggling to understand the nonprofit's finances.
In January, Hayden attended a meeting where Department of Human Services officials briefed Community Action executives and board members about their preliminary findings of Davis' spending — which included $749 in airfare for Hayden and his wife to travel to New York in 2012.
Hayden, Davis, Community Action Board Chair Michael Anderson and Chief Financial Officer Anthony Spears attended the meeting, although Hayden stayed for only about 15 minutes and left before auditors discussed their findings, said Deputy Human Services Commissioner Chuck Johnson.
While he was there, Hayden seemed to be trying to get Bill Davis to engage with the auditors, Johnson said. "I think most of the time (Hayden) was in that meeting, DHS was listening to Mr. Davis explain why the audit was inappropriate," he added.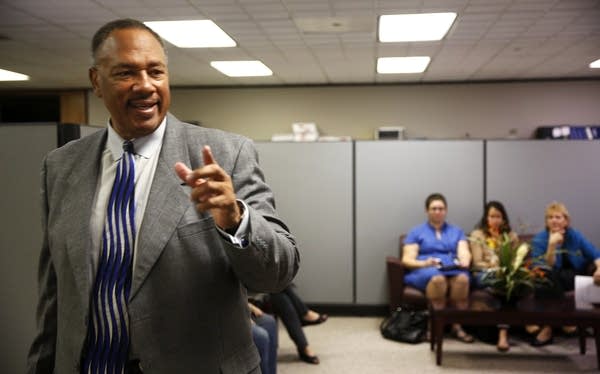 Davis also confirmed to MPR News that Hayden attended the start of the meeting. "He was there very briefly," Davis said of Hayden. "He realized that we were starting to talk about I guess, some of those issues that he felt it would be a potential conflict so he left."
Davis said DHS officials informed him that they would be meeting with them in January but they didn't offer specifics. Davis said he notified Hayden and members of the board at Community Action.
The DHS audit, released seven months later, found the organization had overcharged state and federal grant programs for more than $600,000 of administrative costs and $226,679 in "unallowable" expenses for travel, food, alcohol, spas, golf and pay bonuses for employees and executives.
Davis says he did nothing wrong and believes he'll be vindicated. He blamed his finance department for improper accounting that led to a misinterpretation by the auditors at DHS. Officials with DHS say they don't believe they misinterpreted anything.
While Hayden didn't stay long enough at the January DHS meeting to hear the agency's audit results, Deputy Commerce Commissioner Bill Grant said Commerce also notified Hayden about problems with Community Action.
Hayden was copied on letters between Grant and Davis in 2013 that detailed a backlog of energy assistance applications and improper work by contractors. Commerce oversees the energy assistance program. Grant said his department contacted Hayden and state Sen. Bobby Jo Champion, DFL-Minneapolis, to ask them to help resolve the problems with Davis.
"There was an effort to reach out to both Sen. Hayden and Sen. Champion to see if we can arrange for community dialogue for the situation in CAM Minneapolis," Grant said. "We extended that offer and they didn't respond."
Citing an ongoing ethics complaint against him, Hayden told MPR News he wanted to check with his lawyer before commenting. A spokeswoman for the Minnesota Senate called back later and said Hayden wouldn't talk because the Commerce Department is investigating Community Action.
Hayden is a deputy majority leader in the Senate and serves on its Health and Human Services Committee, which makes budget decisions about DHS.
An ethics complaint filed by Capitol Republicans accuses Hayden of personally benefiting from his board role and for failing to oversee public funds as a board member. At the ethics committee hearing in October, Hayden denied accepting any payments and said he didn't know of any problems within Community Action.
Hayden, DFL U.S. Rep. Keith Ellison and several Minneapolis City Council members served on the Community Action board and quit after the Minneapolis Star Tribune wrote about the audit in September.
Like Hayden, Ellison and others had appointed proxies to serve in their place on the board. But appointing a proxy shouldn't excuse board members from overseeing the nonprofit, said Senate Minority Leader David Hann, R-Eden Prairie.
"It is troubling when you hear Sen. Hayden say that he knew nothing, he's not responsible, he had nothing to do with the board, he didn't know of anything that was going on that was not kosher," Hann said. "That just doesn't seem to square with what we know."
Hann's ethics complaint against Hayden has been bottled up by the two Democrats on the four-member Ethics Committee.
Feleshia Warner, who worked at the nonprofit for 20 years until the state shut it down last fall, said she and other employees wrote to the board in October urging them to fire Davis.
Warner said 41 people are out of work because the board didn't ask the right questions and quit when controversy surfaced.
"It's very frustrating," Warner said. "We felt that they were our saving grace. We thought the board — we had these strong political DFLers on our board and they would speak. And if they needed to get rid of Bill Davis, they would have gotten rid of Bill Davis. They could have brought in new management, new board members and the organization could have continued to serve the public."
A court-appointed receiver is now examining Community Action of Minneapolis' books to determine if the state can recover any money.
Anderson, who chaired Community Action's board for more than a decade, didn't respond to interview requests. Another board member, Manny Rubio, said he and other board members never detected any problems. Rubio said he, Anderson and two others continue to serve on a board, although their role is unclear.
"Maybe we didn't have people on the board who took the initiative to really explore things," Rubio said. "Maybe we were too passive and not inquisitive enough. I don't know.
Your support matters.
You make MPR News possible. Individual donations are behind the clarity in coverage from our reporters across the state, stories that connect us, and conversations that provide perspectives. Help ensure MPR remains a resource that brings Minnesotans together.