DFL plan for free two-year college draws fire
A plan by Senate Democrats to provide free education to students at the state's two-year community and technical colleges is getting plenty of pushback at the state Capitol.
Senate leaders announced last week that the proposal is one of their top agenda items this legislative session. But others say it would cost too much and that it doesn't make sense for the state to focus so much on two-year programs.
The tuition-free plan is aimed at improving the state's workforce. State Sen. Leroy Stumpf, DFL-Plummer, says he started hearing concerns about the need for more training two years ago when he was considering projects for the bonding bill.
"It didn't matter where we went across the state, there were all of these employers and communities saying, 'we just can't fill these jobs and don't have the qualified people,'" he recalled.
Grow the Future of Public Media
MPR News is supported by Members. Gifts from individuals power everything you find here. Make a gift of any amount today to become a Member!
Stumpf hopes that students will take advantage of the free offer, enter school and obtain an education that could land them a job.
"Business and our economy right now needs every single person to be working in a very productive way," he said. "In other words, they need to have the skills to make our economy continue to grow."
The DFL Senate plan is separate from a similar proposal made by President Obama last week.
Stumpf said he isn't yet sure how much his plan would cost state taxpayers, but said it would likely range between $100 and $150 million over the next two years. He said only recent high school graduates would be eligible for free two-year college. They would have to maintain a certain grade point average and stay in school for the full two years.
The cost and scale of the proposal concern some higher education leaders. University of Minnesota President Eric Kaler, who was surprised by the Senate DFL plan, said two-year colleges shouldn't be the only priority.
"We need higher aspirations than just community college for the citizens of Minnesota," he said this week.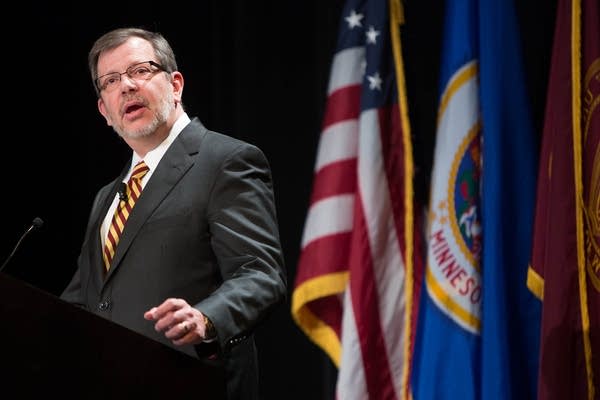 At a press conference, Kaler called on lawmakers to approve nearly $130 million more for the U of M over the next two years. In exchange for the funding increase, Kaler promises another tuition freeze for students.
"This is the first inning of a long ballgame, and I think the conversations about the needs for higher education as a system across two-year, four-year, graduate and professional is one we'll have," he said. "I don't think it's wise for the state to only invest in two-year programs."
Officials representing the state's 17 private colleges and universities also questioned the Senate DFL plan. Paul Cerkvenik, president of the Minnesota Private College Council, would prefer to see Minnesota increase financial aid programs that help low-income students.
"For many students from low-income families, the right choice is a four-year education," Cerkvenik said. "If we focus all of our resources on making college free at the two-year system level, we aren't serving many students with important needs and helping maximize their full potential."
Gov. Mark Dayton called the Senate DFL plan "a good idea" but said it will not be included in the two-year budget that he will propose Jan. 27.
Republicans in the Minnesota House, among them state Rep. Bud Nornes of Fergus Falls, are even more skeptical.
"To single out one particular part of higher education system where they have free tuition to attract students, what does that do for the rest of the institutions?" asked Nornes, chair of the House Higher Education Finance Committee. "There are negative things that could happen when we try to do something good."
One person who isn't weighing in on the Senate DFL plan is the head of the Minnesota State Colleges and Universities system. MnSCU Chancellor Steven Rosenstone declined an interview request.
MnSCU has asked the Legislature for a funding increase of $142 million over the next two years, but that request did not include tuition-free education.