'Big Fat Surprise' author: Dietary guidelines based on 'weak science'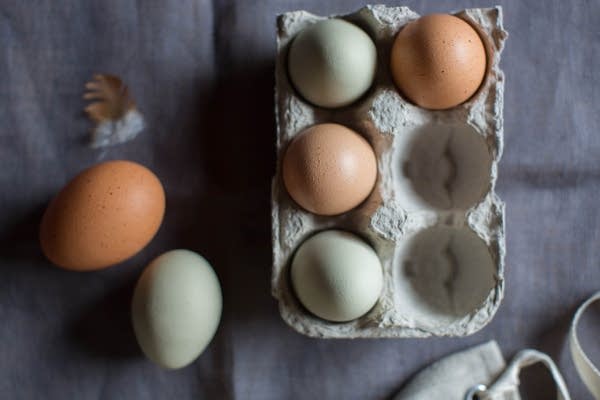 The committee that develops United States dietary guidelines released dramatic changes last week, going against diet advice relied on for decades.
Nina Teicholz, a journalist and the author of "The Big Fat Surprise: Why Butter, Meat and Cheese Belong in a Healthy Diet," joined MPR News with Kerri Miller to talk about what changed and why she thinks the guidelines are based on weak science.
What changed?
"Backing off the dietary cholesterol caps is a great thing," she said. "That science has been around; we've known that since the 70s. The US is the last western government to finally back off those dietary cholesterol caps. Those have just lingered because they were entrenched for so long. It turns out the cholesterol you eat doesn't translate into the cholesterol in your blood. The dietary guidelines have also been backing off the low-fat diet since the year 2000, but they are being a little more open about it now. The language to limit your total fat has been gone for awhile."
Grow the Future of Public Media
MPR News is supported by Members. Gifts from individuals power everything you find here. Make a gift of any amount today to become a Member!
Why are these guidelines based on weak science?
From her piece in The New York Times:
The primary problem is that nutrition policy has long relied on a very weak kind of science: epidemiological, or "observational," studies in which researchers follow large groups of people over many years. But even the most rigorous epidemiological studies suffer from a fundamental limitation. At best they can show only association, not causation. Epidemiological data can be used to suggest hypotheses but not to prove them. Instead of accepting that this evidence was inadequate to give sound advice, strong-willed scientists overstated the significance of their studies.
Is there an example of new weak science in the latest guidelines?
The dietary guidelines have previously suggested limited red meat, but the latest update also steps away from lean meat.
"If you're going to take Americans on a new experimental almost meatless diet, then you need to have good evidence behind that kind of recommendation," Teicholz said. "And again, this is based only on epidemiological studies."
What's the solution?
"I think one solution is for the field of epidemiology to do a better job of patrolling itself," she said. This would include setting standards and only setting nutrition policy based on rigorous clinical trials that can establish truth.