Are Minneapolis laws that ban spitting, 'lurking' racist?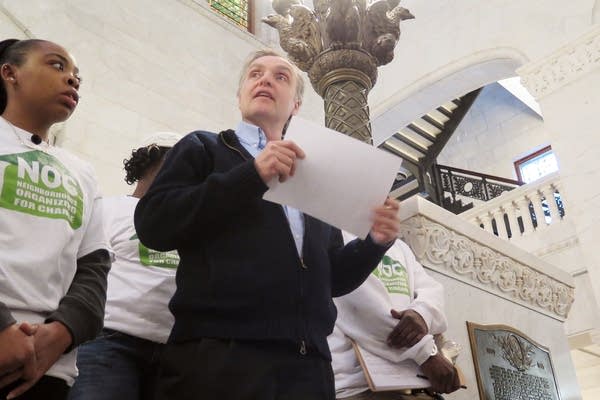 Public spitting and "lurking" are illegal in Minneapolis. Two Minneapolis City Council members, however, say those laws are grounded in racism and want them off the books.
"We are dealing now with the vestiges of slavery still in our society and laws that are there," Council Member Cam Gordon said Friday at a rally alongside supporters who say the city's anti-spitting and anti-lurking ordinances are disproportionately enforced against people of color.
"We have structural racism that we can't even see and we can't even find anymore," said Gordon who, along with Council Member Blong Yang, unveiled a resolution Friday to eliminate the anti-spitting and anti-lurking laws.
A recent Minneapolis Police Department report found black residents arrested in much larger numbers than any other racial group for low-level crimes over the past six years.
Grow the Future of Public Media
MPR News is Member supported public media. Show your support today, donate, and ensure access to local news and in-depth conversations for everyone.
However, MPR News reviewed two-plus years of Minneapolis crime data and found no arrests for spitting.
Gordon also acknowledged that he could not recall any arrests for spitting in the last year. Still, he said the lurking and spitting laws contribute to racial disparities in the city.
Public hearings on the proposed law changes will be held next month.
The city's spitting ordinance goes back 117 years, to December 1898.
The current version reads: "No person shall spit or expectorate or deposit or place any sputum, spittle, saliva, phlegm, mucus, tobacco juice, cigarette stumps, cigar stumps or quids of tobacco upon the floor, walls or stairway or any part of any public hall or building, depot, market, theater, church or place of public amusement; or upon, into or through any grating, area or stairway; or upon any sidewalk of any public street; or upon the floor, furnishings or equipment of any motor bus while it is in use upon the streets of the city."
Spitting is a misdemeanor, so technically a person could be arrested and jailed if found guilty. But Minneapolis City Attorney Susan Segal said that would "probably never happen."
She said she would be surprised if there were any spitting arrests made in Minneapolis over the past few years, though because it is a misdemeanor offense, spitting is a legal pretext for an officer to stop someone.
The "lurking" ordinance says, "No person, in any public or private place, shall lurk, lie in wait or be concealed with intent to commit any crime or unlawful act." It's different than the city's detailed rules on loitering.
Police data on lurking do show that the witnesses who report lurking are most likely to be white (69 percent) and the lurking suspects are most likely black (60 percent).
The group Neighborhoods Organizing for Change rallied Friday on the steps of the City Hall Rotunda before the resolutions were introduced. Mike Griffin, the group's field organizer, said lurking and spitting laws are not equally enforced.
Griffin said he lives near the University of Minnesota and frequently sees young people standing around and spitting on street corners. But he said he only sees police intervene in areas where African-Americans live and work, such as near the organization's headquarters on West Broadway Avenue in north Minneapolis.
"We have members at NOC who are often stopped for standing outside our office," said Griffin. "We have members of NOC who've been stopped, frisked for spitting on a sidewalk."