Feds charge six Minnesotans with trying to join ISIS
Updated 1:45 p.m. | Posted 9:35 a.m.
Federal authorities have charged six men with conspiring to travel or attempting to travel to join the ISIS terrorist group fighting in Syria.
The six, arrested in multiple operations in Minneapolis and San Diego on Sunday, had been targeted as part of a months-long surveillance operation by the FBI.
Grow the Future of Public Media
MPR News is supported by Members. Gifts from individuals power everything you find here. Make a gift of any amount today to become a Member!
A criminal complaint released Monday recounted the men's efforts to get from Minneapolis to airports in New York and California, intending to travel from there to Europe or Asia and eventually to the Middle East.
The complaint also alleges that some of the men were in touch with Abdi Nur, a Twin Cities man who left the country last year and has been presumed fighting with ISIS.
There was no evidence the men threatened to do harm in Minnesota, said U.S. Attorney for Minnesota Andy Luger. Their main focus was to go to Syria to join ISIS, he added.
Luger said six men "recruited each other ... friend to friend, brother to brother." They got help from Nur, who was already charged and in Syria.
The complaint says Nur is working from Syria to recruit other young men from Minnesota.
There's not one "master recruiter" in Minnesota, Luger said, but peer to peer radicalization is at play.
After five of the men tried and failed to leave the country in November, they allegedly made plans to obtain false passports from a source of Nur's in Mexico.
But they began to suspect in March that Nur had been killed, because they had not heard from him recently.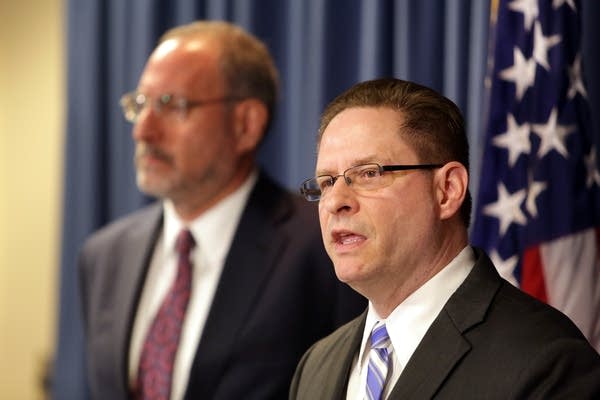 The men lined up another source in California, unaware that the man they were asking to make the connection for them was actually an FBI informant. And the man who was to provide the passports was himself an undercover FBI employee.
Last Friday, two of the men — Mohamed Farah and Daud — left for California to pick up the passports. Authorities arrested them in San Diego, and rounded up the others in Minneapolis.
The men named in the complaint were listed as Mohamed Abdihamid Farah; Adnan Abdihamid Farah; Abdurahman Yasin Daud; Zacharia Yusuf Abdurahman; Hanad Mustafe Musse, and Guled Ali Omar.
According to the complaint, the Minneapolis office of the FBI conducted a 10-month investigation of young men who were trying to join the ISIS campaign in Syria.
In the course of that investigation, the complaint says, "the government has prevented a number of these individuals from traveling to Syria."
Four of the men appeared in federal court in St. Paul this afternoon.
Federal officials say that, in November, Mohamed Farah, Hanad Musse, Zacharia Abdurahman and Hamza Ahmed took a Greyhound bus from Minneapolis to New York and tried to catch planes that would help them get to Syria.
Ahmed was charged in February with lying to federal agents and conspiring to provide material support to ISIS.
His co-conspirators Musse and Abdurahman were arrested Sunday in Minneapolis.
The fourth man, Mohamed Farah, and Abdirahman Daud were arrested in San Diego and will appear in court there.
Farah's brother, Adnan, was among the four arrested on Sunday in Minneapolis and will appear in court Monday afternoon along with Musse, Abdurahman and Guled Omar.
Prior to his attempted departure between May 8 and May 21 last year, Omar, 20, drained money from his federal student financial aid account, withdrawing $5,000 cash, according to the complaint.
In addition, on May 23, 2014, he withdrew $1,200 from his personal bank account.
He deposited $5,500 into his bank savings account on May 29 after his travel plans failed.
Omar's older brother, Ahmed Omar, traveled from Minnesota to Somalia in late 2007 to join al-Shabaab, according to the complaint. He remains a fugitive.
Luger said the defendants were all friends and met regularly to plan their travels to Syria. Abdullahi Yusuf, who pleaded guilty in February to trying to join ISIS, was also part of this group, Luger said.
In May, Yusuf was stopped while trying to board a plane to Istanbul from Minneapolis-St. Paul International Airport.
"We have a problem of terror recruiting in Minnesota," Luger said Monday. "It's not a Somali problem. ... It is our problem."
The sad stories of young people leaving to fight are likely to continue without "investment in the Somali community to build community strength and create opportunities for our youth," Mohamud Noor, executive director of the Confederation of Somali Community in Minnesota, said in a statement.
Noor said he was especially saddened because of one of the indicted men "came to me and sat in my office seeking assistance."
He did not say which man, but added, "I was unable to help because we simply don't have the resources to intervene before it's too late."
Read the criminal complaint: