Bird flu in Minnesota's poultry farms: Why you should care
Updated: May 15, 2015 | Posted: May 7, 2015
An unprecedented bird flu outbreak has hit 84 poultry farms in 21 Minnesota counties. Since it began in early March, more than 5.5 million birds — most of them turkeys — have died. One farmer called it the crisis of a lifetime.
Two months into the outbreak, scientists still have no clear picture of how the virus is spreading — and farmers have no way of knowing whether they'll be the next one with thousands of dead birds on their hands. In a state that produces more turkeys than any other in the country, the impact can be devastating.
Grow the Future of Public Media
MPR News is supported by Members. Gifts from individuals power everything you find here. Make a gift of any amount today to become a Member!
Bird flu in brief
As of May 6, there have been 132 outbreaks of H5N2 in the United States since December. Most have occurred in the Midwest. Eighty-four have been recorded in Minnesota.
Minnesota's first outbreak was reported in Pope County on March 5.
Since then, Kandiyohi County — the top turkey-raising county in the top turkey-raising state — has recorded the most outbreaks. Thirty-two Kandiyohi farms have been affected.
Minnesota typically produces 46 million turkeys each year, more than any other state.
Humans aren't at risk, but related strains have made people sick
The new virus circulating in the United States isn't considered to be a risk to humans.
But experts can't completely rule out the possibility that it could move to humans in the future. Some other strains of bird flu have been fatal to people. Those cases usually happen when people have had direct contact with poultry.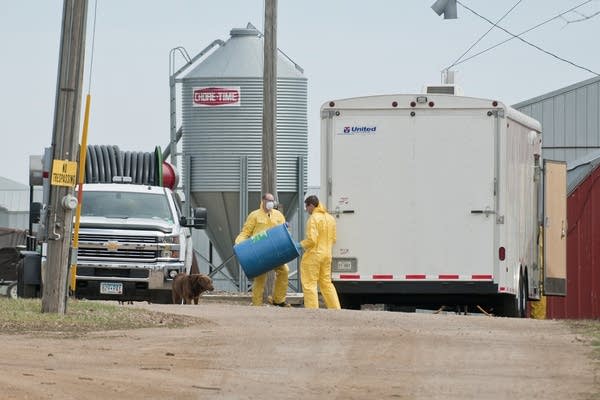 Minnesota's Department of Health is helping poultry barn workers — and others who are helping to depopulate the flocks — get prescriptions for Tamiflu, a drug that treats and helps prevent influenza. The health department is monitoring 75 poultry workers, and has already completed a 10-day monitoring period for 172 others who had been exposed to the virus. None of them got sick.
Throughout the outbreak, officials have emphasized that the food system is safe. Still, about four dozen countries have banned Minnesota poultry, including the entire European Union and most of Central America, according to the U.S. Department of Agriculture.
So far, no human cases have been reported in the United States or elsewhere, according to the USDA. Although the risk of transmission to humans is low, workers in the state who have contact with the infected flocks will be monitored for the illness.
Flu viruses that have moved to humans
• H5N1: This strain can spread to humans from birds. It has infected more than 700 people from 15 countries — more than half of whom have died — since November 2003.
• H5N6: Since 2014, this strain has caused a handful of fatal infections in China.
• H9N2: Two human patients in China were infected. Both cases were mild and the patients fully recovered.
• H7N9: Since 2013, this strain has infected more than 600 people, more than a third of whom have died.
It evolved -- and became fatal -- very quickly
The bird flu crisis isn't just happening here. It's a threat to poultry across the globe. Minnesota's most recent outbreak of avian influenza can be traced back to Asia and Europe.
It very quickly mixed with North American flu strains, creating H5N2 — a flu strain that is unique to our part of the world.
"There's never been so many infected farms all at the same time, either by introduction or farm-to-farm spread," said Carol Cardona, a bird flu expert from the University of Minnesota. She said scientists haven't seen such a highly pathogenic — fatal — virus since the early 1960s.
Just like the virus it descended from, H5N2 has spread quickly. It's been found in North America's Pacific, Central and Mississippi flyways — which are the paths that migratory birds follow as they fly north for the summer and south for the winter. But even if a wild bird is sick, its symptoms aren't often obvious.
"This virus doesn't cause much disease in waterfowl," Cardona said. "It gives them a fever for one day and some weight loss."
In Minnesota, the H5N2 first emerged in early March. Since then, it has infected 84 turkey and chicken farms in the state — and has moved on to Iowa, Wisconsin and the Dakotas. In Iowa alone, more than 20 million birds, mostly layer chickens — which aren't raised to be eaten, but rather to lay eggs — have died. Iowa has around 60 million layer chickens in total.
• Minnesota: 84 farms, 21 counties, nearly 5.5 birds (mostly turkeys) affected
• Iowa: 34 farms, 11 counties, more than 20 million birds (mostly layer chickens)
• Wisconsin: 10 farms, 4 counties, 1.8 million birds (mostly layer chickens)
• North Dakota: 2 farms, 2 counties (mostly turkeys)
• South Dakota: 6 farms, 6 counties (turkeys)
The H5N2 avian influenza virus has also surfaced in Canada, as well as Missouri, Arkansas, Kansas and Montana.
It's one of many fatal influenza strains circulating the globe right now
At this very moment, there are several highly pathogenic strains of avian influenza circulating the world — many of them in Asia.
Most of these strains are descendants of H5N1, the well-known bird flu virus that has been around for more than a decade. But in the past two years, for reasons not entirely clear to researchers, a handful of new highly pathogenic H5 strains — H5N2, H5N3, H5N6 and H5N8 — have suddenly emerged.
Flu viruses have the ability to change — or, in genetic terms, reassort — by exchanging genetic material. Lately, these reassortments have accelerated. At the same time, the range of these new, highly pathogenic viruses has expanded significantly in a very short period of time.
How this happens: Flu viruses' genomes are segmented into eight separate genes. When an animal is infected with more than one virus, those genes can be shuffled like a deck of cards — half come out one way and half come out another way — to create an array of new strains. The virus, essentially, is constantly reinventing itself.
In February, the World Health Organization raised the alarm, saying "the diversity and geographical distribution of influenza viruses currently circulating in wild and domestic birds are unprecedented since the advent of modern tools for virus detection and characterization. The world needs to be concerned."
We still don't know a whole lot about it
The virus hasn't appeared in any of Minnesota's 47 million broiler chickens, which are raised to be eaten, not to lay eggs — or in any broilers in the Midwest, for that matter.
So far, it has been concentrated in egg-layer chicken operations in Minnesota and Iowa and turkeys across the Upper Midwest. Minnesota has only 11 million layer chickens; Iowa has 60 million.
This leaves a few questions, which researchers and scientists still haven't been able to answer:
• Why is the virus appearing in those layer chicken and turkey operations and not in broilers?
• Minnesota has tested 704 backyard flocks near the farms hit by the bird flu. Only one backyard flock, in Pipestone County, has been affected so far. Why?
• If it enters other flyways that have so far been unaffected, what will happen? North Carolina, another major poultry-producing state, is located within the Atlantic Flyway, which so far has been untouched by this strain of flu virus.
"We don't know what will happen there, should this virus make it into the Atlantic Flyway," Cardona said. "It apparently isn't there yet, but we could see equally devastating results."
Its spread might be connected to the weather
Some scientists theorize that consistent warm weather will help tamp down the spread of the outbreak. With warmer temperatures moving into the region as spring becomes summer, announcements of new outbreaks have slowed from the near-daily onslaught of new cases in March and April.
But the theory seems to be undermined by the fact that the weather has already warmed considerably, while more than a dozen new flu cases have appeared in the Midwest the first week of May alone.
"Certainly the weather plays a big role, but let's remember that this is a new virus, both for the state of Minnesota and for the country this past year," said Beth Thompson, assistant director of the Minnesota Board of Animal Health.
It could affect your county fair
Will the spread of this flu mean that there won't be turkeys or chickens at county fairs this summer? What about the Minnesota State Fair?
The Minnesota Board of Animal Health ordered on May 15 that all bird exhibitions at the Minnesota State Fair, county fairs and other gatherings be canceled to minimize the risk of spreading avian influenza.
Board of Animal Health Assistant Director Dr. Beth Thompson said in a statement that the ban would prevent birds mingling at the events from further spreading the virus, which has led to the deaths of millions chickens and turkeys this season.
The board's decision also covers swap meets, exotic animal sales and petting zoos.
The decision will remain in effect through the end of the year. County fairs start occurring in mid-June and last all summer.
In April, Minnesota State Fair officials said they hadn't ruled out the possibility of sidelining the fair's poultry exhibit this year. The state fair opens Aug. 27.
Although the risk that the strain will spread to the general public is very low, the strain has spread very quickly among poultry across the region, with reports from Oregon to Arkansas.
Iowa farmers are among the hardest hit. Almost 25 million mostly chickens died or have been killed after being exposed to the virus.
People are losing their jobs -- and not just on farms
"This is not limited just to an impact on turkeys. It's an impact on communities," Cardona said.
Minnesota produces more turkeys than any other state — and its turkey industry spans beyond farms to processing plants, stores, shipping companies and more. For places like Kandiyohi County — which has lost almost 1.25 million birds in a place with only 42,000 people — entire communities depend largely on the turkey industry for jobs, income and commerce.
Some local leaders in Minnesota's hardest-hit places are approaching the outbreak as they would a flood, tornado or other natural disaster. They're hoping to find help to match. When a major part of the agricultural economy is hit hard, other parts of the communities take a hit, too, and leaders are concerned about the ripple effects on public services, local economies and mental health.
Farms
Eighty-four Minnesota poultry farms — most of which raise turkeys — have seen outbreaks of the flu. When the flu is detected on a farm, the Minnesota Board of Animal Health places the flock under quarantine. Commercial and backyard flocks located within a 6-mile radius of the infection site are tested for the virus.
Birds at risk of infection are euthanized to prevent the disease from spreading, and the barns where the sick birds lived are disinfected after the exposed flock has been killed.
The government reimburses farmers for apparently healthy birds that are killed to prevent the disease from spreading.
Cardona said the unprecedented manner in which this strain of the virus is spreading and evolving has prompted poultry farmers to change the way their farms work. "Turkeys are going to be produced under different biosecurity systems," she said.
"It also appears to be unprecedented in how it gets into turkey barns and into chicken barns," she said. "We've seen shower-in and shower-out facilities that have been affected. And so, producers are now considering all types of changes to their systems to try to confront this."
Processing companies
Hormel's Jennie-O Turkey Store division announced on May 5, two months into the influenza outbreak, that it will lay off 233 workers at its Faribault, Minn., plant. The move appears to be the first mass layoff in Minnesota tied to bird flu.
Jennie-O said the H5N2 virus has reduced the number of turkeys available, so the company will move to a single processing shift in Faribault. Layoffs will start May 26.
About three dozen Minnesota farms that supply turkeys to Jennie-O have been hit by the flu, plus another half-dozen in Wisconsin.
In a statement last month, Hormel warned the disease was lowering turkey supplies and would cause reduced sales volumes.
As of last summer, there were more than 6,000 poultry processing jobs in Minnesota at a variety of companies.
MPR News' Meg Martin, Lorna Benson, Mark Steil, Mark Zdechlik and Mike Edgerly contributed to this report.