Inspectors find dozens of rail bridges need repair
More than 330 railroad bridges pass over freeways, highways and streets in Minnesota, and last year state and local inspectors determined that one in five of those was structurally deficient.
Inspectors found cracked concrete columns and steel anchor plates; rusting girders and bolts; and holes that let debris fall through bridge decks. Those and other problems led inspectors to declare 71 bridges in "poor" condition, a rating considered the equivalent of structural deficiency. Twelve suffered from what inspectors considered "serious" problems, a more grave rating.
Although precise comparisons to road bridges are difficult to make, the condition of rail bridges appears worse than that of road bridges. Just over 10 percent of Minnesota's highway bridges are considered in poor condition, although the inspection process is somewhat different.
But the overall condition of the state's railroad bridges is difficult to determine. There are more than 1,300 of them in Minnesota, but only those crossing over roadways are subject to inspection by state, county or city officials. And the railroads' own inspections are not a matter of public record.
Grow the Future of Public Media
MPR News is supported by Members. Gifts from individuals power everything you find here. Make a gift of any amount today to become a Member!
"The railroad tells us, if we don't feel safe, close the road underneath... That's our only option."
An MPR News examination of public railroad bridge inspection reports found that in many cases, local and state inspectors have complained for years about deteriorating railroad bridges without action from the railroads. In most cases, inspectors could not examine the decks of railroad bridges because railroads refused inspectors access.
State and local inspectors express frustration over what they consider less than complete inspections and by their inability to get bridge problems repaired.
Minneapolis bridge inspector Kent Madsen said he feels caught between feeling responsible for bridge safety and having no authority over rail bridges.
"The railroad tells us, if we don't feel safe, close the road underneath," Madsen said. "That's our only option."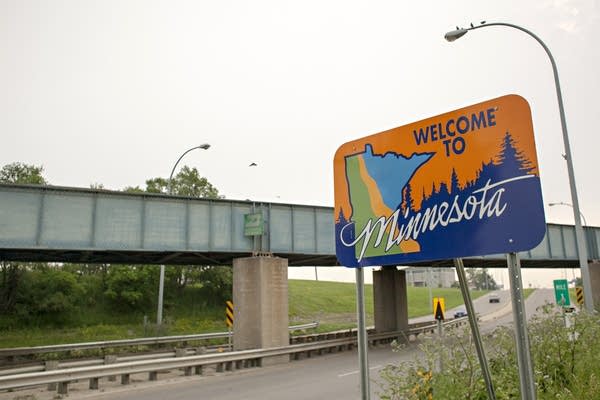 Overall, there's little publicly available information about the condition of railroad bridges. The Federal Railroad Administration doesn't keep a database of rail bridges. In contrast, the Federal Highway Administration maintains a database of highway bridges with information about their condition.
The four big railroad companies operating in Minnesota — BNSF Railway, Canadian National Railway, Canadian Pacific Railway Limited and Union Pacific — declined requests for interviews about railroad bridge safety, but all responded by email saying they maintain rigorous inspection and bridge repair programs. BNSF said, for example, it has invested more than $10 million in capital structures last year and this year to replace or partly replace 30 structures in the state. The railroad has 449 bridges in Minnesota.
Two of those bridges cross over Monroe Street in northeast Minneapolis, carrying dozens of trains every day, including long oil trains. Every day, thousands of vehicles pass under the bridges, which city inspectors have labeled in poor condition.
The concrete and steel structures show deterioration and concrete has peeled away, exposing reinforcing bars. Inspectors have found concrete crumbling under a beam supporting the bridge deck.
Last February, Pam Hill and her husband, Mark Daniel, were returning to their nearby home after dinner when a chunk of debris fell from one of the bridges, shattering their windshield.
"It was extremely loud," Hill said. "At first we thought it was a gunshot. If it had come through the windshield it would have hit my husband pretty much directly."
The couple was shaken but unhurt and returned in daylight. "We tried to look for the offending piece of concrete or rock and we couldn't locate it because there were so many big rocks and chunks of concrete under both of those bridges," Hill said.
City of Minneapolis inspection reports note loose concrete and exposed reinforcing bar on the bridges as far back as 1998.
Last week, BNSF crews were replacing missing concrete on bridge columns.
Railroads have primary responsibility for inspecting bridges along their tracks.
Under federal rules that took effect in 2011, railroads are required to create and maintain a bridge inspection program and inspect bridges at least once a year. Railroads are also charged with auditing their bridge program to ensure inspections are adequate.
The Federal Railroad Administration also has authority to inspect rail bridges and audit railroad bridge programs. It's unclear how often that happens. The FRA did not respond to requests for an interview. A Freedom of Information request for bridge inspection records filed in early June is still pending.
A 2013 Government Accountability Office report found the FRA inspects less than 1 percent of rail infrastructure each year.
The agency is "limited in their ability to do their job because they have a limited number of inspectors," said Larry Mann, a Washington, D.C.-based railroad safety attorney who represents railroad workers. He also helped write the Railroad Safety Act of 1970.
"I can't emphasize enough the lack of adequate inspection ability at the FRA," Mann said.
When state and local inspectors look at a railroad bridge crossing over a roadway, they give a condition ranking of 0 to 9 to each of three bridge parts: the deck, the superstructure and the substructure. Substructure typically includes columns and foundations; superstructure includes beams and supports carrying the bridge deck. MPR News based its analysis only on ratings of the superstructure and substructure because inspectors often have no access to the deck.
Bridges with good rankings are inspected every two years. Those given a rating worse than 5, which is considered fair condition, for at least one part of the structure are inspected annually.
Todd Neimann, a structural metals and bridge inspection engineer for the Minnesota Department of Transportation, cautions that the inspection reports offer a measure of bridge condition, not necessarily of safety.
To assess safety, engineers would need to evaluate the loads bridges carry and bridge design, Neimann said. Because railroads don't share that information, state engineers can't do that analysis. And railroads often refuse to allow inspectors to climb onto the bridge for a detailed inspection.
Inspectors say obvious deterioration, like falling concrete or rust on metal beams, doesn't necessarily mean a bridge is in danger of collapsing. But deferred maintenance can speed the deterioration of bridge supports over time.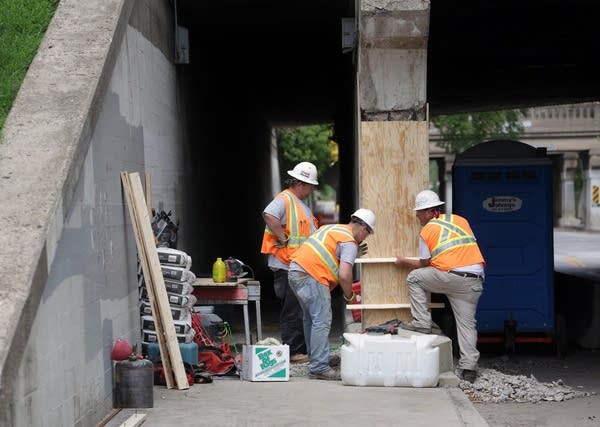 Repair delays
Bridge inspection reports show repairs are often delayed for years.
For example, Bridge No. 90265 in northeast Minneapolis has been a concern for more than a decade for Hennepin County inspectors, who rate its substructure in serious condition. Built in 1931, the bridge carries mainline BNSF traffic — more than 100 trains a day — in and out of the North Town rail yard across Lowry Avenue.
Hennepin County Bridge Program Administrator Jim Archer said sometimes railroads fix damage within a couple of years, but often the county gets no response to concerns raised by inspectors.
"Please address the column problems. They are serious."
"We make a suggestion, and then it becomes kind of a firm recommendation, if you will, and then next thing you know we're looking at their bridge on an annual basis instead of every other year and we're pretty concerned about it," Archer said. In 2006, bridge engineer Bernard Jahn wrote: "Repair severely deteriorated conc(rete) columns. Request BNSF RR to complete analysis of columns — HIGH PRIORITY."
Each year the county sent reports to BNSF. In 2011, Jahn asked BNSF to analyze the concrete columns. "They appear deteriorated enough to classify as critical relative to load capacity. Some reinforcement is completely gone," Jahn wrote.
In 2013 he added a handwritten note. "Please address the column problems. They are serious."
Archer said there's no record of a response from the railroad. Archer said that was not unusual.
"We usually need to see something in pretty poor condition state for quite a length of time before we get a railroad to do something about it."
The bridge columns were repaired sometime after the May 2014 inspection. Their condition will likely be upgraded by inspectors later this year.
Only a handful of the rail bridges rated in poor condition by MnDOT have been upgraded because of repairs in the past three years.
BNSF declined an interview request, but said its bridges are inspected regularly and are safe for the traffic they carry.
Over the freeway
"If MINDOT feels that it is necessary to continue performing MINDOT sponsored inspections of our bridges, please cite the authority to do so"
Not all rail bridges considered structurally deficient are as old as the Lowry bridge.
Canadian National's Bridge No. 69833, a massive steel structure towering over Interstate 35, was built in 1966 and carries trainloads of taconite pellets to a loading dock in the Duluth harbor. More than 42,000 vehicles pass under it every day.
MnDOT inspectors have given the bridge substructure a condition ranking of three, or serious, primarily because of concern over corrosion. MnDOT officials have contacted Canadian National repeatedly about the bridge's condition.
In 2009, a MnDOT inspector noted an analysis was needed because rust was eating away some beams and supports. He wrote the railroad asking about a structural analysis.
CN wrote back that the railroad was in compliance with all federal regulations.
"CN inspects all of our bridges annually and keeps detailed records pertaining to their condition," the railroad wrote. "This is in compliance with regulations put forth by the Federal Railroad Administration (FRA). New guidelines from the FRA will also specify the qualifications for bridge inspectors, bridge supervisors and bridge engineers. Of course, CN works diligently to remain fully compliant with these and all other FRA requirements."
The letter went on: "If MINDOT feels that it is necessary to continue performing MINDOT sponsored inspections of our bridges, please cite the authority to do so. If these inspections are to continue, it will also be necessary for MINDOT and CN to get together to coordinate the training, insurance and other requirements that all must happen before any subsequent MINDOT inspections can be performed on CN railroad bridges."
A CN spokesperson responded via email that the railroad inspects the Duluth bridge regularly and that it is safe for the iron ore trains that use it.
State law requires MnDOT to inspect railroad bridges like that one. And Niemann said, "From what I see I wouldn't necessarily have an immediate concern of safety. But it's probably at a time where it would be appropriate to see where it's at in capacity compared to demand. If this was MnDOT that's what we would be doing. We'd be taking a look at this. And I have no idea what they've done."
That's because railroads typically don't share their inspection reports or structural analysis with the state.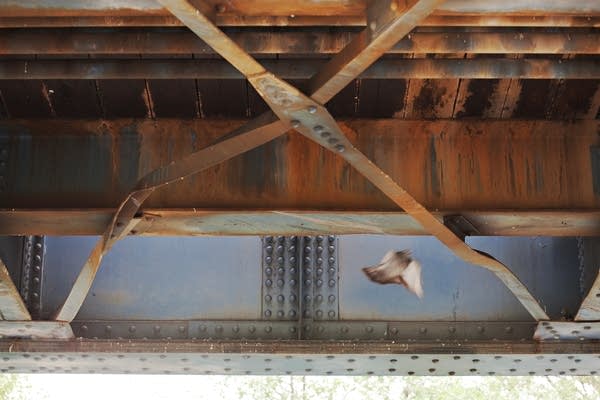 Bridge collisions
Across the state from Duluth, MnDOT engineers also sought more information about Bridge No. 6408. The steel bridge carries dozens of BNSF trains, including oil trains, across U.S. highway 10 in Moorhead. It was built in 1952.
Like many railroad bridges this one has a low clearance over the highway, and it's been struck several times by passing trucks or equipment.
In a 2014 inspection, a MnDOT inspector noted broken bolts and approximately 30 rivets sheared off by impact on the lower girders. A girder was also bent.
MnDOT wrote to BNSF requesting the railroad inspection report and structural analysis for the bridge. BNSF responded that their bridge inspection found nothing that would require immediate repair or restrictions for train traffic.
"BNSF does not provide copies of our inspection or rating reports," the railroad wrote.
MnDOT inspector Andrew Fischbach said he's concerned about repeated traffic collisions with the bridge.
"I didn't feel that it was at a state where it was a critical issue, but if it were to get hit once or twice more without the railroad doing any repairs, it could cause that to escalate into a critical situation that could have been avoided," Fischbach said.
A common theme in inspection reports is how often some rail bridges are hit by vehicles. Twice this year and at least twice last year, tall vehicles have hit a pair of rail bridges owned by BNSF and Union Pacific over 15th Avenue in southeast Minneapolis near Dinkytown and the University of Minnesota.
Minneapolis bridge inspector Madsen said peeling concrete and exposed reinforcing bar above the sidewalk have generated a lot of complaints. Madsen says areas of exposed rebar first showed up on a bridge inspection report in 1987.
Just before 7 a.m. on May 9, a University of Minnesota employee forgot to lower the lift on a truck as he drove under the bridge. The accident dislodged the railroad track and raised a corner of the bridge by 6 to 8 inches.
The bridge was closed for several days for repairs.
Hennepin County's Jim Archer said collisions with bridges are partly a result of traffic outgrowing designs.
"You know, you were designing for more of a horse and buggy, or a Model A, rather than a 53-foot tractor-trailer combination," Archer said. "So I think in those situations, yeah, you see more vertical impacts on railroad bridges."
Nearly half of Minnesota's railroad bridges over roads were built before 1940, according to the best available data.
Bridge problems add to congestion
Railroad bridges are also carrying heavier loads.
Retired MIT professor Carl Martland said that before 1960, loaded freight cars weighed 170,000 pounds. Today, cars hauling heavy commodities like coal, grain or oil weigh 286,000 pounds.
Martland, who spent much of his career studying railroads, said the industry has a strong economic incentive to keep bridges in good shape. A bridge in poor condition can force trains to slow down.
"You can't afford to slow every train down to 10 mph every 20 or 30 miles you come to a slow order bridge. It just creates a capacity problem for the line."
It's not clear how often railroads reduce speeds because of bridge conditions, but a 2011 article in the BNSF company magazine indicated bridge problems were causing congestion on the system.
The article, in Railway magazine, said, "With trains getting longer and freight car loads getting heavier, the life of BNSF bridges is being used up more quickly. Instead of feeling one heavy steam engine per train, as expected by early bridge engineers, bridges are feeling 135 cars with the same impact per train. As a result, slow orders may be issued, leading to congestion.
BNSF declined comment about the article.
Martland says heavier loads prompted a lot of analysis when they became an industry standard in 1990.
"Bridge engineers were very, very worried about heavy axle loads, so they were very anxious to ensure that implementing heavier axle loads would not cause a crisis."
A 2003 analysis by a Canadian Pacific engineer predicted heavy axle loads, called HAL, would shorten the life of steel beam bridges.
"It is clear that the introduction of HAL traffic on North American Class 1 railroads has increased the rate of fatigue damage accumulation (thereby reducing expected life), and in some cases caused fatigue damage (cracking) in steel bridges," the analysis said.
But other experts say that hasn't happened.
Heavier trains increased railroad profits, providing more money to invest in infrastructure, said Allan Zarembski, director of the railroad engineering and safety program at the University of Delaware.
Zarembski, hired by the rail industry to analyze the effects of heavier trains, also said technology has improved bridge monitoring.
He argued that even old railroad bridges in a state of disrepair are safe because they were designed for heavy steam engines.
"And so bridges that were designed in the steam era were basically overdesigned like crazy. And as a result a lot of the bridges that are 50, 60, 70 years old are still pretty good. Go look at the accident and derailment statistics on the FRA website. You will have to look very, very, very hard to find a bridge accident and derailment. They just simply don't happen."
Indeed, FRA data show a relatively small number of "bridge failure or misalignment" accidents nationally: 74 between 1980 and 2014.
But while overall rail accidents have been on a downward trend for decades, the number of bridge accidents has crept upward. There were 18 in the 1980s and 26 in the 2000s.
Although Minnesota's four big railroads declined interviews to discuss rail bridge safety, all maintained in written statements it's a topic they take seriously and invest in heavily. All insist they meet federal safety standards.
In an email, BNSF spokesperson Amy McBeth said that last year the company "conducted more than 64,000 documented inspections on our structures across our network."
"The regulatory agency for all railroads, the FRA, can inspect our records and all of our bridges."
Canadian National, which has 190 bridges in the state, said it "inspects its bridges regularly to maintain their safety and structural integrity. These inspections are conducted by qualified inspectors and supervised by CN engineers," spokesperson Patrick Waldron said in an email. "Inspection and maintenance processes are subject to regulatory oversight by the Federal Railroad Administration."
Canadian Pacific said it is responsible for 470 bridges in Minnesota. "We believe our current practice and policies for bridge inspection to be of the highest standards," said spokesperson Jeremy Berry in an email response.
"CPs BMP (Bridge Management Program) specifies a thorough inspection and maintenance program for all its bridges and structures. This involves a comprehensive repair and replacement schedule for bridges identified as in need of work through the annual bridge inspection program.
Union Pacific said it maintains 196 bridges in the state and said, "Bridge inspections are a part of our overall derailment prevention program. That's why Union Pacific follows strict safety practices, and works tirelessly to achieve our goal of zero derailments. We decreased derailments 38 percent over the last 10 years, due in large part to our robust derailment prevention and risk reduction process."
In the email statement, spokesperson Mark Davis added, "We invested approximately $31 billion from 2005 - 2014 to continue strengthening our network and infrastructure, and plan to spend $4.2 billion this year. From 2010 to 2014, Union Pacific's capital investment in Minnesota was more than $101 million."
Railroad safety attorney and lobbyist Mann said there's not currently much interest in increasing federal oversight of railroad bridges.
"And really, until there's a catastrophe, there's not going to be anything done."
California recently started the first state-run program to inspect all rail bridges because state officials felt the federal agency wasn't providing enough oversight.
Gallery
8 of 8
1 of 8
2 of 8