Local reads: Books about the Twin Cities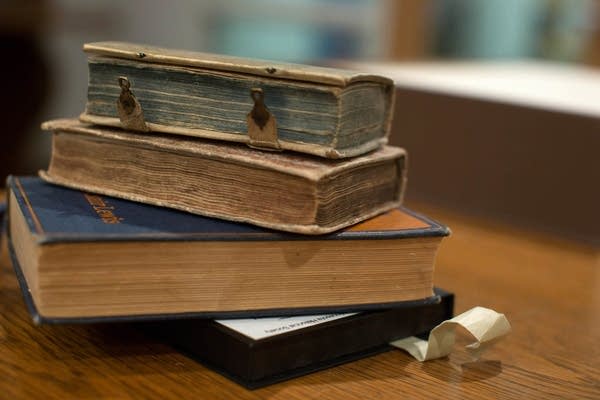 For Literary Mysteries, The Thread tackles your book questions, big and small. Ask a question now.
This week's question: What books best capture the Twin Cities?
Last week, The Guardian's "Reading American Cities" series landed in the Twin Cities. Every week, the British paper collaborates with a local writer to create "the perfect literary companion" for a new place.
For the Twin Cities, The Guardian asked local writer Kathryn Savage to compile a list of local reads. Twin Cities literature, Savage wrote, is "far stranger than its reputation."
Savage's full article is available on The Guardian. Check out her book list below.
Reading American Cities: Books about the Twin Cities
Fiction
• "Believers: A Novella and Stories" by Charles Baxter

• "Shadow Tag" by Louise Erdrich

• "Crossbones" by Nuruddin Farah

• "Freedom" by Jonathan Franzen

• "Blues Vision: African American Writing from Minnesota" edited by Alexs Pate

• "Main Street" by Sinclair Lewis

While "Main Street" is decidedly not a Twin Cities book, it did help put Minnesota literature on the map. The book is a thinly-veiled portrait of Sauk Centre, Minn., published in 1920. In 1930, Lewis became the first American ever to win the Nobel Prize for literature.
Poetry
• "[insert] Boy" by Danez Smith

• "Black Aperture" by Matt Rasmussen

• "Whorled" by Ed-Bok Lee

Nonfiction
• "The Somali Diaspora: A Journey Away" by Abdi Roble and Doug Rutledge

• "I Could Tell You Stories: Sojourns in the Land of Memory" by Patricia Hampl

• "Chronicles" by Bob Dylan

Additional reading: Twin Cities
Savage's list covers a wide range of local literature, from 1920s Minnesota to the cities' modern immigrant experience. No list is ever complete, but we'd add:
• "The Latehomecomer" by Kao Kalia Yang

• "War for the Oaks" by Emma Bull

• "Vestments" by John Reimringer

And then there are all the mysteries. Minnesota is a hotbed for mystery writers. Last month, we compiled a list of some of our favorite cases of local intrigue, many of which turn the Twin Cities into a fictional crime scene: 16 Minnesota murder mysteries.
What's your favorite book set in the Twin Cities? Add to the list in the comments below or tell us on Twitter @thethreadmpr.