Feds indict ex-CEO of controversial Mpls. nonprofit on theft charges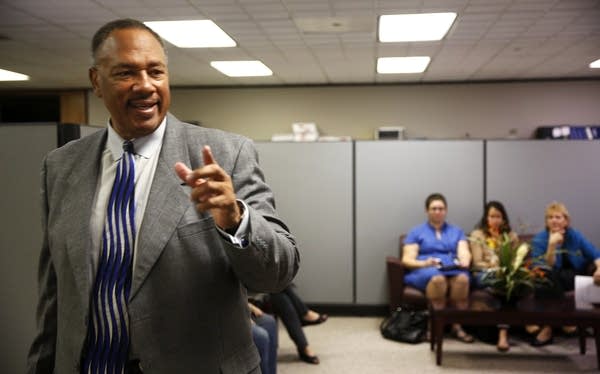 Updated: 7:16 p.m. | Posted: 4:14 p.m.
Federal authorities on Thursday indicted former Community Action of Minneapolis CEO Bill Davis and his son, Minneapolis Police Officer Jordan Davis, on 16 counts of fraud and theft, alleging they spent money meant for weatherization projects on personal travel, dining, entertainment and a car.
The charges say the pair devised and executed a scheme to defraud the nonprofit by diverting at least $250,000 in agency funds for their personal use, and the use of friends and family.
They allegedly conducted the scheme by creating a "slush fund" at Community Action from state and federal grants for weatherization funds from Xcel Energy and CenterPoint Energy.
According to the charges, the nonprofit would do weatherization projects for less than what the utilities paid, and then divert the money to the slush fund, which Davis then put to personal use.
The FBI has been investigating Bill Davis, 64, since early this year amid questions about how the nonprofit spent public money.
In a statement, U.S. Attorney for Minnesota Andy Luger said his office would "prosecute aggressively those who abuse needed public resources for personal gain."
Susan Gaertner, Bill Davis' attorney, said the facts show there was no fraud.
"Mr. Davis has been cooperating with the authorities and we will continue to do so," Gaertner said. "The specific allegations and sorting out fact from fiction will happen in court."
Bill Davis is set to appear in Monday in St. Paul federal court, she added.
Reached by phone, Jordan Davis, 34, said he had nothing to say about the charges. Davis' attorney, Fred Bruno, said they'll fight the charges.
"It's likely it will go to trial, from this early vantage point anyway, and we'll just have to let a jury of peers decide whether this is a crime or not," Bruno said. "We feel it's not and we'll let it play out in court."
Besides the "slush fund," prosecutors also allege that Jordan Davis was paid for four years at a Ben and Jerry's ice cream shop on the University of Minnesota campus even though he didn't work there. Community Action of Minneapolis ran the Ben and Jerry's with the intent to help train people for work. It shut down the store in 2011 after the agency could no longer afford the rent.
The charges say Bill Davis instructed staff at Community Action to continue paying the younger Davis his full paycheck even though he was no longer working there from 2007 until 2011. The indictment alleges Jordan Davis was paid $140,000 for the job he did not perform.
Bill Davis, who served as Minnesota's Democratic National Committeeman, used funds from the nonprofit for a trip to the 2012 Democratic National Convention in Charlotte, N.C., and to President Barack Obama's inauguration in 2013, as well as for trips to Hawaii, Florida, the Caribbean and Cancun, Mexico, according to the indictment.
He also allegedly misrepresented his relationship with his girlfriend, telling CAM's human resources manager that the two were married in order to add her as a dependent to his health and dental insurance coverage.
Bill Davis lost his job at Community Action of Minneapolis last year after a state audit found that he and other board members improperly spent hundreds of thousands of dollars on travel, golf and spa visits.
Community Action of Minneapolis has been shuttered since last September after a state Department of Human Services audit first revealed Davis' misspending. About three dozen people lost their jobs and a court appointed receiver is in the process of winding down the operation.
MPR News reporter Peter Cox contributed to this report.
Your support matters.
You make MPR News possible. Individual donations are behind the clarity in coverage from our reporters across the state, stories that connect us, and conversations that provide perspectives. Help ensure MPR remains a resource that brings Minnesotans together.