During Augsburg's 'River Semester,' all outdoors is the classroom
Twelve college students rolled out of bed near the banks of the Mississippi and got ready for class.
They finished breakfast and washed the dishes, gathered their camping supplies and loaded them into four 24-foot voyageur canoes.
Then ran into the woods to answer nature's call, smeared sunscreen on their tanned faces, pulled on their life jackets, and stepped into their boats, which rocked gently in the Mississippi River at Prairie Island Campground.
"We can go ahead and just paddle forward gently," called instructor Joe Underhill from the stern of one of the canoes.
MPR News is Member Supported
What does that mean? The news, analysis and community conversation found here is funded by donations from individuals. Make a gift of any amount today to support this resource for everyone.
With a few strong strokes from its four paddlers, the canoe slipped into the current, and another day of college on the river began.
Augsburg College's first-ever River Semester is not your average travel-study experience. It'll last the length of the semester and span the length of the Mississippi.
But it's also not your average paddle-down-the-Big-Muddy, the Winona Daily News reported. In addition to paddling and camping, students are taking a 16-credit class load along the way, complete with reading assignments, discussions, conservation work, guest lecturers, and sophisticated lab equipment. One canoe is fitted with a sonar device that's reading the river bottom; another has a flow meter and plankton collector.
The trip is the brainchild of Underhill, who's a political science professor at Augsburg, a private college in Minneapolis.
When Underhill arrived in the area in 2000, he was enchanted with the Mississippi River and wanted to give students a closer look.
"Nobody was doing much with it (the river) in higher education," he explained.
So Underhill sprang into action, researching possibilities and pitching his idea to administration. Eventually he partnered with an outfitting and guide service called Wilderness Inquiry, and Augsburg began offering 10-day river courses.
Still, Underhill dreamed of a longer trip, and spent two years planning the coursework for the River Semester until it became a reality this fall. He and biology professor Thorpe Halloran offer six official courses on the trip, and the group is meeting with numerous organizations and universities along the river to supplement the required reading.
Most of the students are also completing an independent study of some kind, and Halloran said many of them have external funding from government agencies or nonprofits to support their research on the trip.
Student research projects run the gamut from light pollution to sustainable food markets. One student is recording water pollution and oxygen levels downstream of each city, and researching the politics of urban stormwater management. Another is measuring nutrition and caloric intake for the paddlers, and tracking how their bodies change after their time on the river.
Junior Ricky Taylor, a film and graphic design major, said he grew up near two different rivers in Wisconsin, so he jumped at the chance to be part of the River Semester.
"I grew up hearing stories about people who canoed down the Mississippi," he said. "I knew this was going to be a once-in-a-lifetime opportunity."
He's serving as the trip's videographer and also working on a project of his own using 35mm film.
But Taylor said the interdisciplinary nature of the trip has broadened his learning beyond his own projects.
"I'm an artsy-fartsy kind of guy, so a lot of the science stuff -- I've never had the time to pursue it," he said. Now he's learning about how humans affect the river ecosystem, in great detail.
And instead of just a few hours of teaching time every day, the whole group is all there all the time, paddling together and working together, informally asking questions and discussing what they've learned as they follow the river's path.
"Everybody has something they can contribute intellectually," Halloran said.
"We're always seeing what we observe, and people are always firing with questions," Underhill said.
One day last week as the class passed by Winona, Underhill said the day would mostly be spent paddling to a campsite near Trempealeau, but their discussion would probably draw on the meeting they had the day before with a Dakota elder about the indigenous green movement, along with environmental racism and dislocation.
"This is my idea of an ideal form of higher education," Underhill said, paddling all the while.
"It's experiential, it's engaged with the community, it's interdisciplinary, it's physical and mental. If you're gonna study the Mississippi River, it kind of makes sense you go out on the river."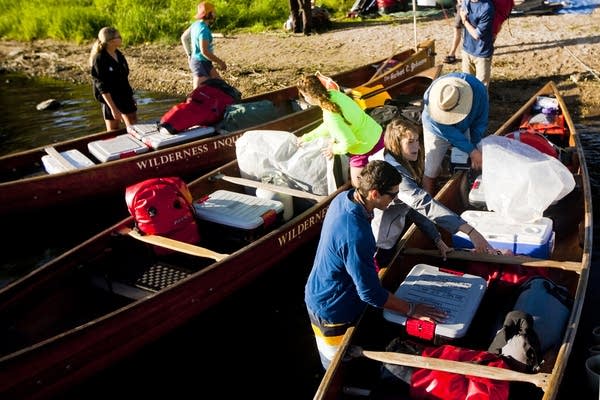 The trip started Sept. 1, and the group averages about 80 miles a week, because they take layover days to read and conduct their class sessions. They spent the weekend in Winona and attended the Great Dakota Gathering, climbed Sugar Loaf, and explored more of the river from the Cal Fremling.
The group won't be paddling the whole river, because of logistics and time constraints. They took a weekend trip to Itasca before their paddle began, and they'll stop in St. Louis, Missouri around October 31, taking the rest of the trip to the coast in segments by bus, canoe, and van, and returning to campus via train.
Underhill said he's had an overwhelming response from the communities and agencies he contacted along the river, and the trip is, by its mere existence, charting the territory for other river classes like it.
"People have responded really well to this as a program," he said. "This becomes more of an interesting and doable proposition now."
As for the students, they're a happy bunch. No matter how tough the day, Taylor said, it's easy to put things in perspective.
"We'll look at each other and be like, well, we could be sitting in a classroom back in school," he said.
"We learn in such unusual ways."
An AP Member Exchange shared by Marcia Ratliff of the Winona Daily News.