Report: Nonprofit board members benefited from improper spending
A court-sanctioned investigation has found State Sen. Jeff Hayden, DFL-Minneapolis, and his wife Theresa received at least $3,486 in improper reimbursements from a now-defunct nonprofit organization.
A report filed in Ramsey County District Court Thursday alleges Community Action of Minneapolis paid for plane tickets, hotel stays, travel expenses and spa services for the Haydens. The document says with the exception of the $96 spa visit, the Haydens have refused to pay the money back.
Sen. Hayden, who appointed his wife to serve in his place on the CAM board, has previously denied receiving any personal travel reimbursement from the organization. He referred questions about the matter to his attorney, Charles Nauen.
Nauen said there was nothing improper about Community Action of Minneapolis flying the Haydens to national community action conferences in New York and San Francisco.
"The expenses for the events did not benefit them. It benefited the organization," Nauen said.
Last month, federal prosecutors indicted former CAM CEO Bill Davis and his son, Jordan, on 16 counts of fraud and theft. They were accused of diverting at least $250,000 from the organization, which received state and federal grants to provide heating assistance, home weatherization and other services to low-income residents of Minneapolis.
The new report details nearly $80,000 in additional allegedly improper spending to benefit other members of the CAM board, senior staff, Davis' fiancee and a nonprofit associated with Sen. Hayden.
Fay Harrison, who represented Democratic U.S. Rep. Keith Ellison on the board, had "$8,870 worth of work performed on her house, which was paid for by CAM."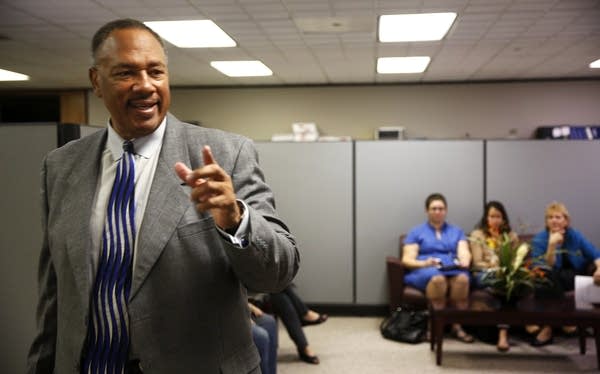 The report alleges CAM bought former board member Nimco Ahmed a new boiler for her home and improperly paid for her to attend a conference. Ahmed represented then-Minneapolis City Council Member Robert Lilligren on the board. The receiver attempting to recover the funds has been unable to contact Ahmed about repayment, because she is out of the country.
The report says former board members Molly Thoulouis and Towanna Williams also received improper benefits from CAM.
Investigators found no evidence that Rep. Ellison or former Council Member Lilligren received any personal benefit from CAM, but it says they, along with Minneapolis City Council President Barbara Johnson and other former board members, could still be found liable for breach of fiduciary duty.
The receiver is also trying to recover nearly $40,000 from the south Minneapolis nonprofit organization MAD DADS. CAM allegedly transferred the money to the organization in order to pay the salary of his former fiancee Patricia Banks and for a MAD DADS intern. Sen. Hayden serves on the board of MAD DADS. The organization's CEO, V.J. Smith, referred questions to his attorney, Clayton Tyler, who was not available for comment.
Former Minneapolis Park Board Member Mary Merrill Anderson is also implicated in the report. CAM allegedly spent $889 to print campaign literature for her.