How we leave the atmosphere: Your weekend reading list
This week's test of a Trident-II D5 missile from the USS Kentucky captured the attention, and imagination, of those who were able to see it on the west coast.
This weekend's reads are all about those massive machines we use when we want to leave the atmosphere. Learn about the race to carry astronauts to space by 2017, the missile test of the USS Kentucky and the stumbles of rocket science.
In the early days of manned space flight for both the U.S. and the USSR, the path outside the atmosphere meant a tiny capsule containing the astronauts was strapped to the top of ballistic missiles.
The Mercury astronauts used Redstone and Atlas missiles, and the Gemini program used Titan missiles. The creation of the Saturn rocket system for the Apollo program meant that astronauts would not ride atop rockets that had been designed first to carry nuclear warheads.
Grow the Future of Public Media
MPR News is supported by Members. Gifts from individuals power everything you find here. Make a gift of any amount today to become a Member!
Read this
When U.S. ballistic missile submarines finish a long resupply and refurbishment in dry dock, they test their missile launch systems.
The U.S. Navy does not usually announce these tests, which often catch the public by surprise, as this week's test did. The view was particularly striking because the missile's path took it out of the Earth's shadow, which illuminated the missile's exhaust plume.
via LA Times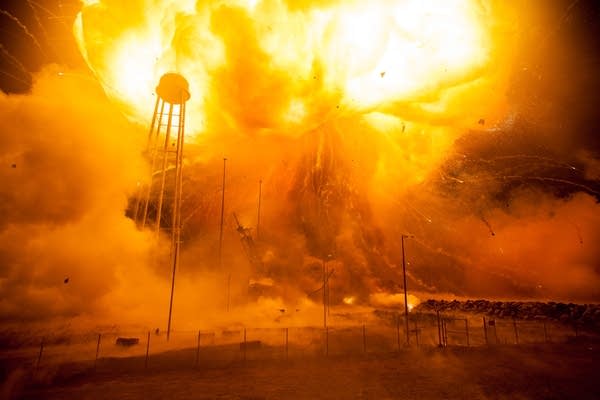 Harnessing the power necessary to lift us above the sky has never been done without setbacks and stumbles. In 2014, a rocket built by Orbital ATK suffered a failure during launch and this week NASA released amazing images of it.
via Ars Technica
In "Command and Control", journalist Eric Schlosser chronicles the history of the U.S. ballistic missile program that marched hand in hand with the development of manned space flight.
Interspersed with larger history, Schlosser tells the story of the "Damascus Incident," when a nuclear-tipped Titan missile exploded in its missile silo in 1980.
via NPR
Since the end of the space shuttle program, the U.S. has lacked a space launch system capable to delivering astronauts to orbit and the International Space Station, instead relying upon the Russian Soyuz program. Corporations are racing to fill that gap as NASA develops the systems for reaching Mars.
via Ars Technica
Watch this
• A 12-minute NASA sizzle reel of U.S. manned space flight