Wedge Co-op workers to vote on union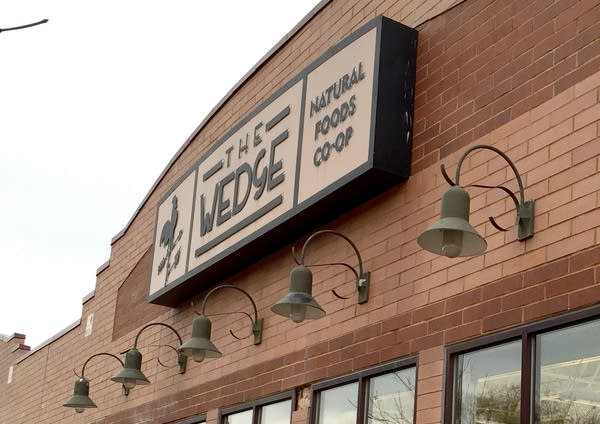 Founded more than four decades ago out of the social and political ferment of the early 1970s, workers at the Wedge Community Co-op vote today on whether to become the first of the state's many co-op grocery stores to unionize.
The union drive launched in December and will include about 136 employees at the Wedge's location on Lyndale Avenue. The National Labor Relations Board is overseeing voting during two separate sessions today.
Rebecca Pollak, assistant grocery buyer at the Wedge and a union supporter, stayed late at work Wednesday afternoon because she was helping a customer parse his options for low-sodium tamari alternatives. She loves the quirky facets of her job at the Wedge, and interacting with neighbors, but said employees no longer have much voice.
"Employees are banned from running for the board," Pollak said. "I do think there's a lack of employee representation at a decision-making level at the Wedge, and that's not out of intent, it's just because there's not a structure for it, and [the union] would create a structure."
While Pollak admits that employees could use a raise, it's not just about the wages. She said a union would essentially complement the co-op's fundamental mission.
"Democracy is one of the fundamental co-op principles that we are sworn to live by, as it were," Pollak said. "I think [the union] reflects our values and our mission really well."
Before you keep reading ...
MPR News is made by Members. Gifts from individuals fuel the programs that you and your neighbors rely on. Donate today to power news, analysis, and community conversations for all.
'We'll be supportive'
The co-op's management has remained neutral on the union drive because of a clause in a union contract with warehouse workers for a distribution company also owned by the Wedge. Some union supporters consider a recent bump of pay for new hires to be a result of the union drive.
When the union drive first became public in December, Wedge CEO Josh Resnik said management immediately offered union organizers a conference room to meet with workers. Even union supporter Pollak gave Resnik a heads-up before conducting a media interview about the union.
"We really feel like it's a decision for the employees," Resnik said. "If they choose to join the union, then we'll be supportive of that, if they decide not to, we'll be supportive of that."
Employees are drawn to the co-op's mission of food and social justice, Resnik said, and the company tries to give workers opportunity to give input. He said employees tend to stay at the Wedge for an average of five years.
"It's a very good workplace," Resnik said. "There's a home for people who have a viewpoint, to share their ideas and there's a lot of dialogue that we have with employees, that still is pretty much fundamental to what co-ops are about."
Andre LeTendre, who has worked at the co-op's deli for three years, originally opposed the union but now strongly supports it. Although he's concerned about clear job classifications, structures for raises and other working conditions, LeTendre said there appears to be a growing distance between co-op workers and managers.
"I didn't see the reason for a union to be at a co-op," LeTendre said. "Then I started to see the direction the co-op was going, and a group of us did raise our voices and say, 'Hey, this isn't the direction the co-op should be heading,' it seemed to fall on deaf ears."
The Wedge owns the grocery store, a separate cafe, a co-op distribution business and, until recently, also owned a large organic farm. The Wedge of today is a far cry from its humble origins in a basement apartment on Franklin Avenue in 1974.
"As the grocery market has become a little more competitive, there's been an effort to professionalize a little bit of what we do," Resnik said. "We like to think that we provide a lot more authenticity than a lot of other types of business, and still provide different shopping experience and working experience."
The union organizing drive comes at a time of rapid expansion for local grocery co-ops. The Wedge recently opened a satellite location called Wedge Table on nearby Nicollet Avenue, and others like the Seward Community Co-op and Mississippi Market have recently opened their own additional stores.
Some union supporters at the Wedge and other co-ops in the area have complained about a rising corporate culture at these formerly countercultural institutions, said Abraham Wangnoo, director of organizing for United Food and Commercial Workers Local 1189.
"What used to be a business in which workers were very appreciated and involved and were a huge driving factor has turned into just a job," Wangnoo said. "A lot of people working at these places want it to be more than that, they believe these are community co-ops that should serve the community, that the jobs should be sustainable, just like the food should be sustainable, and that those should be core principles of these places."
Counterculture to competition
Although cooperative grocery stores are located all across the country, the Twin Cities has more co-ops than any other urban area.
Minnesota and Wisconsin have long histories of supporting cooperative businesses, many northern European immigrants were familiar with co-ops and brought them when they came to Minnesota. This generation of consumer grocery cooperatives can trace its roots back to the counterculture of the late 1960s and early 1970s, said Craig Cox, a journalist and author of the the book "Storefront Revolution" about the Twin Cities co-op scene.
"It was really built around a whole principle of mutual aid, the whole idea that consumers can get together and form businesses to serve their needs outside the established economy," Cox said. "There was kind of this idea that you could create a bubble around your world in the early '70s and not have to participate in the larger corporate economy."
Co-op pioneers in the Twin Cities wanted healthy food, products like brown rice and whole wheat flour, which weren't widely available in larger grocery stores at the time. But they also brought with them political and cultural values from the anti-war movement.
"What happened, almost from the outset, is there was a tension from the consumer side of the movement and the worker side of the movement," Cox said. "There was a lot of debate early on about how workers would be treated."
Most of the consumer-owned collectives relied on volunteer labor to keep down costs. Some of the cooperatives even formed as worker collectives, with employees managing the businesses. But as the hippie counterculture withered away and healthier food caught on in the mainstream, many of these co-ops had to change or close.
Cox served on the board of the West Bank Co-op in 1980. Even then, the political and cultural values of the co-ops clashed with the reality that they were becoming complex businesses.
"We hired a manager from Supervalu to come and run the store," Cox said. It was unheard of, it was like sacrilege to do that at that time because you wanted somebody with the same cultural values."
In many ways, co-ops were victims of their own success in convincing broader swaths of the public to eat healthy and local food, said Dave Gutknecht, longtime editor of Cooperative Grocer Magazine.
"They have built up successfully, tremendous public demand for an interest in natural and organic products to the point where many larger capitalized businesses have gotten into the same field," Gutknecht said. "That would be everyone from Target and Costco to Trader Joe's and Whole Foods."
That competition, which is only intensifying in the Twin Cities, helped to move co-ops even more quickly to more professional business models as profit margins decrease, Gutknecht said. Compensation for employees at co-ops is also under pressure from companies like Trader Joe's, which compete in the same market.
But the political and cultural influences are still there at co-ops like the Wedge, although much of it relates to issues like fair-trade sourcing and support of local farmers who don't use pesticides. The democratic structure of the co-ops themselves, Gutknecht argues, is novel because it allows input from community members on issues involving the co-op.
"The other thing to remember is that unlike other businesses we are democratically, community-owned"," Gutknecht said. "Just the very fact that we have cooperatively-owned, democratic businesses that are thriving and growing is something to take note of and take pride in — and it does not replicate something that's out there."