At community meeting, Wetterlings tell victims they will be heard now
In central Minnesota, there's renewed hope for answers in the abduction of Jacob Wetterling. The 11-year-old boy was kidnapped at gunpoint in 1989 near his St. Joseph home.
In October, authorities named Daniel Heinrich as a person of interest in the case. Authorities said that they have DNA evidence linking Heinrich of Annandale, Minn., to an assault of a child in Cold Spring, Minn., that happened less than a year before Jacob's disappearance.
Heinrich has not been charged in the Cold Spring case because the statute of limitations has expired, nor has he been charged in the Wetterling case. But he is facing federal child pornography charges. And investigators are also trying to determine if he's responsible for at least eight assaults of boys in Paynesville in 1986 and 1987.
On Sunday night several hundred people came to a meeting at the high school here, where Jacob's father Jerry Wetterling thanked the victims for speaking with investigators so many years later.
Grow the Future of Public Media
MPR News is supported by Members. Gifts from individuals power everything you find here. Make a gift of any amount today to become a Member!
"It was really difficult to hear about, but we are so grateful for their help in trying to help us put an end to this and find Jacob," he said.
Capt. Pam Jensen with the Stearns County Sheriff's Office is urging anyone who knew Heinrich in the mid-'80s and early '90s to come forward.
"Acquaintances, where he liked to hang out, maybe you knew something about him, maybe you had a personal relationship, vehicles, party spots, anything of that nature," Jensen said.
Jacob's mother, Patty Wetterling, also urged possible victims of Heinrich to contact authorities.
"I believe if there were other victims afterwards they might know something that changed, something that was different, something that was said. And that's part of what we want to make sure," she said.
The question-and-answer session was closed to reporters. But after the session Michelle Froelich said it was an important opportunity for people to talk about what happened three decades ago and to share information. Froelich, of Kirkhoven, came to the meeting with her husband, a sexual abuse survivor.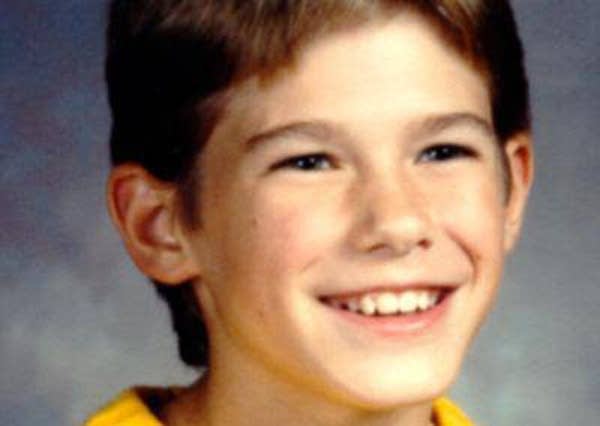 "I think there's a lot of Paynesville people who know a lot of things and don't have an outlet to tell what they know," she said. "It's amazing to me how many people have stories in Paynesville to tell, and it is true that just a little piece of the puzzle here and there helps put the whole thing together."
Blogger Joy Baker, who lives in nearby New London, has been writing about the Wetterling case since 2010. Two years ago she came across a 1987 front page newspaper article about the assaults.
"I started looking into the archives of the Paynesville Press and found this article about these attacks on young boys in 1986-87," she said.
The victims of those attacks told police they were grabbed by a masked man who threatened to kill them. Jacob's younger brother Trevor and their friend — who were riding bikes with Jacob when he was kidnapped — would give a similar account in 1989.
As early as 1990, authorities investigated Heinrich in connection with Jacob's abduction. And in October of this year they revealed that Heinrich's shoes and car tires matched shoe and tire marks at the abduction site.
Baker says she's at a loss to explain why the possible connection between the Paynesville attacks and the Wetterling case is only now coming to light.
"I get asked that a lot, and I honestly don't know the answer. It was on the cover of the paper. It's not like it was buried, it was a lead story," she said.
Patty Wetterling says she is glad that the victims of the Paynesville attacks are finally being taken seriously.
"They weren't heard years ago, but they will be today," she said. "And that was one of my purposes was to have an opportunity for law enforcement to reassure them. They got a very bad deal when nobody listened, but it's a new day."
Heinrich has denied having any involvement in Jacob's disappearance.
But Patty Wetterling said she remains hopeful that any new information victims of the Paynesville attacks may provide could finally answer the question of what happened to her son 26 years ago.