Monday slop storm: On edge of rain, sleet and snow
At least winter is making an effort.
Another shot of rain transitions to an icy mix of sleet and sloppy snowflakes Monday. Ground level temperatures hold mainly above freezing, but as the air a few thousand feet up reaches the freezing point, our cold rain freezes into sleet showers at times. As the sleet pings off your windshield, it may transition to sloppy snow for a few hours before ending late Monday.
Be ready for just about any "phase" of precipitation Monday. And expect wind gusts to 30 mph at times Monday. Wet, cold and raw.
Roads should remain mostly wet with temps hovering above freezing. A few sidewalks and parking lots and grassy areas may be a little icy in spots where sleet showers are strongest.
Heavy rains favor southeast Minnesota.
The National Oceanic and Atmospheric Administration's Rapid Refresh update model paints the heaviest rainfall for southeast Minnesota, northern Iowa and western Wisconsin where some 1- to 2-inch rainfall totals will fall.
Gain a Better Understanding of Today
MPR News is not just a listener supported source of information, it's a resource where listeners are supported. We take you beyond the headlines to the world we share in Minnesota. Become a sustainer today to fuel MPR News all year long.
It's another sharp precip cutoff for the metro, as we ride the northern edge of this system Monday. The far south and east metro may see an inch. Rogers and far northwest metro communities pickup very little rainfall.
Flood threat southeast
Two-plus inches of rain in mid December? It seems as if El Nino has overwhelmed climatology and weather patterns, and the forecast models that keep trying to paint air cold enough for snow across the Upper Midwest. Here's an odd map for December from the La Crosse, Wis., National Weather Service.
The view from Duluth, more icy.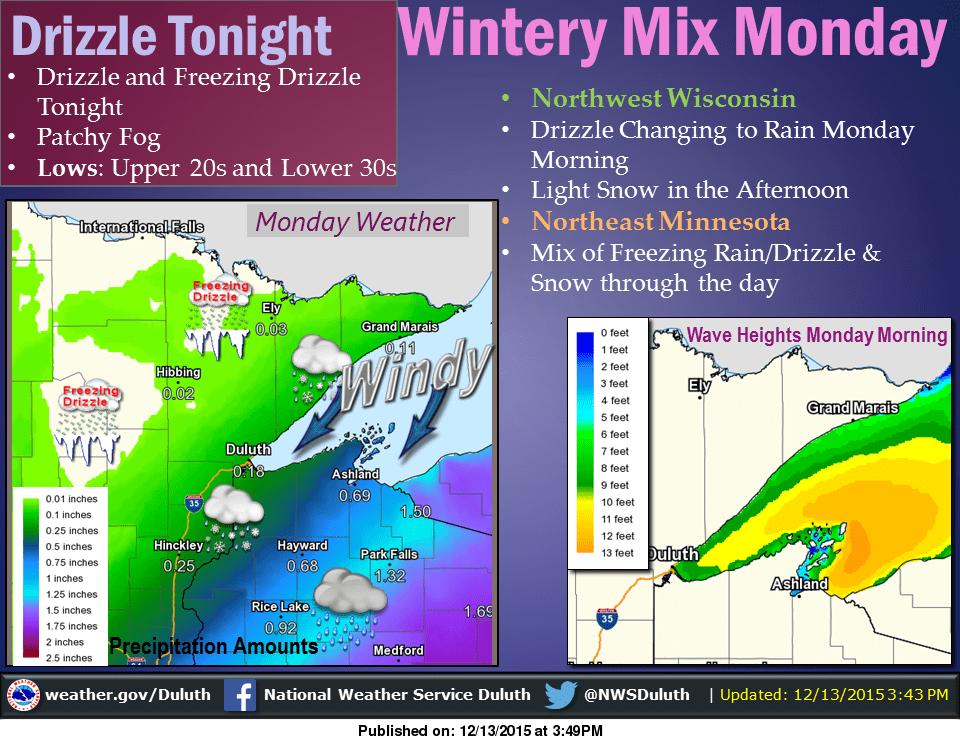 Here's a closer break down of Monday's messy metro system. A mixed bag returns with another system Tuesday night and Wednesday.
Tuesday night and Wednesday system does look promising for snow from Alexandria through Brainerd and the Iron Range into northeast Minnesota.
Stay tuned.
And finally check out this record challenging monster low in the Gulf of Alaska. It produced 122 mph wind gusts in the Aleutian Islands.