Major winter storm hits home late Monday
Batten down the hatches Minnesota.
A major winter storm with heavy snowfall, drifting winds and cold temperatures hits Minnesota Monday afternoon and evening. By the time it's over, this could be the heaviest snowfall for parts of Minnesota in nearly two years.
Some quick headlines for what you need to know getting started early Monday morning.
MPR News is Member Supported
What does that mean? The news, analysis and community conversation found here is funded by donations from individuals. Make a gift of any amount during the Winter Member Drive to support this resource for everyone.
Latest winter storm watches and warnings from the Twin Cities NWS.

Dry commute Monday morning through midday. Get your errands done by 3 pm in metro. Snow arrives in Twin Cities from the south between 4 pm and 6 pm Monday. Snow moves into southern Minnesota along the I-90 corridor by noon.

With temps in the 20s, metro roads quickly become slick Monday evening. Heaviest snowfall rates of 1"+ per hour arrive in metro around 7 pm Monday. Snow continues Tuesday morning, rush hour likely 2x normal commute times.

Models have been in flux, but overall snowfall totals of 12"+ still look likely in heaviest snow zones by Tuesday evening. Uncertainty still exists as to just where that heaviest snow band will set up. It could be in southeast Minnesota and western Wisconsin, or it could slide closer to the Twin Cities metro as NOAA's NAM model suggests. Right now I am leaning toward metro snowfall totals of between 5" and 10"+ by Tuesday evening. That could change pending morning model runs.

Regardless of eventual totals this will be the highest impact snowfall event of the season so far. Travel will be very difficult by Monday evening across eastern Minnesota, and western Wisconsin.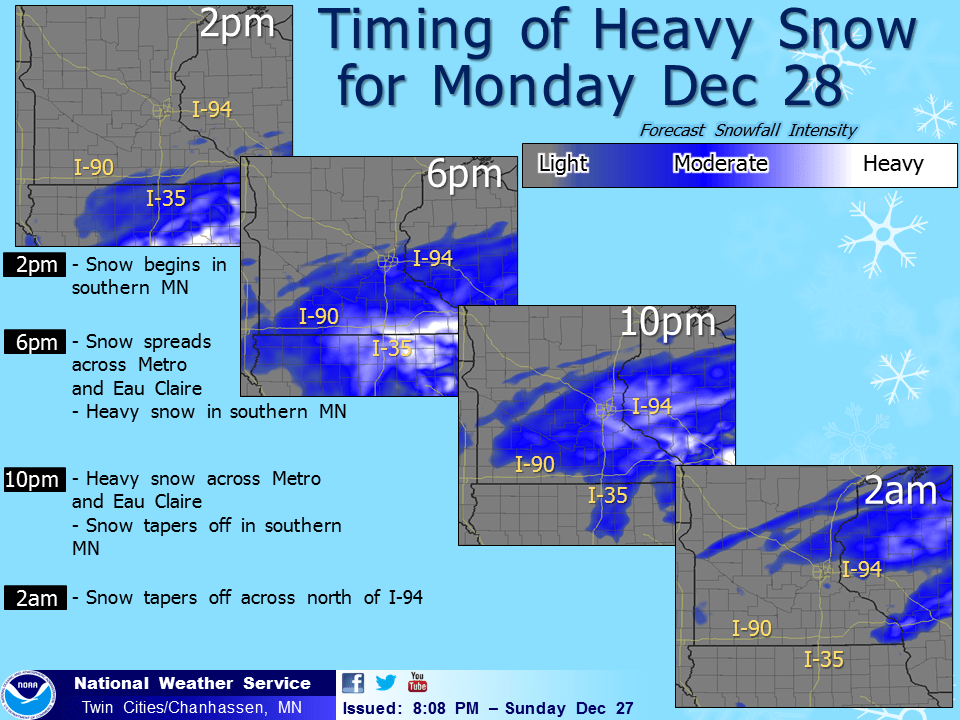 Shifting models
Just when you thought it was safe to start narrowing snowfall totals, the evening 0Z NAM model went viral last night with gonzo snowfall totals. This is the map that got our attention Sunday night. It's also the outlier on the (extreme) high end of snowfall forecasts. But in the interest of full disclosure as to the higher than usual level of uncertainty we are dealing with in this system, here it is. These totals are probably too extreme, but I can't rule it our based on system strength and moisture output.
Late last night NOAA's GFS model stayed the course with a bit of a sanity check. The GFS favors the notion of an overall metro snowfall range of 4" to 8"by Tuesday night.
Forecast model quicksand
What keeps meteorologists us at night? Forecast models in flux. The range in snowfall output for this system from NOAA's SREF ensembles is simply incredible. Snowfall totals from 0.26" to 18.19"? That's a forecast that would go over well with the public. Here's a little inside baseball look at what we are dealing with with this system. It's certainly possible the mean forecast of 7.61" will fall on your driveway.
Gulf storm
This storm is a beauty on the maps. These Gulf storms travel almost due north. The cold dome over Minnesota should assure almost all snow for the metro. Some ice mixes in along the I-90 corridor.
Biggest in almost 2 years?
This may be the biggest snowfall in the metro and parts of Minnesota in nearly two years. If we do manage 10" in the Twin Cities, this will be the biggest snow event since February 20-21, 2014 when 9.9" fell at MSP Airport.
Stay tuned for updates Monday morning as a fresh set of model runs pours in before the snow flies.
You be the forecaster
These days it seems like everyone in Minnesota is a meteorologist. Maybe it's genetic. Maybe it's the proliferation of smart phones and weather apps. Everyone has a weather opinion. Please feel free to place you bets on the storm, and discus the latest model trends in the comments today. How much will fall at MSP? Two rules. Have fun and be Minnesota nice.