Weekend danger zone, did winter severity peak in 1970s?
There's no sugar coating this one, folks. This should be winter's best shot, the coldest subzero air mass of winter for Minnesota and the Upper Midwest. Wind chills Sunday and Monday morning dip into the danger zone, -35 in the metro to -45 west and north.
Wind chill advisories and warnings will be up into Monday.
As Minnesotans we're used to dealing with cold. But the magnitude of cold from Saturday through Monday will be unforgiving, even dangerous to the most hearty if you're not well equipped. Frostbite will occur in as little as 10 minutes this weekend on exposed skin.
Arctic waves
The National Oceanic and Atmospheric Administration's 4 km resolution NAM model has a good depiction of the waves of subzero cold surging south this weekend.
The core of the coldest air oozes south Sunday morning and lasts into Monday morning. The core of -20 degree air should reach the outer Twin Cities suburbs Sunday and Monday morning. I'm feeling a wind chill in the Weather Lab just watching this.
Before you keep reading ...
MPR News is made by Members. Gifts from individuals fuel the programs that you and your neighbors rely on. Donate today to power news, analysis, and community conversations for all.
Winter's bottom?
This should be the bottom this winter for the metro. The maps both Sunday and Monday morning look like somebody dropped a box of minus signs. The subzero line pushes south of Des Moines, Iowa.
80 hours of subzero cold?
The core of cold parks over Minnesota from Saturday into Monday. NOAA's Global Forecast System kicks temps barely above zero Monday afternoon. The more aggressive European Centre for Medium-Range Weather Forecasts model keeps us below zero through Monday, and right into Tuesday morning.
If the European model is right, that could be about 80 hours of subzero temps for the Twin Cities.
I'm still not buying the notion of -20 at the airport Sunday or Monday morning. But some of the usually colder metro outer suburbs like Lakeville and Blaine will get that cold. I think -15 is a good (bad?) number for the airport and the inner metro urban core Sunday and Monday morning. Don't stick your tongue to that metal fence post, kid.
Subzero cold records
Even if we manage to string together the Euro's notion of 80 consecutive hours below zero at MSP, it's nowhere near a record. It's not even close to the 130 hours needed for a top 10 spot.
Here's a look at the top 10 subzero streaks for the Twin Cities courtesy of the Minnesota Department of Natural Resources State Climatology Office.
The mercury has stayed at or below zero for at least four consecutive days on 27 occasions in the Twin Cities from 1873 to 2014. The longest streak is seven days from Jan. 1-7, 1912.

For the number of consecutive hours that the temperature has stayed at or below zero, the 1912 stretch is the longest at 186 hours. The last time there was a stretch that lasted longer than four days was 142 hours in 1994. More recent stretches include 86 hours from 11 p.m. January 12, 2009 to 1 p.m. Jan. 16, 2009 and 93 hours from 5p p.m. Jan. 31, 1996 to 1 p.m. Feb. 4, 1996.

How long would a stretch of zero or below weather be to make the top 10 list? The mercury would have to stay at or below zero for at least FOUR full calendar days to have a chance of making the list.
Winter Misery Index: Did winter severity peak in the 1970?
Native Minnesotans of a certain age vividly remember the legendary barbaric winters of the 1970s. The frozen tundra. Flame throwers at Met Stadium. Bud Grant. Die Hard battery commercials filmed in International Falls.
It turns out the idea of cold in the 1970s is not our imagination. The data supports the notion that the winters of the 1970s were the most "miserable" on record. The winters of the early 1980s were not far behind.
Here's a good look at the Winter Misery Index from the Minnesota DNR State Climatology Office. Note the "misery peaks" in the seven-year moving average in the 1970s and 80s.
So far we're getting off easy this winter.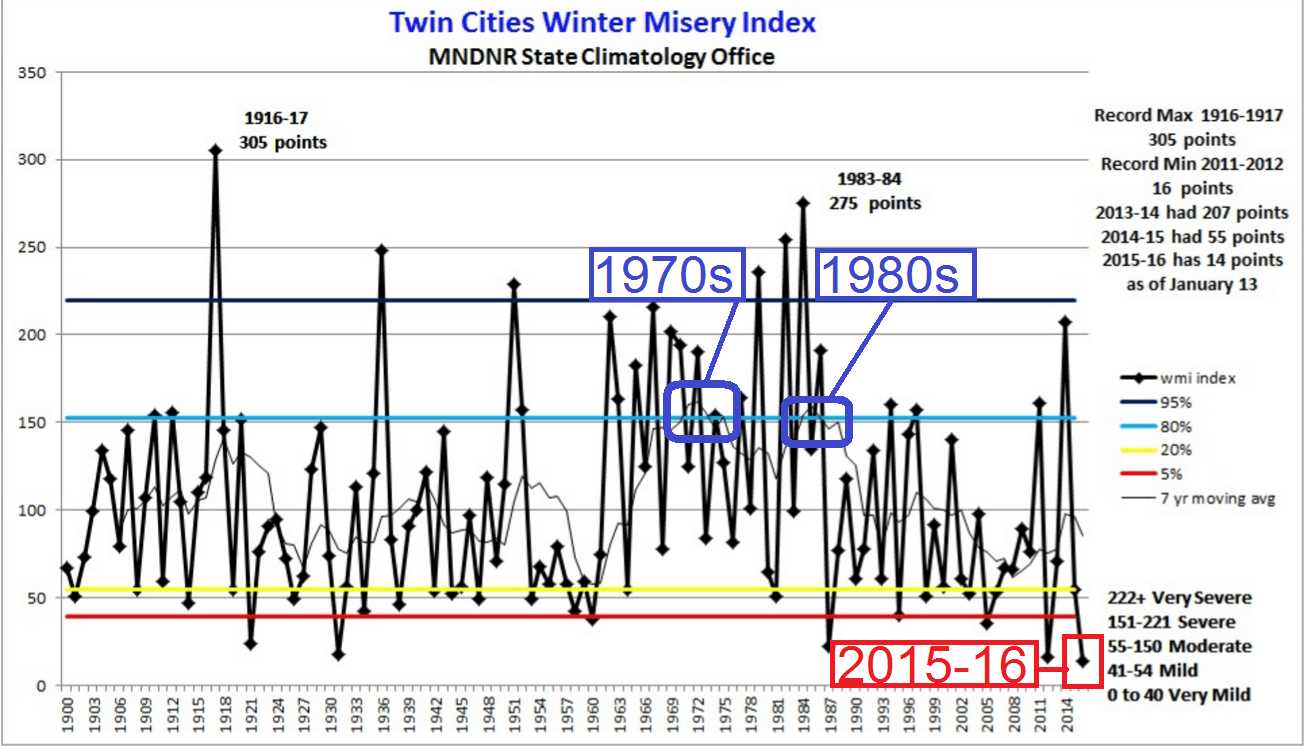 Were the winters when you were young worse than they are now? You may be able to prove it with the Winter Misery Index.

The Winter Misery Index (WMI) is an attempt to weigh the relative severity of winters. The index assigns points for daily counts of maximum temperatures 10 degrees or colder and daily minimums of 0 or colder. If the minimum temperature is -20 or colder greater weight is assigned to the value times 8. For snowfall, one inch is assigned a point per calendar day. A four inch snowfall is times 4, and an 8 inch snowfall is times 16. The duration of a winter is noted by the number of days the snow depth is 12 inches or greater. All current measurements are at the Twin Cities International Airport.

As of January 13, 2016 the winter of 2015-16 has 14 points. Eight points are for cold and six points for snow.

The winter of 2014-15 wound up with 55 points, just enough for 2014-15 to be categorized as a "moderate" winter. Most of the WMI points for the 2014-2015 winter were for cold: 46 points, the 3rd most in the last 10 years. There were only nine points for snow, the lowest since 1981.

The WMI for the winter of 2013-14 in Twin Cities was 207 points, or in the high end of the "severe winter" category.  This was the 9th most severe winter on record based on WMI points. The lowest WMI score was the winter of 2011-2012 with 16 points. The most severe winter is 1916-1917 with 305 WMI points.

Note, this could also be called the "Winter Fun Index" depending on your perspective!
Common sense safety in extreme cold
It's the unexpected that can cause problems in winter. My son travels to and from campus at the University of Kansas along Interstate 35 in winter.  He's heard the "winter car kit safety lecture" from dad ad-nauseam. He calls me "worst-case-scenario dad."
He's got a point, maybe I've seen too much go wrong in 30 years in the news and weather business. In my (feeble) defense, anyone travels that stretch of I-35 in northern Iowa in winter knows it can turn into a whiteout fast hurry when the wind blows. The gates along the freeway entrance ramps should be the first clue.
Traveling in a car in good condition in winter is usually safe, until it's not. Here's a good checklist of what you should have in your winter car safety kit this weekend, and all winter for that matter.
Remember our four-legged friends
It's good to remember to keep an eye on our pets in this kind of cold. They can get frostbite on paws and dangerous exposure other places too. Again, it's just good common cold weather sense. Fido will be grateful.
Milder days ahead
Our mild overall El Nino flavored winter returns to from by the last week of January. A Pacific breeze returns, and temperatures should warm to above average again as January fades.
NOAA's GFS has hinted at a return to temps in the 30s by late month now for a few runs.
The updated outlooks for early February also favor warmer than average temps.
The daily runs from NOAA's Climate Forecast System (CFS v2) continue to favor very warm conditions across North America for February overall. As much as 5F to 7F+ warmer than average for Minnesota in February?
Now please excuse me while I hibernate and binge on "Mozart in the Jungle" until further notice.
Stay warm and safe Minnesota.