Weekend thaw, edge of snow then colder next week
Mercurial.
That's the best word to describe our fast changing weather some days in Minnesota. Clouds, snow, sleet, rain, sun and more rain and snow. And that's just a couple of hours. Ferris Bueller may have the appropriate weather wisdom here.
Life moves pretty fast. If you don't stop and look around once in a while, you could miss it. -Ferris Bueller
Our January thaw is late this year. Some Minnesotans say better late than never. Some say, bring me more snow to play in. Whatever your weather perspective expect a little bit of everything in the next week. Mild Pacific breezes, a (glancing?) blow form a passing major winter storm, a biting Arctic air mass.
A Ferris Bueller forecast.
Fast moving flow
The jet stream is dealing rapid weather changes to Minnesota these days. Watch as the next low pressure wave zips in form the west with yet another wintry mix this weekend. A larger and potentially more impactful storm gathers in the desert southwest.
Temperatures push 40 again Saturday at MSP. NOAA's models hit at a light rainy/wintry mix to snow late Saturday into Sunday. Here's a closer look at the milder than average weekend forecast.
Watching Tuesday snow potential
We're still watching a stronger low pressure system coming ashore with significant rains in southern California this weekend. The system gathers in the desert southwest, then takes the infamous Panhandle Hook route from west Texas toward the Upper Midwest by Tuesday. Recent runs for NOAA's GFS and the Euro model have trended a little further south, taking the surface low track south of Chicago.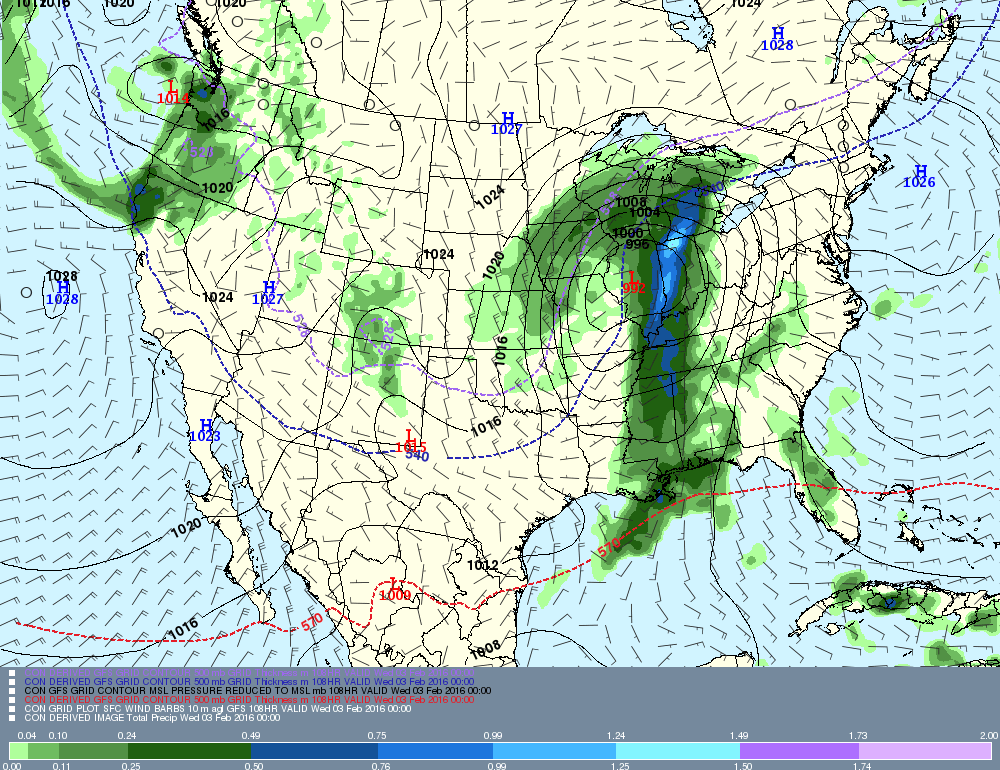 That track would put the Twin Cities on the northern edge of the heavier snow bands to the south favoring Iowa, southeast Minnesota and Wisconsin. Des Moines, Decorah, Rochester, La Crosse, Tomah and Madison would be in the favored zone for heavy snow in that scenario.
It's still too early to put high confidence in the snowfall scenario below, but it gives you an idea of how the snow zone might lay out with a more southerly track. Obviously a shift of only 50 miles north or south will have huge consequences for Twin Cities snowfall totals.
I confidently predict accumulating gray hair for forecasters next week. Bust (or boom) potential is always high on the northern fringe of winter storms. The reality of the science of meteorology today is the forecast models average error on storm track is still too wide this far out. We can be confident a big storm will hit the Midwest, we just can't credibly be precise on the track (and resulting placement of the heavy snow band) yet.
This guy might have the right approach. I post this out of respect for Frankie's clear enthusiasm for all things weather. It's just really sweet.
Cold returns late next week
After the low passes by, one more shot of semi-Arctic air surges south. The latest read suggests sub-zero lows across the Upper Midwest again late next week.
Here's a more detailed breakdown of next week's forecast from the Euro model.
The longer range outlook hints at southerly flow, and another warm up by the weekend of February 13th.
The numbers in NOAA's longer range GFS outlook. I still think magnitude of the sub-zero numbers next weekend is too aggressive here.
Spring flood outlook
It's still early, but the first spring flood outlooks are coming out. Low winter snowpack favors only minor flooding at this point.
Your support matters.
You make MPR News possible. Individual donations are behind the clarity in coverage from our reporters across the state, stories that connect us, and conversations that provide perspectives. Help ensure MPR remains a resource that brings Minnesotans together.