Grand Portage Band, state diverge on collaring moose
It's been nearly a year since Gov. Mark Dayton made a surprise decision about the state's ongoing research exploring why moose are dying at such alarming numbers.
He ordered Department of Natural Resources researchers to stop outfitting moose with GPS collars.
Last April Dayton said the stress of collaring was causing several adult moose to die and some mothers to abandon their calves.
"When you're damaging the breed that you're trying to study, it's just not right," Dayton said.
Grow the Future of Public Media
MPR News is supported by Members. Gifts from individuals power everything you find here. Make a gift of any amount today to become a Member!
But despite that decision, late last month researchers with the Grand Portage Band of Lake Superior Chippewa holed up in a remote cabin on the reservation, armed with a dozen collars they intended to place on moose.
"For us to learn about a population, we may have to affect some individuals within that population," explained Seth Moore, the Band's director of biology. "There is some inherent risk. We consider that risk to be low."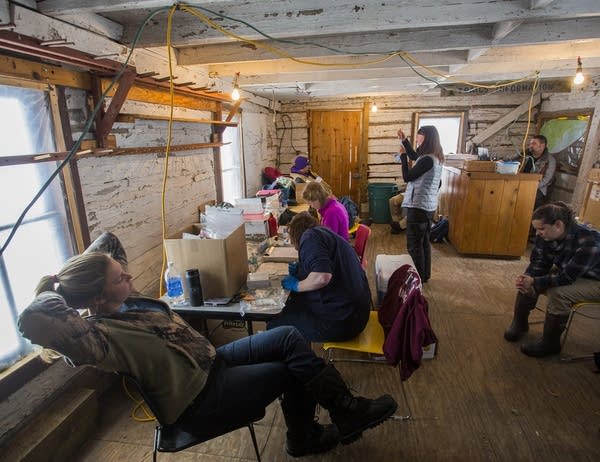 Then in the cabin, Moore gets a call on his hand-held radio. The first moose is down. A professional wildlife capture team in a helicopter has darted a female moose with a tranquilizer.
The helicopter flies back to the cabin to pick up Moore and Tiffany Wolf, a wildlife epidemiologist with the University of Minnesota. They'll place the collar on the moose, check its vital signs, and take blood, hair and fecal samples to gauge the health of the animal.
Meanwhile, Grand Portage biologist E.J. Isaac fires up a snowmobile. "We've kind of got a 20-minute working window, and then we have a 10-minute snowmobile ride. It's kind of all real dicey," he explains. To reduce the stress on the moose, researchers want to complete their work as quickly as possible.
"We're all set, let's go!" he shouts. The snowmobile flies down a dirt road, then veers off into the forest. After stopping to check GPS coordinates, Isaac arrives at a grove of young aspen trees. He straps on snowshoes to wade through thigh-deep snow.
The moose is lying on its side. Moore crouches behind her, smiling.
"We've tagged her, collared her," he said. "This one had an existing tag, which indicates this was likely one of the calves that we collared that the collar broke off as it grew. This is a pretty exciting piece of data for us."
It's exciting because it survived. Nine out of every 10 moose calves the band has tracked in the past three years have died, most of them killed by wolves and bears.
"It is a good sign," said Wolf, who's helped the Band with its moose captures for the past several years. "It's exactly what we would want to see, our calves recruited into the population, and be successful in rearing their own calves. That's exactly what this population needs."
Over the last 26 years the moose population on the Grand Portage reservation on the far tip of Minnesota's Arrowhead region dropped 64 percent. Meanwhile the DNR estimates the moose herd in northeast Minnesota has plummeted from around 9,000 10 years ago to around 4,000 animals in the latest survey completed last month.
Three years ago both the DNR and the Grand Portage band began placing GPS collars on moose in a first-of-its-kind effort to unravel the mystery of the vanishing state moose herd. The collars send a signal directly to researchers' cellphones that allows them to quickly respond to a moose when it dies, to find out exactly what killed it.
On the Grand Portage reservation, Moore said the results so far show about 80 percent of the collared moose that have died have succumbed to health issues caused by parasites and ticks.
"I think that's important," he said, "because public perception originally was that wolves were hammering moose populations, and at least with our data that hasn't been the case."
DNR researchers have also found a combination of health problems is killing most moose, although wolves have had a larger impact in the state study.
But after five of the 32 adult moose the DNR captured last winter died, Gov. Dayton halted the work.
The DNR still has collars on 66 moose, and will continue to track them and study causes of mortality. But Michelle Carstensen, who directs the project for the DNR, says it was set up to have 100 in the field. That larger sample size, she said, can more accurately reflect what's really happening to the moose.
"For example this year we have 66 to start the year," she said. "We haven't had a mortality since the first week of January. Maybe that's reflective of what's going on right now, or maybe it's just that we no longer have enough animals collared to accurately detect some of that early winter mortality."
There are techniques researchers can use instead of collars. For example, scientists have analyzed moose urine samples and found that when it gets too warm in the winter, moose nutrition and health suffers. They can also survey and track moose from the air.
But Carstensen says they need collars to figure out how precisely how moose are dying.
"Is the risk worth it?" she asks. "Are you asking a question that's important enough, and your techniques are good enough, that the information is going to be worth the risk of losing some individuals? That's the bottom line."
Grand Portage researchers haven't experienced the same level of mortality from the collars they've placed on moose. Fewer than 2 percent of the adult moose collared on the reservation have died as a result of it, said Wolf, the U of M epidemiologist.
"We want to do more good than harm," she explained. "Our goal is to definitely understand what's going on with the population. But it doesn't change the fact that we want to see every moose get up and run away from us."
The hope on Grand Portage is to not only understand what's killing moose, but also to use collars to help save them. The band intends to use the collars to measure the effectiveness of its management techniques.
For example, Moore said, the band has begun using prescribed fire and logging to create new habitat.
"The collaring data will provide us evidence of whether or not what we're doing is working," he said. "It allows us to be accountable for what we're trying to manage."
The effort to save the moose takes on added significance on the Grand Portage reservation, where moose play an important cultural role and, before the population started to wane, were the most important subsistence game that band members hunted for food.
"This cultural reliance on natural resources makes moose research ... and focusing on subsistence species for our research and management a top priority," Moore said.
Back in the forest, a thermometer Wolf is using to measure the collared moose's body temperature starts to beep. "She's 102.3, she shouts. "So we're good!"
Then she injects a drug into the moose to reverse the anesthesia. The moose lets out a low moan, opens its eyes, and stares vacantly at the scientists surrounding her.
Suddenly, she stands, crashes through the trees, and disappears.
Moore breathes a sigh of relief. "That's how it's done," he says.