Scrutiny grows over St. Paul imam's involvement in ISIS cases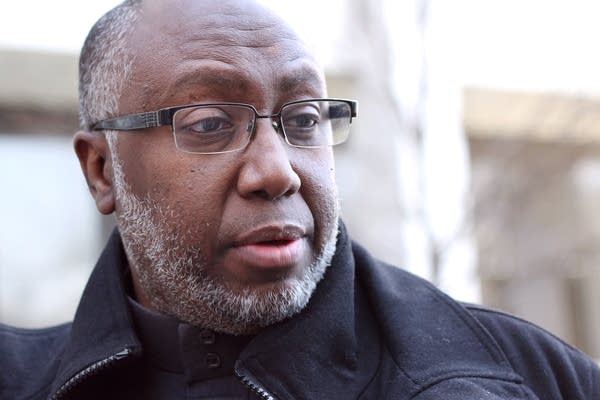 Updated: April 1, 9:05 a.m. | Posted: March 31, 7:31 p.m.
An influential St. Paul imam lobbied the father of one of the ISIS defendants to have his son take his case to trial, rather than plead guilty, according to a court document filed Thursday.
Under normal circumstances, that would be well within the religious leader's right. But the imam, Hassan Mohamud, is also a law clerk working for a defense attorney of another young Twin Cities man charged in the case, Mohamed Farah.
Grow the Future of Public Media
MPR News is supported by Members. Gifts from individuals power everything you find here. Make a gift of any amount today to become a Member!
Increasing scrutiny over Mohamud's role prompted Farah's attorney, P. Chinedu Nwaneri, to file a motion early Friday stating he would withdraw from the case. Nwaneri said he wanted to remove himself "to stop further distractions in this matter."
Farah would continue to be represented by Murad M. Mohammad, who has jointly represented Farah, Nwaneri said in the court filing. A hearing before U.S. District Judge Michael Davis on whether members of Farah's trial team should be disqualified is scheduled for Friday afternoon.
With a little over a month to go before five young Twin Cities men go to trial on charges of plotting to join ISIS in Syria, federal prosecutors have also questioned whether Mohamud's alleged statements about prayer "during jihad" would unfairly prejudice a jury against the young man he's helping represent.
But a potentially more damaging document emerged in the latest filings: a statement filed by defense attorney Jon Hopeman, who is representing 20-year-old Zacharia Abdurahman. The Columbia Heights man pleaded guilty in September last year.
Before he reached a plea deal with the government, Abdurahman spent several months in a Sherburne County jail pod with his friends and co-defendants, Hamza Ahmed and Adnan Farah. There, Adnan Farah persuaded his friends to plead guilty to the terrorism charges, Hopeman wrote in his declaration.
All three men agreed to plead guilty, according to Hopeman, and "Farah was the most vocal and insistent about the wisdom of pleading." But only Abdurahman went through with his decision.
The night before Abdurahman entered the plea, his father received a phone call from Mohamud, the imam, who said he was on the street outside the family's home. Yusuf Abdurahman walked from his apartment out to the street to meet the imam, according to Hopeman.
With the father of Adnan and Mohamed Farah at his side, Mohamud advised Abdurahman's father to tell his son that he shouldn't take a plea deal.
The imam said that "all of the defendants should stick together and go to trial, and if they did, good things would happen," Hopeman said in the statement.
Abdurahman's father declined the imam's advice, and his son pleaded guilty the next morning to conspiring with his friends to join ISIS.
Hopeman did not return calls for comment for this story.
Prosecutors are requesting Davis ask the attorneys representing the other defendants whether Mohamud has contacted their clients.
Attorneys and members of their legal teams should not be lobbying other defendants on how to plead, said Dan Scott, a lawyer who has experience representing terror defendants. He found Mohamud's involvement to be troubling.
"Apparently, it had some effect on changing these people's minds, and now they're looking at life in prison," said Scott, who is not involved in these particular cases. "If they're being told to ignore the advice given to them by their lawyers, then there are serious, serious effects on those two young gentlemen."
Ethics rules prohibit attorneys and their staff from contacting other clients who already have representation.
"The intent of the rule is that people get their own legal advice by someone who's loyal to only the person he's representing," Scott said, adding it would be important to know whether Mohamud was acting alone, or if the attorney he is working with knew and approved of his actions, Scott added.
Mohamud declined to comment Thursday.
A frequent fixture on the federal courthouse plaza after hearings, last summer Mohamud publicly criticized the first young man who pled guilty. The imam said Abdullahi Yusuf was creating "division within the community" by cooperating with the government and questioned whether the teen was doing the right thing.
Mohamud leads a St. Paul mosque, the Minnesota Da'wah Institute. His Somali nickname, "Jaamici," means "the educated." He earned a law degree from William Mitchell College of Law in 2002, but doesn't have a license to practice. As an adjunct professor, Mohamud taught Introduction to Islamic Law as recently as 2011. He no longer works at the college, now known as Mitchell Hamline School of Law, according to a spokesperson.
He's employed by Nwaneri.
Last week, prosecutors notified Farah's attorneys that they planned to introduce testimony and evidence at trial that Mohamud was preaching about jihad. On Monday, Judge Davis ordered the government to file a motion inquiring into whether there were grounds to disqualify Mohamud and Farah's attorneys.
In a secret tape recording made by an FBI informant on April 2 last year, a cooperating ISIS defendant said he learned how to perform prayers when "engaged in jihad" from imam Mohamud, according to a motion filed by prosecutors.
In a court filing on Thursday, defense attorneys for Farah said they wanted Abdirizak Warsame, a cooperating government witness, to testify at Friday's hearing.
"The allegations made by Abdirizak Mohamed Warsame and the consequential innuendos are capable of stripping Farah of all or some of his counsel or defense team of choice, a constitutional right," Nwaneri said in his motion. Davis denied Nwaneri's request.
Warsame was arrested and charged with providing material support to ISIS in December. He's one of four men — including Hanad Musse, Yusuf, and Abdurahman — who have pleaded guilty to plotting to join ISIS.
Five other men — Adnan Farah, Guled Omar, Abdirahman Daud, Hamza Ahmed and Mohamed Farah — are also facing charges of conspiracy to murder overseas and other terror-related offenses. Their trial will start in May.
During his guilty plea hearing in February, Warsame said he was inspired to seek out ISIS by watching the videos of Anwar al-Awlaki, an alleged terrorist recruiter killed in a U.S.-led drone strike in 2011.
Warsame told Davis that he believed the ideology of local mosque leaders "wasn't the correct ideology," as it ran counter to what he learned from the extremist videos. That view was repeated in court filings on Thursday. Warsame said Mohamud's "message was always moderate and against jihad."
This week, Mohamud used social media to call on his supporters to "defend our Islam and its teachings." Mohamud also insisted that his teachings about prayer — which he said were commonly found in Islamic jurisprudence books — were misconstrued.
He said the prayer is called "Salatul Khowf" and it's offered during times of fear or danger.
"It is nothing to do with terrorism," he wrote. "It is about prayer wherever you are so you are always connected to God."
Murad Mohammed, a co-counsel with Nwaneri, said the government is "disingenuously" misusing the word "jihad."
"They claim in their motion that a co-defendant will testify about how he will be 'traveling to Syria for jihad', further signaling the attempt to connect any mention of jihad to illegal conduct," Mohammed wrote in a motion, arguing that the imam should not be disqualified from being a legal adviser to Farah.
He explained that the term "jihad" means "to exert effort and to strive or struggle in the path of God."
"The entire conflict is a product of the Government's paranoid (or worse) imagination that any theological or historical statement that uses the Arabic term for struggle implicated a potential crime," he added.
But the government's motion does not attempt to parse the meaning of "jihad." Prosecutors are contending that introducing evidence at trial related to the imam's alleged statements could put Mohamed Farah in an unfavorable light — given that the imam would be sitting at Farah's defense table.
"It's disingenuous for someone to say we're doing something wrong here," said Ben Petok, a spokesperson for U.S. Attorney Andy Luger. "It seems to me, we've gone above and beyond to ensure a fair trial."