The road that led Prince Rogers Nelson to stardom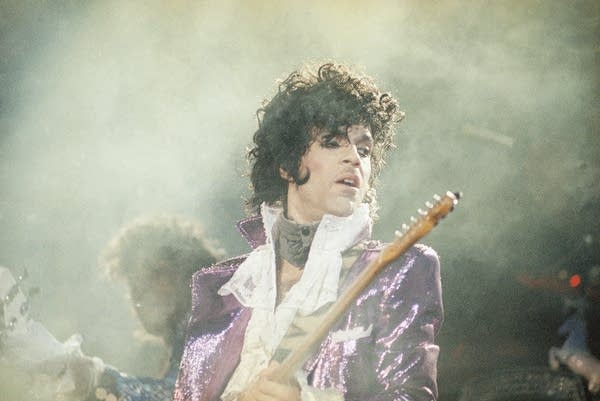 Tributes came in from around the world Thursday, celebrating the career of the Minneapolis rock star Prince.
The enigmatic artist, whose music melded the best of R&B, soul, hard rock and a host of other styles to create something entirely new, died Thursday at the age of 57.
He was born Prince Rogers Nelson on June 7, 1958, in Minneapolis. His father was a pianist and a songwriter and his mother was a jazz singer. So it's not surprising that he is reputed to have written his first song at 7.
In high school at Minneapolis Central, he began playing in bands with others who were to become longtime collaborators, like Andre Cymone and Morris Day. And according to journalist Neal Karlen, who interviewed Prince twice for Rolling Stone magazine and collaborated with him on a rock opera, he also began showing his own sense of style.
Grow the Future of Public Media
MPR News is supported by Members. Gifts from individuals power everything you find here. Make a gift of any amount today to become a Member!
"In eighth grade, he was walking down the halls of Bryant Junior High wearing women's underwear and a raincoat and nothing else," he said. "This is always who he was, what he was. You don't become a rock star by accident."
By 1977, Prince was recording under a three-album deal with Warner Brothers.
Remarkably for someone so young and unknown, he demanded artistic control of his material. His then-manager Owen Husney told NPR at first the record execs were skeptical.
"And we kind of organized a test where they watched him in the studio," Husney said. "And at the end of him getting maybe half-way through the song, Lenny Waronker, the President of Warner Brothers at that time, he pulled me out in the hallway and said, 'We are going to give him the complete control that you are asking for.'"
On his first album, Prince did pretty much everything: composing, arranging and producing, as well as playing all 27 of the instruments on the album.
Steve McClellan was managing Uncle Sam's, a club that was to become First Avenue in Minneapolis. He remembers Prince coming in regularly — and not just to see bands.
"He'd come in, talk to the DJs, hand them a test pressing — 'Here, play this' — then he'd look at the reaction on the dance floor and go back to his studio and fix what needed to be fixed," McClellan said.
In 1979 he formed a new band with Cymone on bass, Dez Dickerson on guitar, Gayle Chapman and Matt Fink on keyboards, and Bobby Rivkin — also known as Bobby Z. — on drums. In a 2012 interview, Rivkin described Prince's guitar playing as remarkable, almost transformative.
"Like a glass blower or somebody, a pottery wheel," he said. "The music just flows through him, and it's true art."
Musician and producer James "Jimmy Jam" Harris played in the Time, one of several bands Prince assembled over the years. He says it's wrong to see Prince just as a virtuoso guitarist.
"He was a virtuoso drummer, he was a virtuoso bass player," Harris said. "Everything he picked up he was good at. He was amazing at it."
Then, in 1984, "Purple Rain" hit. The film and the album catapulted Prince to international stardom. The band went from playing clubs to playing stadiums. That each show ended with the down-tempo song "Purple Rain," Bobby Z said, shows the majesty of Prince's songwriting.
"His lyrics that talk about looking for something better and the power of love and healing and just life ... and it sums up the movie and it sums up the show and it certainly was a powerful moment every night," he said.
For many people, Prince put Minneapolis on the map.
Britt Robson, who has covered the Minneapolis music scene since the 1980s, said Prince was one of the reasons he moved to Minnesota.
"It was a funked-up Motown, it wasn't a soul Motown more than a funky Motown," he said. "There was just a kick to it, just a spritz to it, and I think it was incredibly influential both in defining the most dominant subgenre of music here, but also obviously around the world."
But with huge success came new problems. Prince chafed under the impositions of his record label, famously performing with the word "slave" written on his face. In 1993 he changed his stage name to an unpronounceable glyph, and many took to calling him "The artist formerly known as Prince."
In 1999 in a rare broadcast interview with CNN's Larry King, Prince said he changed his name for a serious reason.
"I had searched deep within my heart and spirit and I wanted to make a change and move to a new plateau in my life," he said. "And one of the ways in which I did that was to change my name. It sort of divorced me from the past and all the hang-ups that go along with it."
Prince also told King where he found inspiration.
"I like to believe my inspiration comes from God," he said.
"Did you always believe that?" King asked.
"No," Prince replied. "As you grow older you learn and you get smarter."
In time his name returned, and he pumped out release after release and continued to surprise and delight fans up to the end.
Rock critic Greil Marcus says Prince was great because he was demanding.
"He has always been good, he has always been great, he has always been restless, he has never settled for anything either in his own music, in the music business," Marcus said. "His standards as a band leader are both extraordinarily high but also playful."
And his legacy will likely continue. Prince was known to have a huge library of unreleased material, which could well continue to delight audiences for years to come.