Despite winning streak, Lynx fan base remains small
The Minnesota Lynx are undefeated 13-0 and Friday night, fans are hoping for another win against the Los Angeles Sparks in a rematch.
But despite the Lynx's winning streak, their fan base remains smaller than other local sports teams.
Melissa Kaneakua, who has loved the team since she was a young girl, called the Lynx "amazing."
She said she loves the players because they're fun to watch but also extremely competitive.
"I think as a woman it's really empowering, to see women that are true to themselves and true to where they're from," she said. "It's the best team that we have in Minnesota. It sucks because they don't get the recognition that they deserve."
Randy Boettcher, of Plainview, said that although he's never been to a Lynx game because he and his family live 100 miles from Minneapolis, he's a big fan of the team.
Before you keep reading ...
MPR News is made by Members. Gifts from individuals fuel the programs that you and your neighbors rely on. Donate today to power news, analysis, and community conversations for all.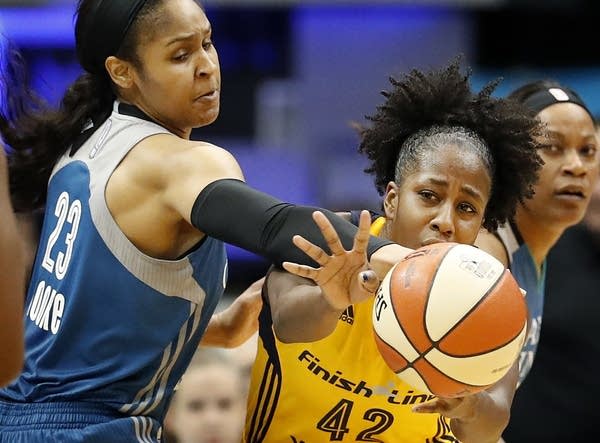 "They're the only Minnesota team that's winning. And they've won their championships in the last five years," he said. "Lindsay Whalen put basketball on the map when she was at the University (of Minnesota), so I've always followed it."
Mechelle Voepel, a columnist for ESPN.com who has reported on the Lynx for years, said "it's a team to make time to see."
"I think what the Lynx are proving right now is that they're a franchise that's setting itself apart historically in the WNBA," she said. "It's unusual, and it's just not something we have seen that a team has been this good for this long as the Lynx have been."
The only franchise that's won more championships than the Lynx is the Houston Comets and that team disbanded in 2008. Three of the Lynx' players — Whalen, Maya Moore and Seimone Augustus — were named to the WNBA's list of top 20 players through the first 20 seasons, a coveted spot in sports history.
During Thursday's practice, Lynx coach Cheryl Reeve said she's thankful for the success the team's had, and wants to keep the momentum going.
"I don't think right now you can escape hearing about the Lynx at some point — radio, TV — the coverage should be like this all the time, not just because we're undefeated."
The team will play to a larger crowd than usual Friday night, with the upper deck of Target Center open. Reeve said she welcomes the new fans, recognizing that the team's fan base is made up of more women and girls.
"Let's get rid of, let's shed, kind of, the same-old, same-old in how we view woman," she said. "If you're that person that says, 'Well, it's women,' or 'It's women's basketball,' shame on you."
She said that sometimes women are conditioned to think this way too, but believes men are the biggest culprit in how they are conditioned to view women.
"We hear it in the workplace, you know, that maybe women aren't strong enough. Or if a women is strong, than we get the other descriptions, and adjectives about us," she said. "We have to stand up and say enough is enough."
On Monday, Augustus and other Lynx players from last year's WNBA championship team will travel to Washington to meet with President Obama.