Wisconsin guard, tribal member Koenig joins pipeline protest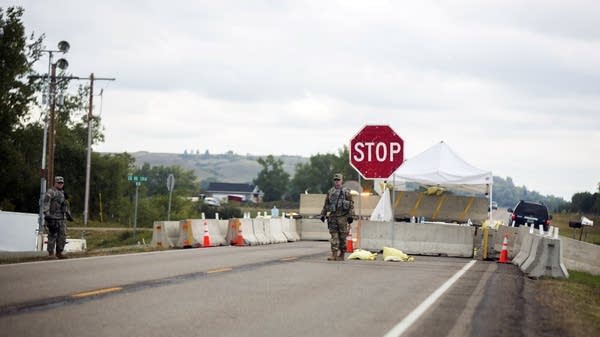 A proud Ho-Chunk Nation member, Bronson Koenig has been speaking out about his Native American heritage since his freshman year at the University of Wisconsin, long before public displays of social consciousness by 49ers quarterback Colin Kaepernick, soccer player Megan Rapinoe and other NFL players.
Like Kaepernick, the senior point guard believes it's time to put his words into action. He, his brother and a trainer were driving 11 hours Friday to the Standing Rock Indian Reservation in North Dakota, where thousands are camping out on federal land and trying to stop construction of a $3.8 billion, four-state oil pipeline, which they say could harm the Missouri River — a water source for many — and has affected sacred sites.
"I think I had planned on going to North Dakota before the Kaepernick stuff started, but it's definitely nice to see a professional athlete trying to make a positive change for his community and his culture," Koenig said. "I'm thankful for this opportunity to use my platform to try and make a difference. I want to join the fight and help protect my people's land and water."
Koenig is bringing along what he knows: basketball. He'll put on a free three-hour basketball clinic for Native American youths, so they can "meet me, talk to me and just have a good time." Koenig, his brother Miles and trainer Clint Parks also are bringing donated food, clothing and other supplies to the encampment, which abuts the Standing Rock Sioux's reservation.
Grow the Future of Public Media
MPR News is supported by Members. Gifts from individuals power everything you find here. Make a gift of any amount today to become a Member!
Koenig said he has been following the complaints over the Dakota Access pipeline for several months, but began to feel sense of urgency in last two weeks due to more intense clashes between protesters, law enforcement and private security guards.
"I've seen videos of people getting arrested and dogs being sicked on them, all that kind of stuff," Koenig said. Plus, with official practice slated to start in two weeks, it was his only window to spend some time there.
Associate head coach Lamont Paris said the Badgers' coaches and players fully support Koenig's activism.
"It's something that he believes in and we trust him thoroughly," Paris said. "He is helping to raise awareness for a good cause."
Koenig, who is from La Crosse, Wisconsin, did not grow up on a reservation but regularly attended pow-wows and other Native American events as a kid.
There wasn't much else that could get him out of the gym -- he'd spend up to six hours at the local YMCA honing his skills.
He has gained the nickname "Klutch Koenig" at Wisconsin for his buzzer-beating shots and last-minute playmaking. He ranked second on the team in scoring and assists last season, as well as having the Big Ten's best assist-to-turnover ratio, meaning he rarely makes mistakes despite handling a majority of the ball-handling duties.
"I take my heritage very seriously and I just want to learn more about it. There are going to be a lot of different Native Americans there from different tribes across the country," Koenig said. "A lot of athletes send tweets out or Instagrams or whatever but I actually want to make a stand and put action to my words."